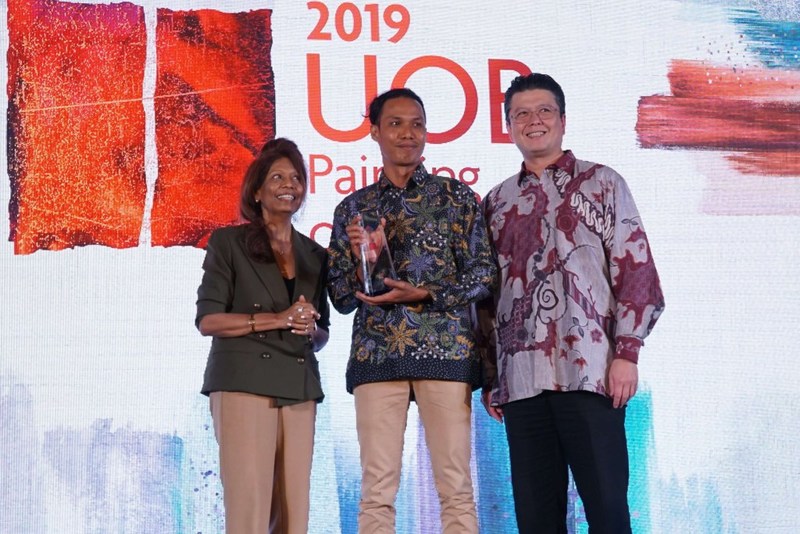 The annual major painting competition UOB Painting of the Year (POY) comes back in 2020 with a new format, calling for emerging and established artists across the region to participate in the national-scale agenda. The organiser, PT Bank UOB Indonesia (UOB Indonesia) has announced that artists in Indonesia will be able to submit their entries for the 2020 POY competition virtually through digital submission amid the ongoing restriction due to the Covid-19 pandemic.
The annual UOB POY competition, Singapore's longest-running and one of Southeast Asia's most prestigious annual art awards, is currently open to artists in Indonesia, Malaysia, Singapore, and Thailand.
The UOB POY is known as the flagship art programme that aims to uncover and to nurture artistic talent across the region. UOB's involvement in art started in the 1970s keep extending with art Collection has more than 2,400 artworks, made up primarily of paintings from established and emerging Southeast Asian artists.
This year, the bank company is inviting all artists to share their impressions on the theme of 'Solidarity' and the importance of staying united in the face of adversity. UOB hopes to draw out artwork that showcases the resilience of the human spirit in overcoming COVID-19-related challenges.
The 2020 UOB POY Indonesia competition is open to artwork submissions for both the Established and Emerging Artist categories from 14 August to 11 October 2020. The art expert and connoisseur including Dr. Agung Hujatnikajennong, Ay Tjoe Christine, and Asikin Hasan will be the judge in the 2020 competition.
The winners of the 2020 UOB POY (Indonesia) award will be announced at a virtual award ceremony in November 2020. The artworks of the top eight finalists will be exhibited virtually on the Bank's social media channels.
The winner of the 2020 UOB POY (Indonesia) award will also compete with fellow winning artists from Singapore, Malaysia, and Thailand for the UOB Southeast Asian Painting of the Year award. The prestigious award will go to the artist with the most outstanding artwork in the region.
Kevin Lam, President Director, UOB Indonesia said that this year's competition celebrates the 10th anniversary of UOB Indonesia as well as the 10th anniversary of UOB POY annual art competition in Indonesia.
"In the current challenging situation, local artists have been finding new ways to create and to exhibit their work through the use of technology. As we continue to promote the appreciation of art among the community, we also hope to bring people together and to foster a sense of solidarity," Lam said on the press release.
"In addition, we hope that by enabling artists to submit their artwork digitally, we can help more Indonesian artists to step forward to see through the current challenges and focus on the brighter days ahead through their paintings." Lam closed his statement.
More information and details about the painting competition, visit UOBandArt.com