If there's something Indonesia's top fashion designers, models, politicians and senior-ranking government officials have in common, it would be in their penchant to be portrayed on Syis Paindow's canvas. From Taufik Kiemas, Aulia Pohan and Oesman Sapta Odang to Harry Darsono and Adjie Notonegoro – as well as Miss Singapore 2002 Sharon Cintamani – all have had their portraits made by the 47-year-old artist. NOW! Jakarta caught up with the friendly and soft-spoken artist who by now ranks among Indonesia's most prominent painters.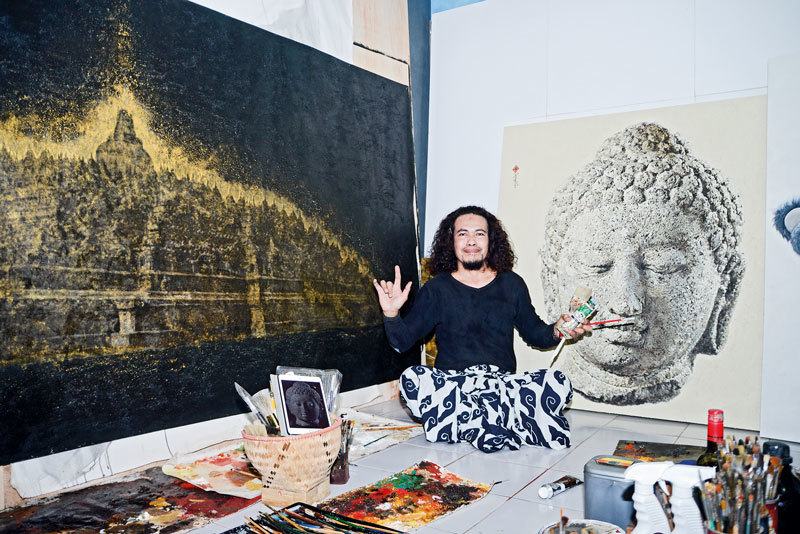 Have you always been in love with art?
I've enjoyed drawing ever since I was a kid. In fact, I loved it so much that I often drew on walls. After finishing senior high school, I wanted to study art in university but my parents disagreed, so I was stuck for a year not doing anything. Fortunately, the following year my parents gave in and let me study art development at IKIP (Institute of Teaching and Educational Studies) in Makassar, South Sulawesi.
When I finished my undergraduate study in 1993, I worked at Caraka, a local architecture firm in Makassar, to design Monumen Mandala. I also designed rattan furnitures to be exported. But I didn't really like it. I was ever more determined to focus on painting.
There were many exhibitions I joined back then, which allowed me to learn more about paintings – especially portrait paintings. I did experiments so I could paint better, faster and make it as realistic as possible. I also took orders from clients who wanted their portraits made. I used the money to support myself and purchase painting materials. And I still do it until now. I call it "paid learning" as I get to learn and get paid at the same time.
What or who inspires you?
Indonesian myths and legends such as Jaka Tarub, Borobudur Temple and Queen of the South Sea Nyi Roro Kidul. I also like native Borneo tattoos and just about anything ethnic. I like combining both the past and the present in my paintings. For instance, I made a painting that featured the mythological rice and farming goddess Dewi Sri carrying an Hermès purse with a background of malls. She looks as if she doesn't care because she's busy shopping. It's an innuendo about how many people are willing to overspend. All of my paintings have deep meanings.
Any artists or painters you look up to?
As a university student, everytime I looked at Rendra's paintings, it always motivated me to learn more so I could make natural lighting effects just like him. I learned how to make square patterns like the Dutch painter Piet Mondrian, but I modified my square patterns by combining it with Toraja or Balinese patterns. I like German painter Sebastian Krüger for his realistic and expressionist techniques. I also like Dede Eri Supria's fantasy and surrealistic touch, and also because his paintings often reflect the world today. I also look up to Salvador Dali for his inspirational imagination.
What rituals do you do before painting, if any?
Nothing. I like reading the history and myths about a certain theme. The idea will come by itself. I usually finish two paintings in a month, which amounts to roughly 24 annually. But it depends on my mood and inspirations.
Among all of your works, which ones are you most proud of?
I love all of them, especially the ones I prepared for Behind the Myth exhibition in Greece (2013), because they allowed me and other Indonesian artists to introduce our national culture and local myths. The exhibition was held at the Greek AKTO Art and Design College in Athens and received a spectacular response.
Any current or upcoming project?
There will be an exhibition called "Eksotetika Rempah... Aroma dan Cinta" (Spice Exoticism... Aroma and Love) held at three different venues: Museum Tekstil in Tanah Abang in May, in Athens in October, and Galeri Nasional in November. Around 12 artists will participate. Later this year, I will also host a solo exhibition that displays all the portraits I've made in the past 17 years – some of which I will borrow from their owners. Approximately 30 paintings will be on display but it depends on the capacity of the venue. I'm currently searching for the right place.
Anyone you'd like to collaborate with in the future?
I'd love to make a painting on a giant canvas together with other artists for the upcoming exhibition in Greece, kind of like a shared painting. I realise it could be tough though, especially if it involves artists from other genres.
What do you think about the local art scene?
The government today is more supportive. You have organisations such as BEKRAF (Creative Economy Agency) and the Ministry of Education and Culture supporting artists with their exhibitions. Sadly, many artists still don't know how to reach out to them. I've also noticed how Indonesian arts today are more liberal and free-spirited, no longer limited to canvas, paints and paintbrushes. You can make an artwork from any media – literally anything. That said, we should pay attention to the concept and the meaning behind it, because these are important elements of a good piece of art.
What does it take to be a professional artist or painter?
Strong will and practice. Your talent will mean nothing unless you hone it well. It's 99 percent strong will and one percent talent. The more you practice, the better you will be. You must learn how to conquer paintbrushes, how to realise your ideas on canvas using paintbrushes and make the painting exactly the same as what you have in mind.
[email protected], [email protected]
Facebook: syis paindow