Bla Bla Bla – an exhibition of contemporary art by Italian artist Fabrizio Dusi is a critque on the [lack of] modern communication. The artist Fabrizio Dusi has summed up the nature of contemporary society where no one wants to talk or listen.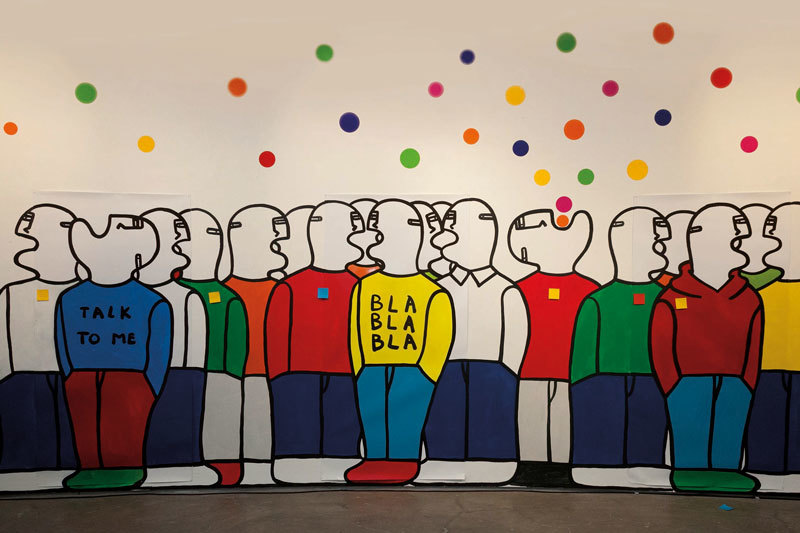 In cooperation with the Italian Cultural Institute Jakarta and Art:1 Gallery, Fabrizio drew attention to the fundamental issue of communication, which he says is now a disorder. One where people talk excessively to an invisible audience.
Communication is important. Through speech, people signal and create the relative status of speakers and gauge their rapport. Taking turns in conversation is fundamental: one person speaks, then the other responds. However, it isn't as simple as saying what you mean.
Fabrizio's work connects this communication "disorder" to contemporary life. His exhibit portrays people who try to communicate with each other in one-dimensional monologues, where one is carefully listening to themselves while completely ignoring the messages that come out from others' mouths.
"This simply represents what happens in modern society. A conversation in which everyone is talking but nobody is listening. The distinguished cartoons represent one's profession. Suits and ties for executives. T-shirts are for modish people who shout out their angst", he says.
The artist uses life-sized portraits with vibrant colours and textures to attract people and help them understand the critical value of the arts.
He explained the major challenges for him—and his fellow artists—and contemporary arts today, particularly in the way of delivering messages towards the audience. "So, my art does deliver my message. The challenge is how my ideas can present related contemporary artworks and criticism of social circumstances. And, the most important part of all, is that audiences can fully understand the value of my artwork."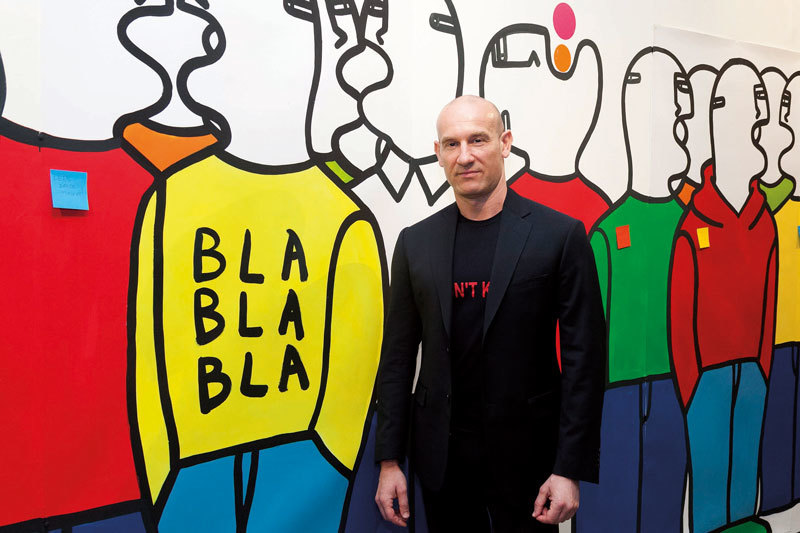 The exhibition opened on 5 July and is on until 5 August at G1, Artspace, Art:1, Jakarta. An introduction to art processing was held the day after the opening.
Fabrizio Dusi is Italian-born artist who lives in Milan. His work has been exhibited in several art galleries across Italy. This exhibit was his first in Asia.
Visit www.fabriziodusi.com to explore more of his work or follow @fabriziodusi on Instagram.