Bali-based glass artist, Ron Seivertson, exhibits his new creation of "Java Man" at Jaguar Land Rover Showroom, Jakarta. In collaboration with AidHub Indonesia Foundation, the exhibition highlights the history of Indonesia ancient human story in glass sculptures as well as holding the auction to be contributed to support the non-profit organisation which to delivers SMART technology for social causes.
The "Java Man" exhibit features glass sculptures and over 150 unique works of art by artist Ron Seivertson transported by road, using a Land Rover. The exbibit, which was brought from Bali to Jakarta over land was part of a 'road trip' which included stops at various ancient sites along the way.
Coming from Horizon glass Studios in Bali, Seivertson creates hot glass sculpture, inspired by the discovery of the remains of Homo Erectus in Java in 1891.
Seivertson - who frequently works on iconic sculptures in public places, including museums - aims to present the masterpiece as one that can be used to be educational but also serve as an archaeological archive. "I also explored the new technique to create this particular piece. I am the master artist but I was helped by four other artists to finish these glass works," Seivertson said at the auction.
Pursuing a career as a hot glass artist from California to Indonesia, Seivertson made an effort to involve social vision in its art. During his trip from Bali to Jakarta, Seivertson and his team visited museums and historical sites that have specific and relevant interests. Among the planned stops are Sangiran Archaeological Museum, Trinil (the site where Java Man was found), and the Natural History Museum in Jakarta.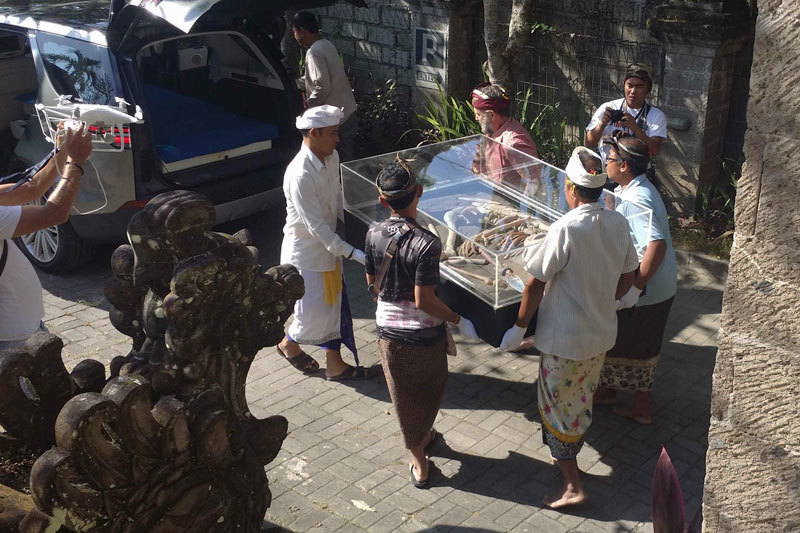 Seivertson and his team passed Gilimanuk and used the ferry to Banyuwangi harbour, proceeded to the Ijen plateau and stopped at Bromo. He describes the journey as the homage for mother nature in the modern perspective.
"We could not expect better weather along with the dramatic natural phenomena that the Javanese themselves may have experienced years ago; including steaming volcanoes. It was like being on a journey of our own discovery by seeing modern Indonesia through the eyes of its prehistoric ancestors. "
The trip continued to Trinil, the Sangiran Archaeological site, where the expedition team met Haris Rahmanendra, a Preliminary Human Researcher with a Master's degree in Archeology, who works at the Sangiran Met Conservation Office. His team discovered homo erectus and climate that returns in 700,000 years.
The exhibition is ongoing until 28 May at the Jaguar Land Rover Showroom, South Jakarta.