In these times of political strife and general apprehension, art, once again provides a much-needed salve from the everyday and mundane. Indeed, it is these critical commentaries on contemporary issues in subtle, if abstract, ways that bolster those who scrape through with tremulous indignation. Conceptual art, now over a century old, is slowly coming into its own in Jakarta.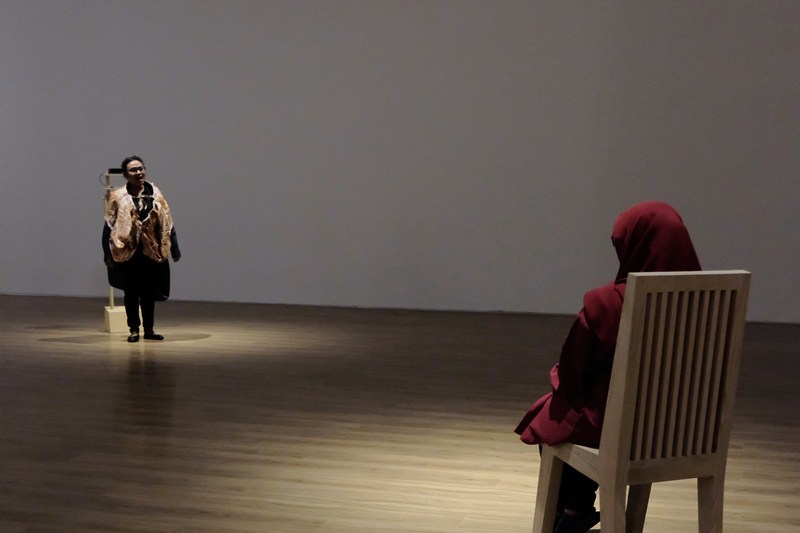 Through a collection of structures, readings, and performances, we're invited to interact with the art, develop a feel for it and allowing our senses to absorb it. Museum MACAN has recently unveiled its latest exhibit, a trio of solo exhibits honouring the conceptual arts genre, particularly from Southeast Asia and the wider region.
The works of Indonesian artist Arahmaiani, Taiwanese-American Lee Mingwei and Japanese artist On Kawara a unique series of conceptual and performance art.
The Past Has Not Passed (Masa Lalu Belumlah Berlalu) is a major survey by Arahmaiani, recognised as a significant player on the Indonesian and global art scene. Featuring works from the 1980s to today, this exhibit covers over 70 pieces includeing paintings, installations and re-enactments of iconic performances presented alongside some of her most recent projects and earlier works such as the painting Lingga-Yoni (1994), which depicts the artist's fascination and long-term experimentation with symbolism and the syncretism of culture of her native Java.
Arahmaiani's practice often combines art and social activism with a focus on issues such as cultural diversity, consumerism and womanhood that have become pivotal to her art. Internationally recognised, she has participated in the Asia-Pacific Triennial (1996), Gwangju Biennale (2002) and the 50th Venice Biennale (2003).
Lee Mingwei's Seven Stories features seven different projects by this internationally acclaimed Paris/New York-based Taiwanese-American artist. Lee's oeuvre revolves around concepts of community and exchange, with his works often relying on the audience's active participation. Exploring ideas such as trust, intimacy, and self-awareness, his installations and performances can invoke profound experiences through quotidian activities such as eating or sleeping. Guernica in Sand (2006 – ongoing), a large-scale installation based on Picasso's painting Guernica (1937) and made of locally sourced coloured sand, will be one of the highlights of this exhibition. Constructed with a team of volunteers over the course of three weeks, the work will be ceremoniously transformed mid-point in the exhibition as audience members are invited to walk on the sand while the artist completes the unfinished section of the sand painting. At sunset during the day of performance, after the last audience member has walked on the sand, Lee and three performers will sweep the sand, and the project will be left in this condition until the end of the exhibition.
On Kawara's installation, the reading of One Million Years, will be presented for the first time in Indonesia with the artist's debut exhibition at MACAN. Male and female volunteers will alternately read out dates from Kawara's multi-volume collection which comprises One Million Years [Past], noting each year over an entire millennium from 998031 B BC and One Million Years [Future], noting each year over an entire millenium through 1001997 AD. The first audio presentation of One Million Years took place at the Dia Center for the Arts in New York in 1993, and has been presented at numerous venues since, including Documenta 11 (Kassel, Germany) and Trafalgar Square (London, UK). Each time the work is presented, the speakers pick up where the last person left off, embodying the passage of chronological time, a central theme in the artist's oeuvre. The live reading at Museum MACAN will take place three days a week.
When the exhibit ends in March 2019, Museum MACAN will release two publications on Arahmaiani and Lee Mingwei, each including newly commissioned essays on the artist.
Ongoing until 10 March 2019
Museum MACAN (Modern and Contemporary Art in Nusantara)
AKR Tower Level MM
Jl. Perjuangan No.5
Jakarta
www.museummacan.org