Celebrating 20 years in his field, Indonesian artist Baron Basuning has a solo exhibit showcasing his abstract work using light. His exhibit, "NOOR", at the National Gallery of Indonesia defines the light of the divine inspired by his pilgrimage.
Curated by Eddy Soetriyono and Hendro Wiyanto, a total of 38 artworks are only display. "NOOR", which means light in Arabic, is the title of the work which draws inspiration from light shining through Islamic-styled architecture around the world.
A celebrated abstract painter, Basuning's concept of light as a non figurative form stems from Islamic belief of divine representation.
An avid traveller from a young age, Basuning recalls his trips to Alhambra, the Taj Mahal, and other historic sites that trace roots to the legacy of Islamic civilisation.
The 14th century dome of the iconic Alhambra "Nasrid" Palace in Granada, Spain allows light to shine through the ceiling and small windows. The beams of light cross each other, form reflections between the muqarnas (Arabic Persian decorative art) cavities of stalactite domes and fuse with the geometrical structure of the ceiling. Light shines brightly and creates a sprinkling bias of a million jewel facets, three dimensional abstract.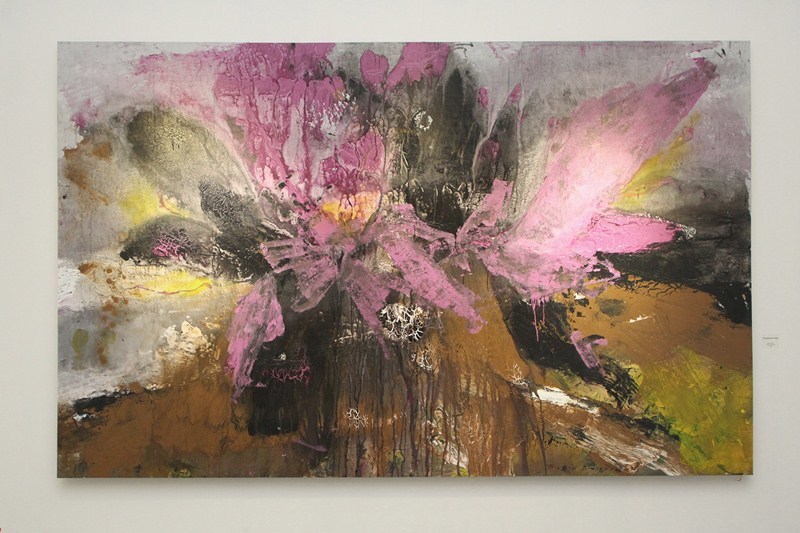 It's unlike his familiar depiction of typical light reflection in mosques and other Islamic buildings which are identically adorned by geometric calligraphy and arabesque features. His experience visiting Nasir Al Mulk Mosque in Shiraz, Iran also left a different impression of light that shone through the stainless glass ceiling of the "Pink Mosque".
"The light is always changing according to the day and I could see how the light decorates the interior of the building. How we feel in it. It's a psychedelic experience from my travels," Basuning said.
When he visited the Taj Mahal, in Agra, India. Basuning was amazed by the beautiful white marble construction that created an abstract feeling at the World Heritage Site that was built in 1648. The building's bilateral symmetry is to achieve balance. Unlike other embossed calligraphy and arabesque fixtures, the colour is subtle and accentuates the beauty of the material.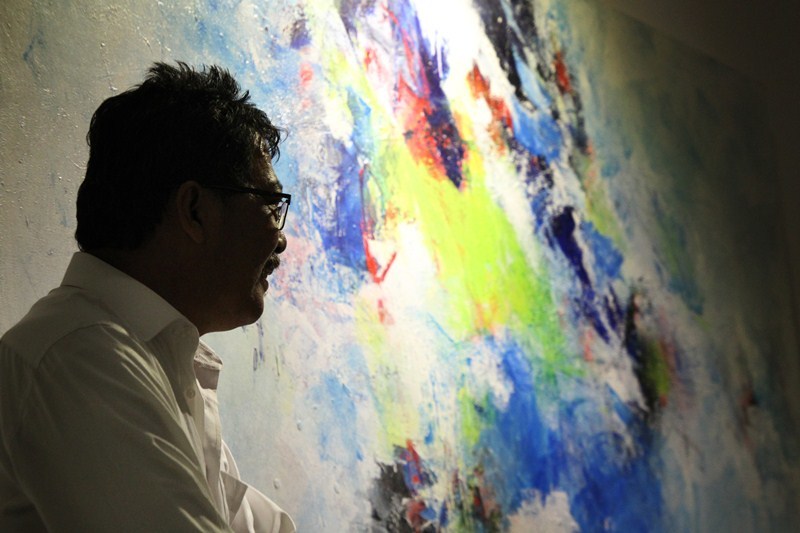 His studies focused on the beauty of Islamic architecture in the Great Mosque of Cordoba, Spain, the Süleymaniye Mosque in Istanbul and others. He painted them in works such as "Perjamuan Senja,", "Pualam Kenangan,", "Hold the Light", and "Into the Light".
The 58-year-old painter tries to underline the Greatness of God from the perspective of the beauty of lights using his artistic approach in abstract paintings. "From his study of Islamic buildings, Basuning notes that Islamic art is not solely related to calligraphy, arabesque fixtures, and geometry. But also abstract concepts. But it is not Piet Mondrian's abstract, for example, which is merely cerebral, solely intellect. It beyond that," curator Eddy Soetriyono said.

"NOOR" is on display until 8 February.
National Gallery of Indonesia
Jl. Medan Merdeka Timur
Gambir, Central Jakarta.
www.galeri-nasional.or.id