Art lovers in Indonesia got to enjoy a different kind of exhibition this past month, thanks to a collaboration among CuratorsLAB of Goethe Institut, Galeri Nasional and the Ministry of Education and Culture.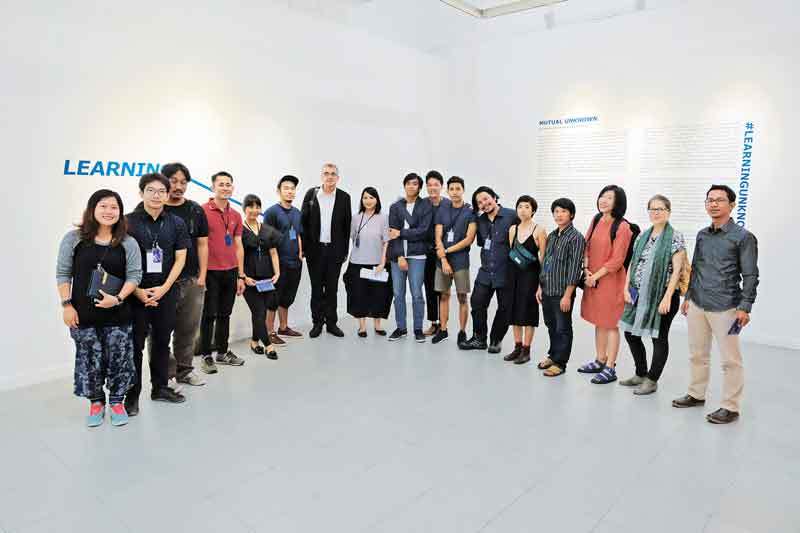 Taking place at Galeri Nasional in Central Jakarta between June 3 and 17, an experimental art exhibition entitled "Mutual Unknown" featured nine emerging Southeast Asian artists. Unlike ordinary exhibitions, the displays at this venue were shown half-done, with the intention to educate the public about the creative process behind the making of an artwork. It also allowed visitors to directly see the artists at work and engage with them.
Curated by three experienced art curators – Sally Texania (Indonesia), Rifandy Priatna (Indonesia) and Henry Tan (Thailand) – the exhibition also sought to establish a communication platform between the artists and the public.
"You'll see here an open-studio concept, which shows behind-the-scene processes of each artwork. Unlike other art exhibitions which usually begin with an opening ceremony, there won't be such a thing here. Instead, we will have a closing ceremony on June 15, where the public will get to see the final artworks of these artists," Sally told the press at a press conference held in early June.
As apparent from their choice of artists, the curators of "Mutual Unknown" sought to project the concept of regionalism in Southeast Asia – how it's interpreted by people living in the region and to what extent it has been influenced by other cultures.
Participating artists at the exhibition were: Fajar Abadi (Indonesia), Nuttapon Sawasdee (Thailand), Thuy Tien Nguyen (Vietnam), Azam Aris (Malaysia), Tan Vatey (Cambodia), Renz Lee (the Philippines), Kaung Myat Thu (Myanmar), Leonard Yang (Singapore) and Noy Xayatham (Laos). As part of the creative process, the curators and the artists spent one week touring Jakarta, Bandung and Yogyakarta. Each artist then went on a residency programme in one of the three cities.
"We are all under the umbrella of ASEAN (Association of Southeast Asian Nations) so we should feel that we are one and united. We want to see if this relationship we share is just written on paper or if it truly exists," said curator Rifandy Priatna.
Artist Renz Lee, from the Philippines, chose to display pictures of former Indonesian President Soeharto and former Philippine President Ferdinand Marcos, because he felt that the two figures played a crucial role in developing their countries, despite any social and political turbulence.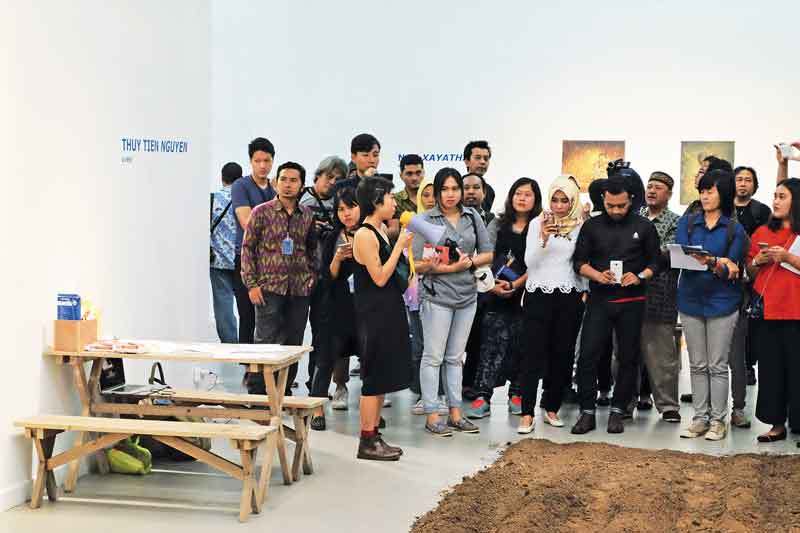 Singaporean artist Leonard Yang shied away from anything political. Instead, he transformed pictures of green spaces – which he took pictures on his trip to Bandung – into paintings.
Another source of inspiration for the artists was food.
Cambodia Tan Vatey created a miniature of colourful mushrooms made of Indonesian traditional fried crackers kerupuk and cigarettes. The kerupuk served as the heads of the mushrooms while the cigarettes were used as the bodies of the mushrooms, set against the backdrop of health magazines.
"During my trip from Bandung to Yogyakarta, I spent time thinking about healthy food and the diet here in Indonesia. As for my choice of mushrooms, it's related to my previous project, which was about vegetables. My project is akin to a series of food," said Vatey.
Also inspired by food, artist Thuy Tien Nguyen from Vietnam found herself intrigued by the popularity of instant noodles in and from Indonesia.
"In Vietnam, this Indonesian instant noodle is a favourite and it makes me wonder if instant noodles have become a staple today," she said.
At Nguyen's booth, she set up a large farming field using actual soil, where she then "planted" crumbs of dry instant noodles, favourite in most of Southeast Asian regions.
CuratorsLAB is an educational programme run by the German cultural centre Goethe Institut, dedicated to supporting contemporary curatorial practices in Southeast Asia.
www.curatorslab.org
Facebook: learningunknown
Instagram: learningunknown