The exhibit of the Presidential Art collection this year focused on the celebration of the 73rd Anniversary of Indonesia's Independence and the 18th Asian Games. Held at the National Gallery, the month long exhibition portrayed the nation's struggles.
Organised by the Ministry of State Secretariat, the exhibit "Indonesia Semangat Dunia" (Indonesia Spirit of the World) showcased 45 artworks from Presidential Palace in Jakarta, Bogor, Yogyakarta, Cipanas, and Tampak Siring which included the President's personal archive and gifts from foreign artists.
Crafts and sculptures were shown for the first time since its debut in 2016. The 1959 Bronze sculpture "El Arponero (The Harpooner)" by Roberto Juan Capurro and three Steuben crystals were among the new exhibits. Collected since February from around 3,000 pieces, the artworks were masterpieces created by 34 artists, including legendary painters Raden Saleh, Dullah, Basoeki Abdullah, and Henk Ngantung.
Curated by Amir Sidharta and Watie Moerany, the collection was an aesthetic metaphor for the spirit of hard work, collaboration, and cooperation. Secretary of State, Pratikno described the collection as visual representations of tenacity and physical ability which conveyed a strong message to support heroes competing on the world stage.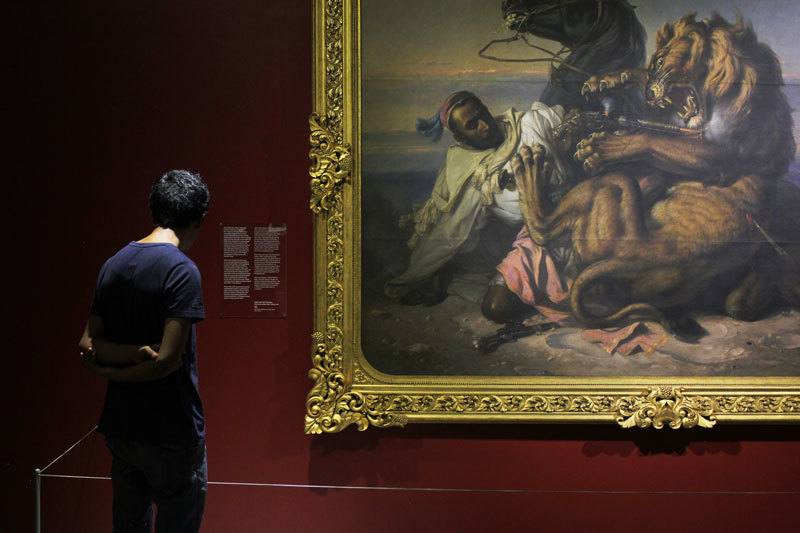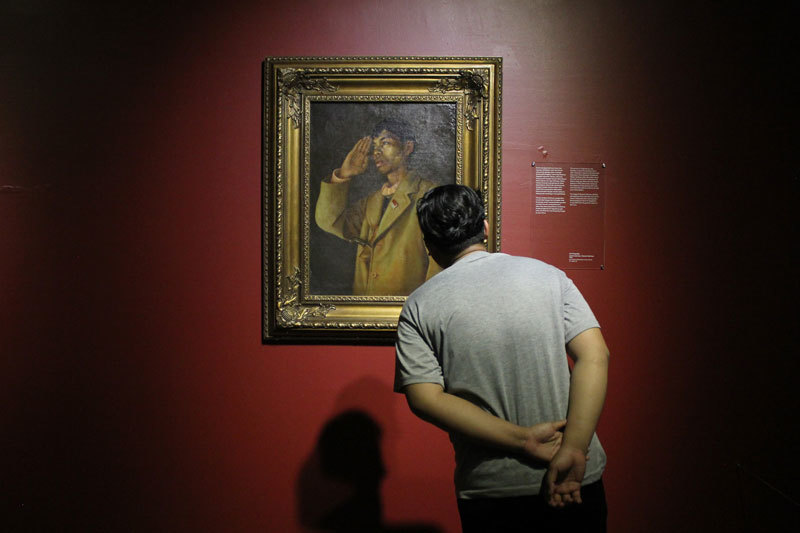 Dim lighting helped protect the works, and visitors were able to see the visual embodiment of the spirit though portraits of national heroes as well as their heroic acts from the artworks. 'Fighter' (1949) by Trubus Soedarsono and "General Soedirman" (1954) by Joes Soepadyo as well as the portrait of "Sarinah" (1965) by Wiwiek Soemitro focus on the figures. Raden Saleh's 'Fighting with a Lion' (1870) demonstrates the possibilities of war, life or death.
"This exhibition shows different forms of spirit such as the spirit of resistance, diversity, cooperation, and creativity. It could also be associated with competition and sportsmanship. The most important artworks often depict narratives of struggles that express the spirit of the nation," Sidharta said.
Moerany went personal with the two Soekarno favourite by referring to Henk Ngantung's "Shooting an Arrow" (1944) and the 1919 Bronze sculpture "Archer" by Zsiemond Kisfaludi Strobel. These two masterpieces told gave visitors insight into Soekarno's personal preference in symbolising the nation's struggle with traditional chivalry.

"Soekarno was always involved in the creative process of making statues and monuments by demonstrating himself as a figure. We could understand our President's love of archery as we could see statues of archers in at the State Palace, Gelora Bung Karno Sports Complex and other places," said Moerany who has led the National Gallery and Bogor State Palace.

The exhibition included the memorabilia of the 1962 Asian Games, when Indonesia first hosted the games.