Farah Wardani is a well-known figure in the Indonesian arts and culture scene. After completing her MA in Art History from the Goldsmiths College in London, Farah spent many years of her career in Yogyakarta, where she has been active as teacher, writer, curator and art organizer, as well as executive director of the Indonesian Visual Art Archive (IVAA). Farah moved to Singapore in 2015 to start working at the National Gallery Singapore's (NGS) Resource Centre. NOW! Jakarta spoke to Farah about her tasks and responsibilities, and the role of Indonesian art and art history in a regional context.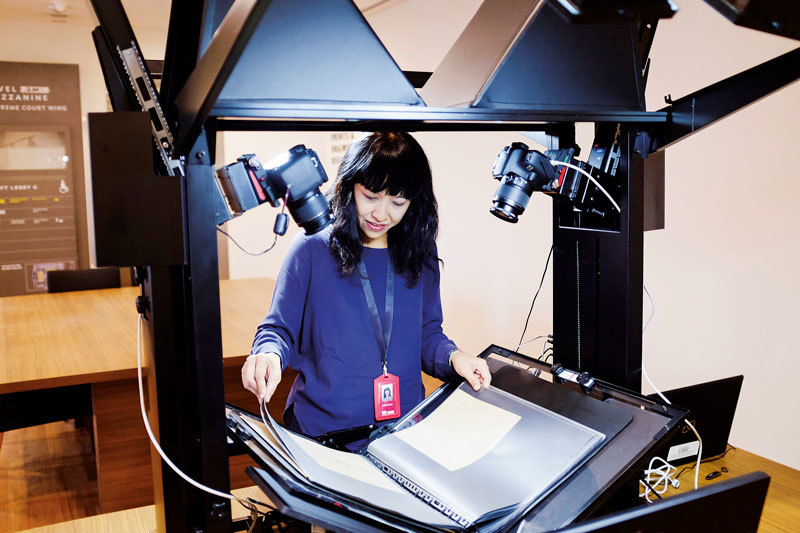 Was it difficult for you to leave Indonesia and IVAA behind? What made you decide that this was the right move?
It was difficult because I loved living in Jogja so much and regard IVAA and the people in the art scene as my family. I didn't really see or know whether it was the right or wrong move. But I was ready for a new challenge and see this as a good way to further develop to reach the next level, both professionally and personally. And as I have been here for two years, I do believe it has been the right move. It has been a great learning experience for me, and I love learning. It's part of the excitement.
What are your main responsibilities?
The Resource Centre is part of the Curatorial Research Division of the Museum.
The archival collection development is built along with the research strategies that adhere to the curatorial plans and programming. I am responsible for developing the collection and the strategies of the archival research, as well as the Resource Centre as a research space and making the collection accessible to the public.
How important is Indonesian art and art history to NGS in general?
Art history has always been connected to the development of societies: national, regional, international. As NGS takes on Southeast Asian modern art as its focus, Indonesian art history is a vital part since it's naturally one of the most crucial and biggest art scenes in the Southeast Asian region.
The bigger challenge is to find something to start with within the regional context of art historiography. Southeast Asian art historiography is still a field waiting to be established, full of discontinuities and missing links. It is a very young area to be developed and explored, and Indonesian art plays a big part in it. As archiving is also about collecting evidence, the task of the archive is to collect and discover as many sources as possible that can give evidence of various dimensions of Southeast Asian art history. The questions of defining Southeast Asian contexts and identities certainly become recurring subjects of discussion along the way. The archive is not particularly meant to present a canonization like the 20th century Western art history model, but to explore and re-explore the materials collected and remaining to be found.
I am often asked to compare between the scenes in Singapore and in Indonesia, which I admit can be totally different on the surface. In Indonesia, for example, the art scene works in a very organic way, while in Singapore it is more institutionalized and structured. Nevertheless, one thing essentially remains the same, and that is the importance of art archiving, or art history in general, and how it is needed in showing the relations between art practice and the challenges of society in this region, to provide resources for spaces of debates in building art history and its relevance in the development of contemporary society, Indonesia, Southeast Asia and the world.
There is a high demand of research materials on Southeast Asian modern art as Southeast Asian art history is now in the global spotlight (with the Gallery as one of the frontrunners), especially from researchers outside the Southeast Asian region where resources on this subject are scarce.
What are your plans for the rest of this year?
We are mainly focusing on three things: archival research projects in Southeast Asia, metadata building for the digital archives as the Gallery is preparing for a new digital platform, and a new long-term plan for the library.
It is designated to function as a reference library and digital archiving centre of Southeast Asian modern art, while working and building partnerships with Southeast Asian artists, artists' estates and art institutions in developing its work. Currently, NGS Resource Centre is focusing on digitisation projects and collecting primary archival materials of Singapore and Southeast Asian artists whose works are collected and exhibited in the Gallery, mainly artists who were active before the digital era.
Has your new role helped you to see arts from a different perspective?
Digital technology and the internet revolution have opened space for digital preservation, to preserve and rescue historical materials, as well as creating research and education tools, distributing knowledge by free sharing and exchanges. There are global movements of creating digital database platforms, online catalogs and resources, whether created with high-end sophisticated software, or open-source DIY programs. It is worth noting however, like my own experience with IVAA, digital platforms are still something luxurious in this region and need laborious, endless work.
In the art world, the Art Archive has increasingly become a legit subject on its own, belonging to a wide range of scholarly fields encompassing art history, arts and humanities, sociology, cultural studies and digital humanities, with artists, curators and scholars utilising archives for research and even creative materials for artworks and exhibitions.
In the art scene, art archive building has been established by Western museums as integral part of their work, such as Smithsonian, MoMA and Tate. In Asia, it is mainly initiated by independent initiatives and private foundations, such as Asia Art Archive in Hong Kong, IVAA in Indonesia, Alkazi Foundation in Delhi, and Kalaw-Ledesma Foundation in Philippines. It is important that National Gallery Singapore, with its vision to promote Southeast Asian art history and development, is also taking on this role especially in facilitating archival research, preservation and database system infrastructure. Now is a good chance for collaboration, creating links of digital resources and creating links of art researcher hubs.
For more information, visit www.nationalgallery.sg