Indonesian dancers Didik Nini Thowok and Otniel Tasman, from two different generations, are credited with popularising "cross-dressing" traditional arts. The pair performed at the 2018 Salihara International Performing Arts Festival (SIPFest) in August. Their struggle to draw a greater respect and understanding of the traditional performing arts is palpable.
"Cross-gender" performing arts, a term for cross-dressing artists, have existed since ancient times. In 14th century Europe, acting troupes adopted the guise of stock characters in a genre called commedia dell'arte. In Japan, there is Kabuki, a dance drama featuring cross-dressing men in addition to female actors. In India, these traditions are seen in traditional dances such as Kathakali, Kuchipudi, Seraikella and Gothipua. And in China, there is the Dan and Nan Dan.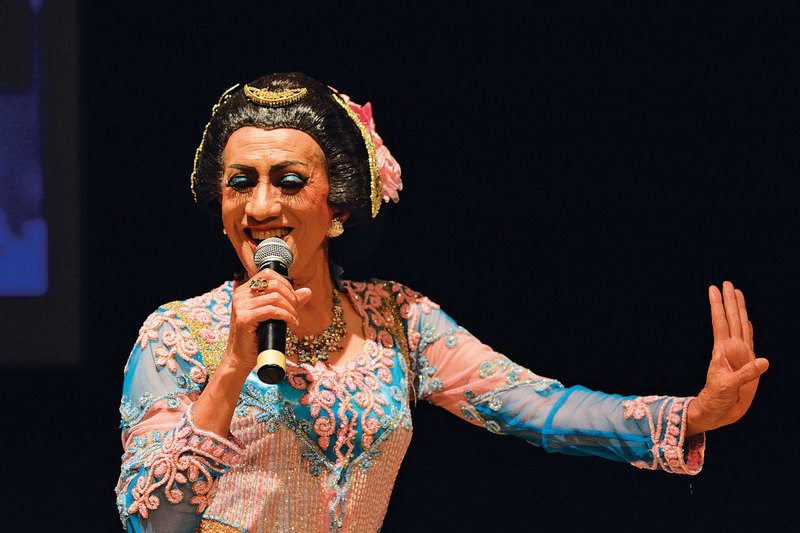 This tradition is seen in the traditional arts in Indonesia, too. The term 'cross-gender' is borrowed from English for lack of a bahasa Indonesia equivalent. Here, it is found in Pawestren, East Java and in Bebancihan, Arja Muani, Gambung in Bali, and or in the folk art of Randai or Biduan, West Sumatra.
Even in the palaces of Yogyakarta and Surakarta, the cross-gender tradition can be found in the dance dramas, Langendriyan or Javanese opera. It was also very popular during the King Sultan Hamengkubuwono VII-VIII era in Yogyakarta.
In Indonesia, the performing arts of cross-gender tradition has a long history. Not many Indonesian choreographers and dancers are able to dance masculine and feminine characters together in one performance art piece.
Didik Nini Thowok, one of the few renowned artists hailed as a dancer and choreographer who preserves the tradition of cross-gender art forms through his dance pieces, has the ability to embody the female character and his skillful performance of traditional dances. His work, which combines classical, folk and modern dance also comedy into one compelling package, never fails to dazzle audiences.
Didik, who began, his career as a cross-gender dancer in 1974, performed as a female character during his performance at SIPfest, showing his ability to perform various dance traditions. These included the mask dance, which is a blend of traditions from Sunda, Cirebon, Bali and Central Java blended with comedy and storytelling. He also lectured the audience, explaining cross-gender traditions more broadly across the Indonesian performing arts landscape.
Didik said cross-gender performing arts have become a tradition in Indonesia for a long time and have many patterns. One of the original samples of cross-gender performances was the human puppet in Yogyakarta, which was played by men as the Kingdom of Yogyakarta in the era of Sri Sultan Hamengkubuwono VII-VIII embraced Islam.
"In the past, there were scenes of hugging and lapping. If it was done by women and men, then it was prohibited as this is forbidden in Islam. So it was played by men. In addition, for safety reasons, the palace could not have their daughters present while they were entertaining Dutch guests," Didik said.
Didik explained that it also happened with Randai that usually held all night on a wide field. People judged women who were involved harshly, often claiming that there would be negative consequences on female participants as their participation was considered impolite and dangerous.
According to Didik, the cross-gender performing arts in Indonesia is currently experiencing a setback. Among the reasons is the introduction of censorship laws. Didik referred to the example when the Indonesian Broadcasting Commission (KPI) banned the depiction of men who appeared feminine on television in 2016. However, KPI revised the regulation and provided an exception to the traditional arts.
"Currently, cross-gender performances are more acceptable to society in the form of comedy, so the art value becomes fuzzy. Whereas in fact, the art of cross-gender performance is a skill that must be learned." Didik explained.
SIPFest also featured Otniel Tasman, the emerging cross-gender dancer who produced "Cablaka", a contemporary dance piece that draws influence from Central Java's Banyumasan lengger traditions and dangdut performances. His performance on 8 and 9 August at Salihara Black Box, coincided with the tenth anniversary of Komunitas Salihara.
Otniel, who Didik considers the next generation of cross-gender artist, is quite vocal about cross-gender traditional art. Otniel explores and expands upon myriad dance forms rooted in Banyumasan tradition and interprets them in a contemporary way.
"Cablaka" is also an example of inter-tradition dialogue, in both movement and symbolism. He also inserted the 'romanticism' of sub-urban dangdut music without having to diminish calung music and Banyumasan vocal characteristics.
Otniel noted that male dancers, especially those who perform the lengger (dance movement)both on the stage and street, are often viewed negatively. He noted that people often see him as a clown and even a sissy, but those who know his work see his performance for the art that it is.
In "Cablaka", Otniel didn't have a special message; instead his performance was an interpretive dance.
Didik and Otniel's performances calls for a further examination of the artistic value of cross-gender performing arts. As maestro Didik said, "We have to learn the history, and the government of Indonesia must educate its citizens about cross-gender traditional performing arts. It should be more selective to preserve the tradition."