"Indonesian Arts Exhibition, First Among Equal" was the first art exhibition held in the industrial estate of Cikarang. It was launched by the Jababeka Group.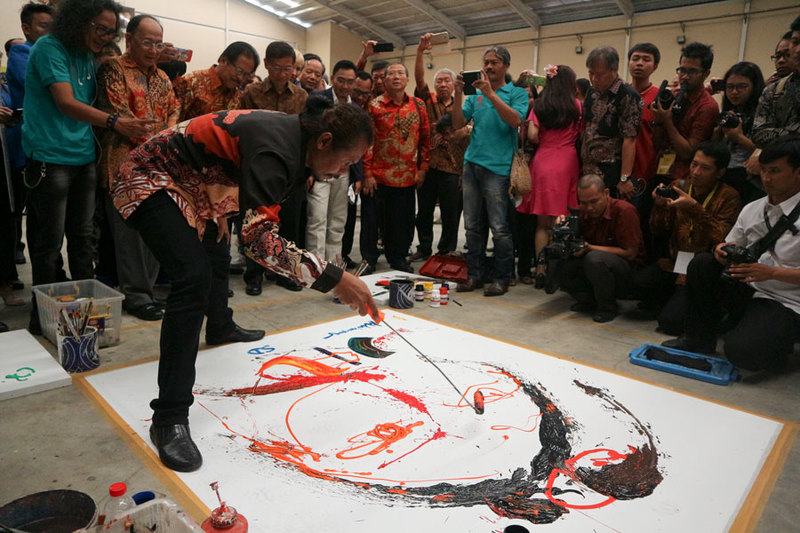 Held at Jababeka Convention Center from January 17 to 21, the exhibition showcased more than 70 paintings from Indonesia's maestros from the 19th century, such as Affandi, S. Sudjojono, Basoeki Abdullah and Hendra Gunawan. The pieces of art were collected from well-known galleries, namely Oei Hong Djien (OHD) Museum, North Connection Pasar Seni Ancol and Nahdlatul Ulama Gallery owned by leading Islamic cleric KH Mustofa Bisri, also popularly known as Gus Mus.
Behind the exhibition was a concern in the mind of Jababeka Group Founder Setyono Djuandi Darmono, who noticed there is now less and less appreciation of the work of Indonesian artists. In contrast to the 1980s and 90s, the purchasing power of collectors now is also considerably lower.
Thus was born the concept of the show, aptly titled "Standing with the Masters". The display was aimed at boosting the value of Indonesian artworks and inspiring artists as well as those in the creative industry to enrich their designs and meet with collectors and artists alike.
"Design is one way to increase the value of product. For example, Indonesia's exports in the automotive sector have been able to increase in the last three years because of the designs, not because of the machine or the technology itself," said Darmono.
OHD Museum brought 60 artworks dated from 1920 to 2017, including those of Kartika Affandi, Soedibio and H. Widayat, which belong to the private collection of Oei Hong Djien. The artworks were then divided into five subjects based on most-inspiring subject matters of the artists: Portraiture, Scenery/Landscape, Politics/War, Social-Life and Symbolism and Myths.
According to Oie Hong Djien, the five subjects can not be separated from human life.
North Connection Pasar Seni Ancol showcased paintings by 35 artists from Jakarta, Bandung, Banten and Yogyakarta. A. Nazilie, an artist from Jakarta presented a painting titled Merajut Tali Persaudaraan (Knitting the Ties of Brotherhood) which illustrates the brewing intolerance among Indonesians due to political reasons.
The exhibition also displayed a painting of Nasirun, a Yogyakarta artist who won recognition from MURI (Indonesian Museum of Records) for carving dozens of cars.
The exhibition was held in collaboration with the Visual Communication Design major at the President University. It also featured other artworks such as statues, installations, Batik paintings, bonsai arts, humanoid from Old Town Jakarta and 20 Chinese jars from Ming and Tang dynasties.