The BBC recently released its "100 Women of 2018" list, a selection of inspiring and influential women from around the world. Indonesian Comedian Sakdiyah Ma'ruf was among them. Awarded the Václav Havel Prize for Creative Dissent at the Oslo Freedom Forum in May 2015, she uses comedy as a way to challenge Islamic extremism and violence against women. She spoke to NOW! Jakarta about tackling these issues.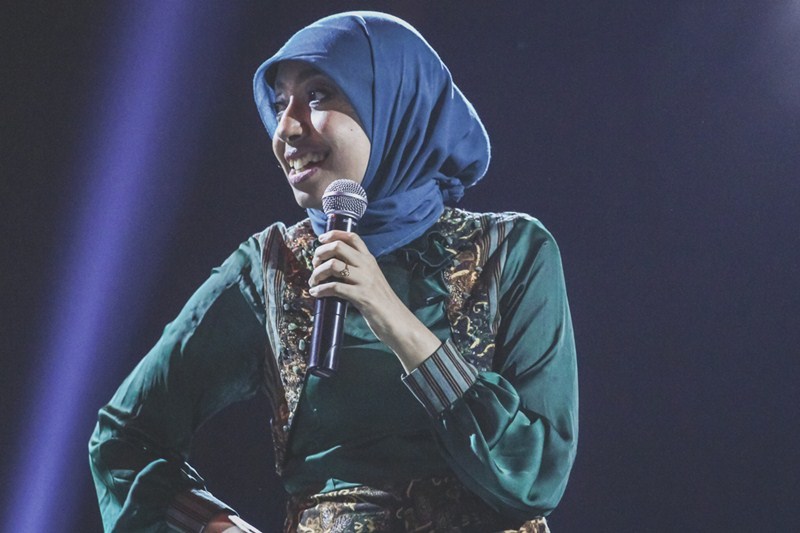 Congratulations on being chosen as one of the BBC's Top 100 Women in 2018! How does it feel to be given this international recognition?
I actually didn't work a lot in 2018 as my daughter was just born. But the BBC saw my work over the years, some of which was covered in the international media. It means a lot to me. It's not just for recognition or the publicity as a result of it, but it's a reminder of what I've done so far and it motivates me. I take my work seriously. Being a comedian is my passion, my spiritual path because through humour I also can reflect on who I am and hopefully my devotion to God too.
What are your thoughts on Islamic extremism? You bring it up often during your performances.
I believe the term "Islamic extremism" is often misunderstood. In my personal opinion, extremism involves radical thought which leads to violence because of group interests, and ideology. We're dealing with various situations in Indonesia and we need to be smart about sorting it out. One example is the 212 movement which is blamed for the increase in extremist thought. But I don't believe it will lead to extremism. However, it is a movement which has led to an increase in more conservative approaches to the practice of Islam.
How can humour help address these issues and understand them?
We often underestimate humour and consider it just entertainment. While that is true, humour is also very effective in conveying ideas and thoughts without people realising that they've been challenged to think about their attitude towards a certain issue.
For example, I often talk about my experience growing up in a conservative Muslim environment in Pekalongan, Central Java. One of my experiences was how women didn't have a lot of opportunities. I don't even think they they could express their dreams publicly. There were, and are, many limitations. When I left for University, I realised these limitations extended to University life too. I had thought it would be a place where ideas are accepted and people would be more open. It was before we talked about extremism in Indonesia. But I found that there was a separation between men and women in public areas, including in seminars and lectures. Then, I made a joke:
"In college, for the first time I witnessed a separation between men and women in public forums like seminars or lectures. I was surprised because even in my conservative community there's no such thing as separation between men and women in public forums, women just don't go!"
It is funny in a way, but on a deeper level it shows how conservative we are as a society. So, humour is one way of inviting people to think about different perspectives through which we can understand the issues in our community.
Do you feel that humour is an effective medium to make people realise hard truths about their community?
Humour is a very effective way of making people more aware of who they are, and of their society, and the contributions they make along the way. For instance, one of my favourite jokes is from an American comedian, Tig Notaro. She talks about parents who are very excited about taking their children to see firetrucks that pass by. Children are happy and wave at the firetrucks, without realising the trucks are speeding towards people who are desperately in need of help. That's a very simple way of saying how ignorant society can be about issues on a deeper level.
How do you see Muslim women in Indonesia?
Muslim women in Indonesia have different attitudes about life and different traditions that we adopt in our lives as Muslims. For instance, from one province to another, regardless of the fact that we all share a common religion, we raise our children differently. But we all believe we're each following the rules set out by Islam, and practice Islamic values.
At the same time, we're also more independent. Nowhere else do you see women in burqa riding their own motorbikes to college. So, although they are dressed in niqab or hijab they are still inspired by the spirit of globalism. They might hate traditional norms, but they want to be part of the global Islamist movement.
Do you think you will always address issues of Islamic extremism on stage?
I want to grow as a person. I bring up these issues because that's where we are now. These are issues that are part of my thought process at the moment. As a creative person, of course I need to explore more, while still referring to my own experience. It's not because I want to be popular or increase the number of fans or because of pressure because the themes are so sensitive.