The Embassy of the Kingdom of Thailand to Indonesia and Komunitas Salihara, in partnership with ARCOLABS and Jakarta State University's Visual Arts Education Department presented The Concept of Self: Individuality and Integrity dedicated to art collaborations.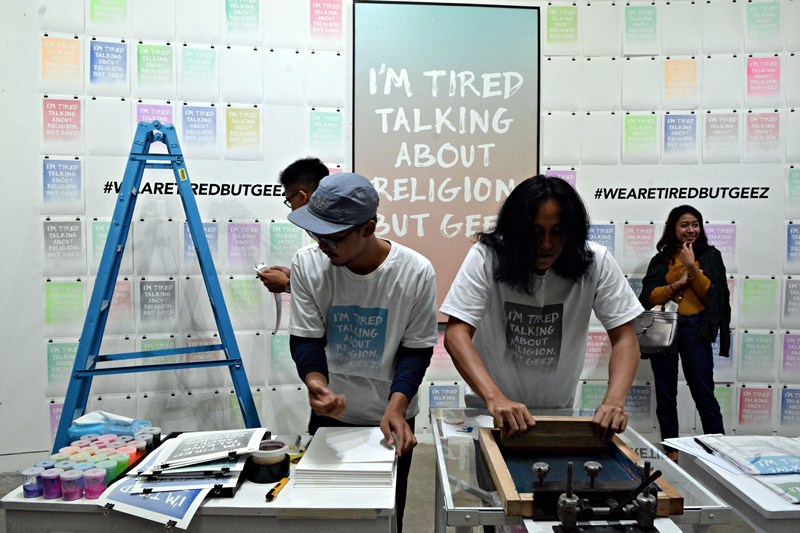 The exhibition marked the second installment of a collection of exhibition dedicated to young Indonesian-Thai artists, including Antonio S. Sinaga, Chayanin Kwangkaew, Chulayarnnon Siriphol, Kitikun Mankit, Patriot Mukmin, Theo Frids Hutabarat, Thidarat Chantachua and Rega Ayundya Putri. Comprising a tightly focused selection of major collaborations, the exhibition was on show from 19 January through 3 February at Komunitas Salihara. The exhibition was curated by Jeong-ok Jeon, Linjie Zhou and Jongsuwat Angsuvarnsiri.
The first series took place in Subhashok the Arts Center Bangkok (S.A.C.) in 2017 entitled "The Concept of Self: On Power, Identity and Labels." This year's exhibition saw huge success as each of the artist's presentations exemplified a wide range of rationale that drove artists to collaborate. The main focus of the exhibition was to define a factor influencing self-concept, featuring conscious awareness of artist's thoughts, feelings and personal experiences in the changing lives of Asia. In producing their work, the artists used Macrosociology and Microsociology theories to describe personal connections and artistic idealogical attachments. Many of the works were associated with powerful relationships between their signature styles and how they perceived challenges to cultural diversity.
The Concept of Self: Individuality and Integrity showcased the important similarities in relation to the discourse on the Indonesian-Thai political and cultural shift in the 1990's and afterwards, especially how it affected each artist in developing their individual artistic self and artistic integrity as a member of society. Taken together, the exhibit deliberated over continuing collaborations in contemporary art, demonstrating how the artists enriched the impact of culture-based creativity as a response to society.
Chulayarnnon Siriphol on The Internationale, a 6-minute music video, 2018, said, "Our history is a part of my body. This music video was made during the artist-in-residence programme at Organhaus Art Space, Chongqing, China. It is a new take on the left-wing anthem, The Internationale or L'Internationale, written by anarchist Eugène Pottier as a response to the First International workers congress in 1864. Since its adoption as an official anthem following the Second International in 1889, The Internationale has been translated into many languages and become a big part of a movement by communists, socialists, anarchists, democratic socialists, and social democrats."