Martell 300 Tricentenaire in association with Edwin's Gallery has opened the Contemporary Art Exhibition "Medium of Living". An exquisite art exhibition by 14 Indonesian contemporary artists, it showcases a depth of innovation, freedom, creativity and independence of mind in the exhbit entitled "A Small Universe in the Field of Meaning".
In essence the contemporary art exhibition is a retrospective exploration of habitat, nature and portrait of human life. The exhibition invites art connoisseurs to explore new perspectives in art.
Danuh Tyas, the curator selected the work of 14 talented Indonesian artists, including; Abenk Alter, Anton Subiyanto, Emte (Muhammad Taufiq), I Putu Adi Suanjaya 'Kencut,' Michael Binuko, Ngakan Putu Agus Arta Wijaya, Nurrachmat Widyasena, Radhinal Indra, Rocka Radipa, Sekarputri Sidhiawati, Walid Syarthowi, and Yosefa Aulia. Hendra 'Blankon' Priyadhani, I Putu Adi Suanjaya, and Rudy Atjeh.
On entry to the gallery, the first exhibit to introduce the collection is a cosmological acrylic painting from Ngakan Putu Agus Arta "Tower Bridge (Chinese Zodiac Series)" about the food chain and the connection between animals.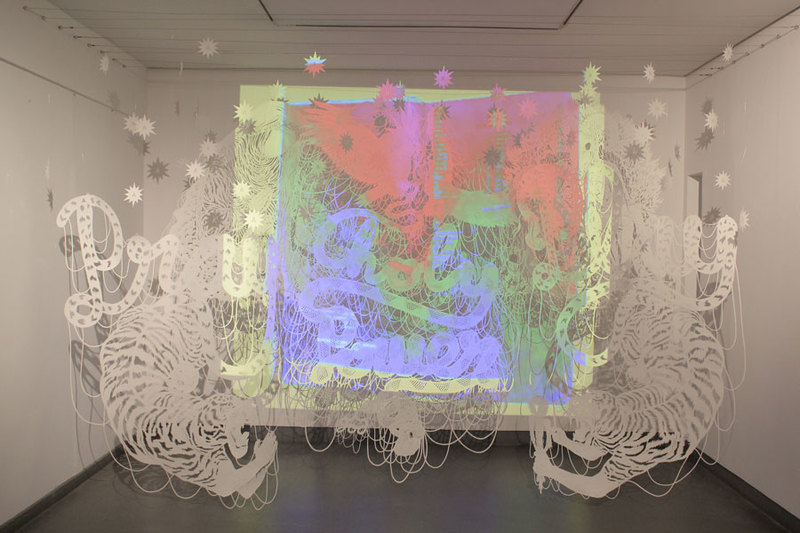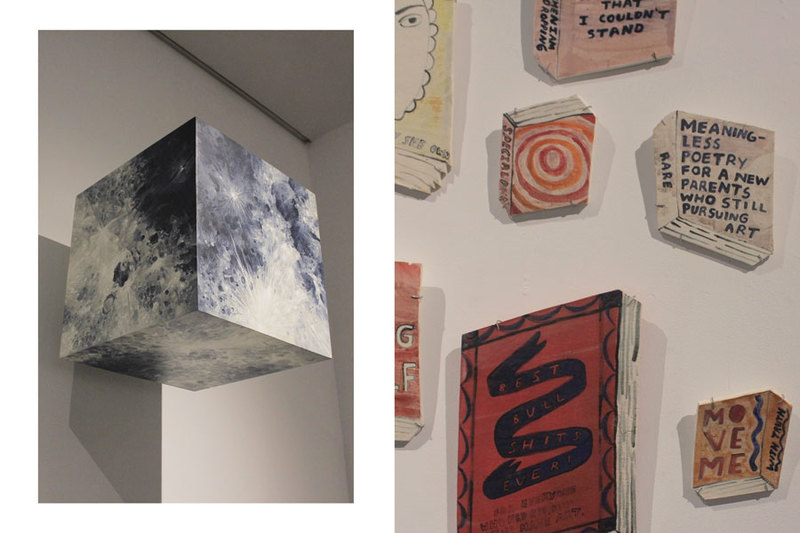 Rudy Atjeh's "Symphony for the Almighties" is a combination of video projection and hand cut paper symbolising religious elements: God, Prayer, Holy book, and Power
According to Danuh Tyas, the world, as represented by the artists, is a macrocosm.
"The world owned by an artist is vast. The idea comes not just from objects but can also be taken from other meanings about the world from people who come up with the idea and [their] perception. Books, the internet, and conversations with people around are few of the many sources," he says.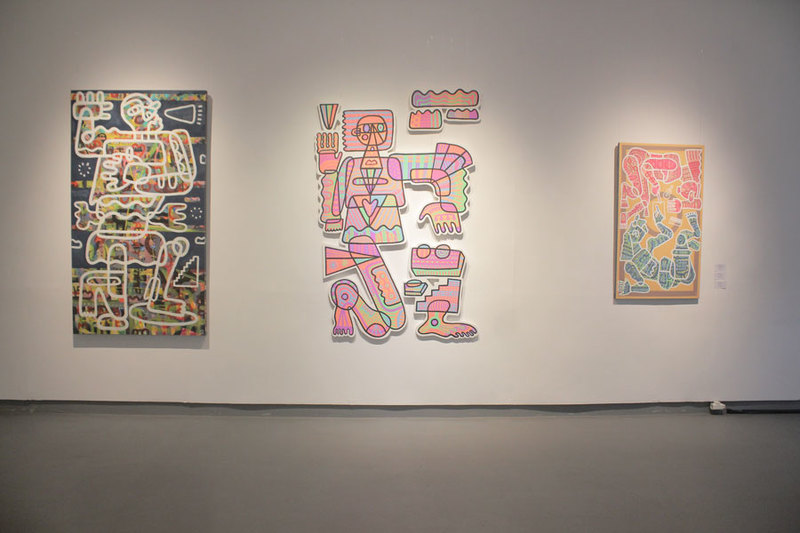 Tyas added that the perspective of the artist can never cover everything as art is a manifestation of the subjective experience, symbolic and allegorical. The exhibition is unique as artists gather to build a comprehensive narrative from fragmented perceptions.
"The world around is no longer the place where they live, but it becomes an important element that can be seen "live" in their work. One can also identify the effort of the artist as they manifest the reality of "universality" from their own perspective", he added.
"A Small Universe in the Field of Meaning" contemporary art exhibition is on display until March 13, at Edwin's Gallery, Kemang, South Jakarta.