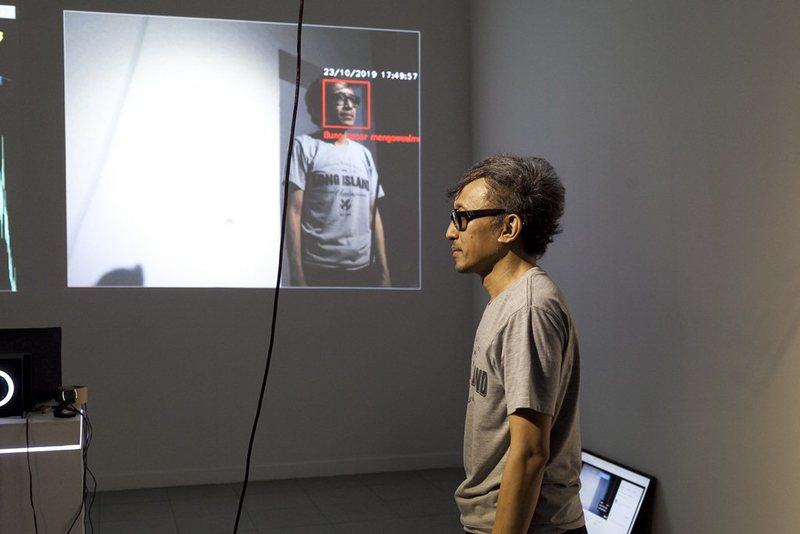 For those visiting the National Gallery of Indonesia this October, the first impression that comes to mind is the giant cyborg that covers the face of the Dutch-style building. The work from Surabaya-based artist, Dwiky KA is a gate to the new media art exhibition, Instrumenta that invites anyone to stop by.
Debuting the first international new media art festival last year with 'Sandbox', Instrumenta returns with the latest exhibition 'Machine/Magic' as the theme to carry a discourse about the practice of media art with the world of science fiction (Sci-Fi) as part of the response to today's contemporary culture.
A total of 28 artists from local and abroad manifest their artistic approach to the concept and practice of Sci-Fi. Opened with the video mapping by Bandung-based art collective KULTse and eclectic performance by Monica Hapsari, Intrumenta Festival invites one to rediscover the boundaries between art and science that have been causing debates and contradictions.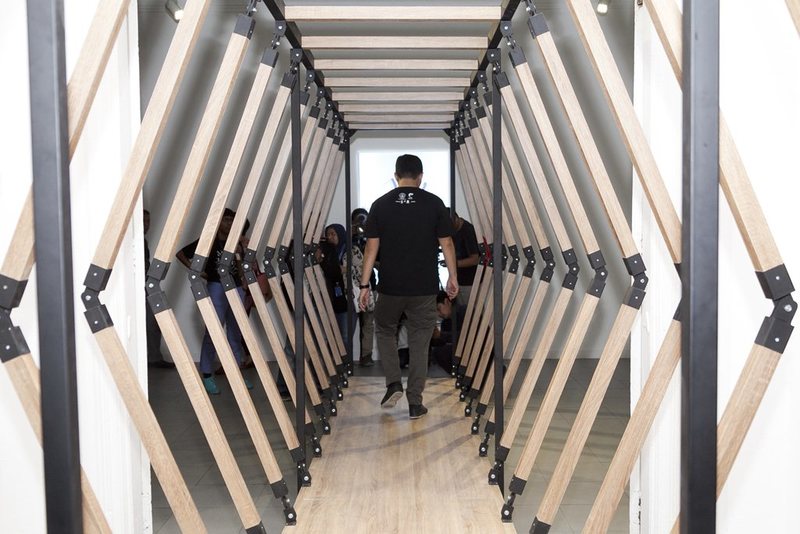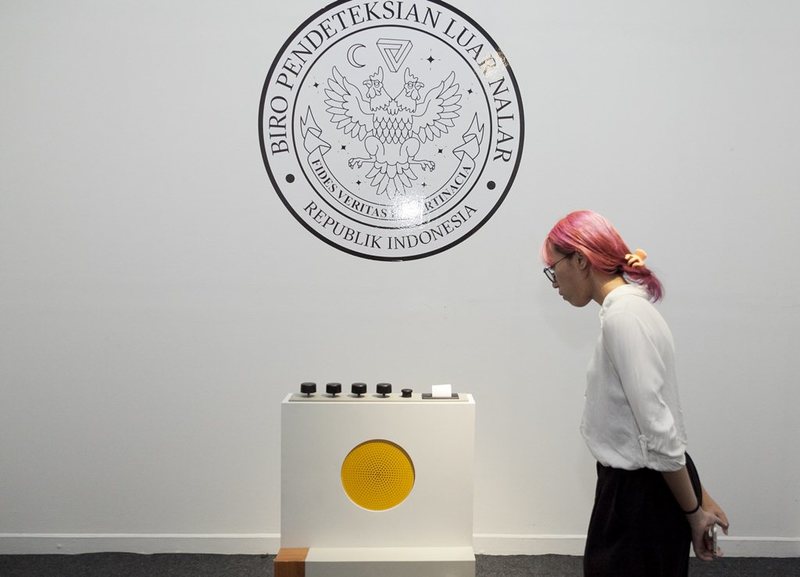 Through metaphoric manifestation of machine and magic, the exhibition focuses on the affirmation to the human's imagination to the future world and also put critics to the technology development that cause a disruption to civilisation. "We try to bring a theme that closes to the public narrative. We are inspired by popular culture, comics, games, that develop into expression and fantasy. It's a mix to show the tension form the vision behind art and science as Sci-Fi is perceived as kitsch (deviant art)," Agung Hujatnikajennong, the art director of Instrumenta said.
From the front door of the main building, Dwiky KA manifests the futurist artificial intelligence controlled by a genius toddler. Inspired by a character from novel Getaran (1972) by Djojkolelono. It's a utopian world that anyone could expect in the future. The interactive work from Yogyakarta-based artist Rudi Hendriatmo is a depiction of traditional wooden machine that requires human collective control. Architect and artist Rianti Gautama continues visitor experience to pass through her wood aisle installation that plays with one's perspective to a time machine.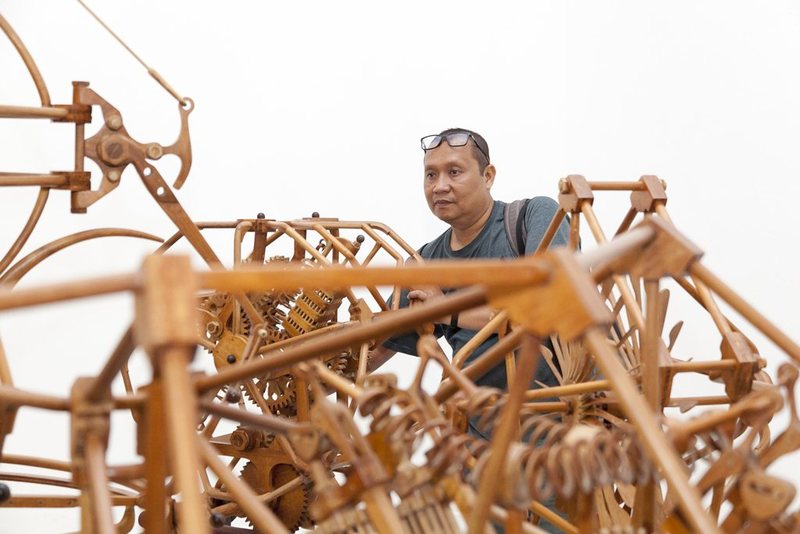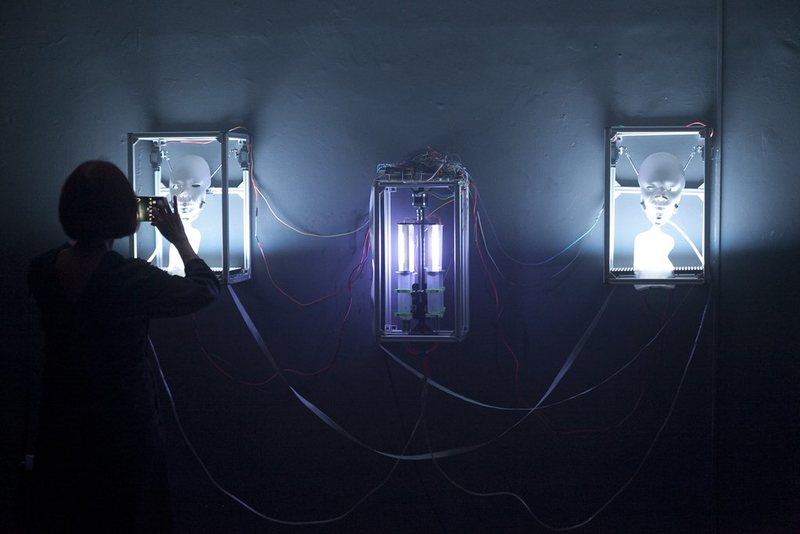 Inside, artists provide a framework that highlights intersection between magic and machine that challenge people's belief and faith. For example, the collaboration between Rega Rahman and Bandu Darmawan is a result of their research about Sudjana Kerton, a painter who claimed he was kidnapped by aliens. A seal of Biro Pendeteksian Luar Nalar (A Bureau of Illogical Detection) is a manifestation of myth and UFO invasion in the world. On the other side of the room, art collective Cut and Rescue challenges one faith through a collection of things that placed in pentagon arrangement as their idea to link sensitive topics between religion, science, and technology. Benny Wicaksono and Riar Rizaldi focus on the critic of technology development through the act of surveillance and exploitation of natural sources.
"Instrumentra aims to show the contradictory perspective about Sci-Fi, the world between utopia and dystopia. Artists show their affirmation to this particular art genre while the others use it as a critic of science," Hujatnikajennong said.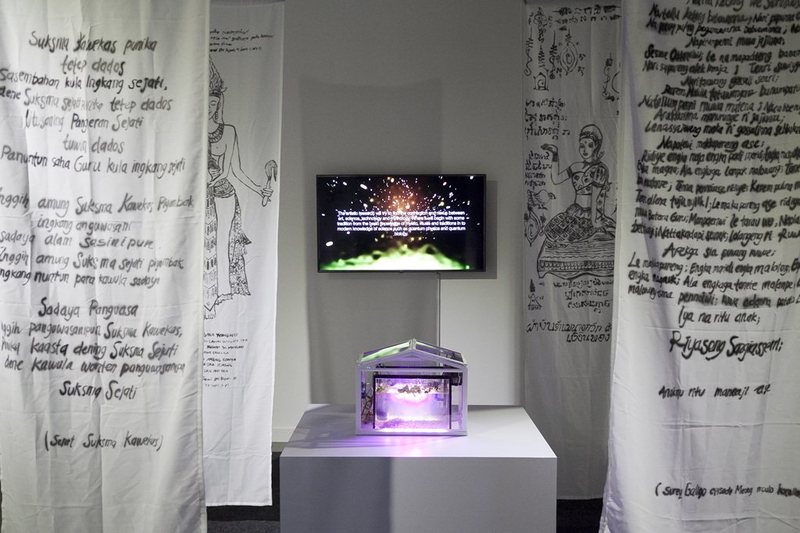 Beside a month-long exhibit, Intrumenta is a festival that runs a series of events from curatorial tours, panel discussion, artist talk, art performance, lecture and workshops. Bentara Budaya Jakarta hosts a panel discussion to talk about the recent development of homegrown media art with industry experts Fumi Hirota, Yasuko Yubisui and Riar Rozaldi as well as Intrumenta's curatorial team Agung Hujatnikajennong and Bob Edrian Triadi.
Etza Meisyara, Duto Hardono X TROMARAMA, along with Tontey and the Krazy Kosmic Konspiracy will be performing at the Goethe Institut on 1 November, followed with a public lecture on 11 November with Australian artist, Stelarc who has vast experience on media art. At the main festival location, the National Gallery will be hosting an art talk at the seminar room and workshops with Stelarc, Arahmaiani, Rudi Hendriatno and Bayu Genia Krishbie.
Instrumenta #2 : Machine/Magic is running until 19 November at Building A and C at The National Gallery of Indonesia. For more information of the exhibit, visit www.instrumenta.art or follow them on social media @intrumenta.festival.