The newly elected President of the United States wants to build a wall to keep Mexicans out of his country. Meanwhile, back on our "ranch" here in Jakarta, artists from different origins came together in early February to work on the creation of the latest and probably largest street art mural in town, called Gores Sejarah Kita or "Inscribe Our History", on the inner wall of the Kalijodo.

In colonial times, Kalijodo was a famous meeting place for Chinese residents of Batavia to spend their time and court. On the peh cun (pachuan) row boats along the long canal, young women and men would hide, each peeking to take a glimpse of one another, and throw pieces of Tiong Cu Pia cake at one another, indicating a sign of interest in the person. This became their ritual of courship and apparently, that is how the place got its name, "river of courtship".
It is also said that in those times, Kalijodo was famous as a place for men of Chinese descent to look for concubines. It is also likely that prostitution had already existed there since the 18th century. In the 20th century, it became a center of night time entertainment for the lower class residents around the area. It was also frequented by sailors and crew of ships docked at the Sunda Kelapa harbour. In the 20th century, the slang term peh cun became associated with prostitution.
In the 1970s, in an effort to curb the spread of venereal diseases, Jakarta Governor Ali Sadikin localized prostitution. While the main center was Kramat Tunggak, slowly other centers also appeared, including Kalijodo. When Governor Sutiyoso closed Kramat Tunggak in 1999, Kalijodo became more popular, not only as a center of prostitution, but also gambling.
In 2001, a major ethnic clash occurred at Kalijodo and calls for it to close down escalated. Two years later, the gambling and prostitution places there were shut down and demolished by the government, and the major players behind their operations were arrested. However, before long, prostitution and gambling returned.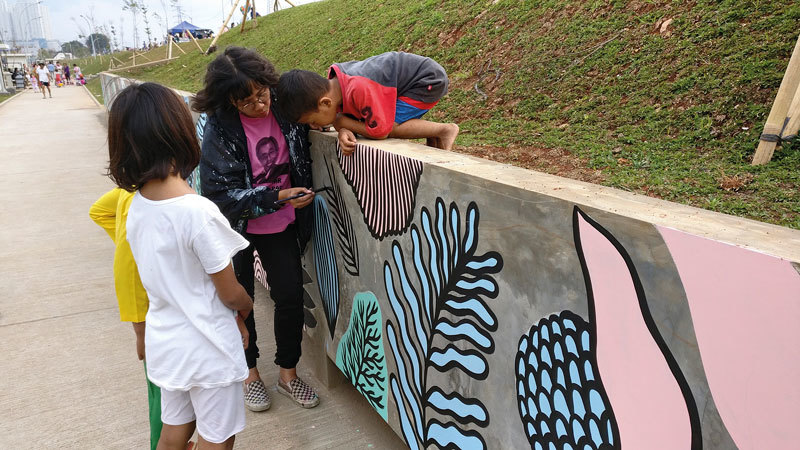 Early last year, the Jakarta Provincial Government decided to shut down Kalijodo and turn it into a park, as the area had been zoned as a green belt. Public parks in Jakarta generally lack maintenance and as a result are abandoned and then become prone to squatters. Therefore the government decided to develop RPTRAs (Child Friendly Integrated Public Spaces) combining public parks with libraries, playgrounds, lactation centers, pantries and toilets for persons with disabilities. Some units are also equipped with fish ponds and herbal gardens which residents of the neighborhood may harvest in order to improve their nutrition and health. The idea is that if the public parks are filled with activities and serve a lot of different purposes for the residents, they will be under constant monitor and therefore not become neglected and fall into the hands of squatters.
Yori Antar Awal, the architect of the Kalijodo RPTRA, envisioned it as a place for neighborhood residents to meet, socialize and play together. To make the space more lively, he also wanted to add public art. Initially, he asked artist Hanafi to create a large sculpture at the northern end of the site. Then, members of an informal group called ArtSipJakarta, of which Yori is also a member, organized street artists to create a mural on the inner wall of the RPTRA building on the south side of the site.
"I thought the wall could and should be a medium of expression, especially for the young to be able to channel their artistic talent, expression and creativity," he said. They invited a number of bombers (street artists) to "bomb" the large wall.
Artsip members Mia Maria and Esti Nurjadin, who are familiar with and haved worked closely with the bombers, were put in charge of selecting the artists. Ten, namely Darbotz, Tuyuloveme, Tutugraf, Stereoflow, Popo, Bujangan Urban, Older Plus, Wormo, Smokie and Gigin, were assigned to work on the large South wall. Marishka Soekarna was assigned to work on a long low wall on the north side of the park.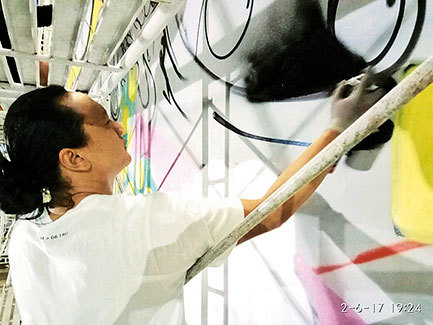 "The artists were selected based on their unique visual style and their consistency in their work in the Jakarta street art arena. Also, they already knew and respect each other, and hence they collaborate well together and encourage each other to optimally express themselves," Mia Maria explained.
In creating the large mural, "the challenge was about how to bring together the wide variety of styles of the artists and how their signature styles can become a dynamic partnership", Darbotz revealed.
The artists formed a Whatsapp group to communicate with one another. They initially determined the general shape of the image that defines the mural in general, and planned how the artists would work freely and independently of each other, since not all artists can work in unison, as their time schedules differed from one another.
"Then, as we started to work, Bujangan Urban suggested that we create something more abstract and graphic, and therefore the initial sketch we made was altered into of a new sketch consisting of fragments of the wall that becomes a unified whole," the artist explained.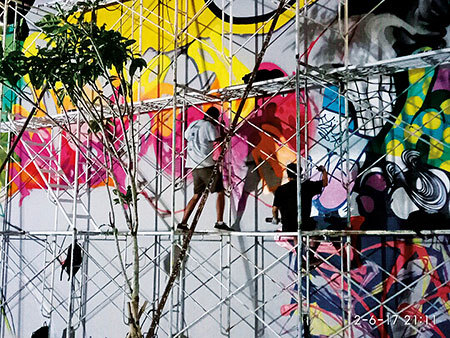 "This wall turned out to be more than just a physical structure where creative ideas blossomed and artistic spirit is nurtured; it has since become an iconic focal point for this particular public open space," said ArtSip Jakarta member Winda M. Siregar.
"While public art, or community art, is intended to be for the enjoyment of everyone, at the same time it should also speak on behalf of and create an attachment to the community it represents. Yes, it should be attractive and accessible, but it should leave those who view it with a greater sense of identity. So when more than ten artists are able and willing to collaborate to create one giant and cohesive visual art without negating each other's characteristics and uniqueness, I find that this project is a perfect metaphor for both the past and the future of the area: Kalijodo's massive crowd is comprised of individuals from all walks of life, and of different ethnicities and religions and socio-economic strata, each with their own unique identity," she added.
So, it is clear that our Kalijodo wall is the exact opposite of Trump's wall. Whereas Trump longs for a wall which divides, isolates and segregates, our Kalijodo wall unites, embraces and integrates – even in the face of adversity and diversity.