After missing a year due to pandemic pause, the Jakarta International Photo Festival (JIPFest) returns this year from 13th to 28th November, bringing the main theme "Space". The festival wants to invite various interpretations of how space plays an important role in life, and is still enthusiastic about displaying photographic and photo-based multimedia works with a variety of visual approaches that can stimulate further discussion and provide a satisfying aesthetic experience. Sari Widiati got a chance to interview the JIPFest Festival Director, Cristian Rahadiansyah to reveal what is behind this year's festival, for NOW! Jakarta. Photos by JIPFest.
NJ. Congratulations to you as Festival Director of Jakarta International Photo Festival as you have managed to keep it going even in this uncertain situation when it is so difficult to hold a festival due to Covid-19 pandemic. Can you share with us how are you still managing to keep going? What are the challenges?
C.R.The challenge is real, and it keeps developing as the situation constantly changes. I guess I have had to be highly adaptable –since the second edition of the festival (the first was held in July 2019) shifted from 2020 to 2021, we have adjusted the scale, venue, and lineup of the festival among other changes.
One of the fundamental things that I persevere with is to keep the physical experience of the festival. I believe that a festival can only come alive when it is presented physically, even though it means having to significantly reduce the audience capacity of our programs.
Having said that, it is challenging to provide a safe experience for our crew members, volunteers, guest speakers, and visitors. We are constantly thinking of ways to make sure everyone is safe and healthy –but we are not alone. Jakarta's Tourism & Creative Economy Office and Indonesia's Tourism and Creative Economy Ministry support us, and we have also seen a few large-scale art and cultural events including Ubud Writers & Readers Festival, Jakarta Contemporary Dance Festival and Biennale Jogja push through the limitations to deliver their events.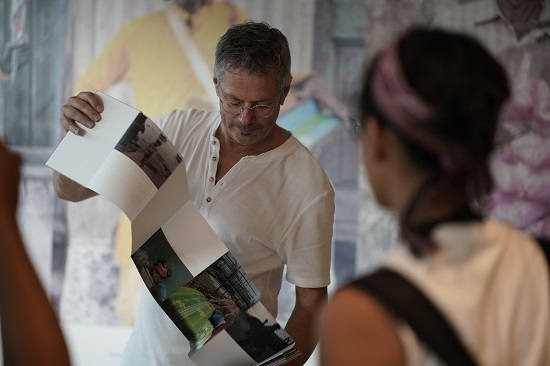 NJ. When activities are slowly opening up and lots of events are coming to an end, how do you get people to pay attention to this festival?
C.R. One of the things that keep us going (by the way, we have a very small team running JIPFest 2021) is the constant support that the community shows us. From the start, JIPFest is organized to be a photo festival for the public –not just the photography community– and that vision has translated into a growingly diverse community surrounding the festival. Prior to the festival, we have organized a few programs under Road to JIPFest initiative. The programs include a photo curatorial workshop supported by Goethe-Institut Indonesien and a photo critique workshop supported by Erasmus Huis. Both workshops have had very successful open calls, while the online workshops were well executed.
On a lighter note, during the first PSBB, we ran an Instagram campaign "Potret Saat Bumi Berhenti" or shortened to PSBB (pictures when the earth stops), to lift spirits within the photography community. The regular activities outside the festival has allowed us to build a solid community that continues to support each other outside the festival dates.
NJ. Please give us some idea of the interesting programs for this year's festival that we're going to see and hear so that we actually get people excited?
C.R. This year we have 36 events with over 40 guest speakers. Most of the events are free with limited slots –including Talks (Discussion, Public Lecture, Artist Talk) and Exhibitions (Photo Exhibitions and Photo Book Exhibitions). To explore Kota Tua, we also organise paid walking tours in small groups for street photographers and general audience. Another entertaining program is Projection Night. It's like movie night –but the audience will be watching photo works. All in all, we hope to present a 16-day event that gives people a reason to safely go out, be inspired, and create new networks.
NJ. Regarding the venue, what are the reasons for choosing Kota Tua for holding the festival this year?
C.R. Jakarta is a big part of the festival, and with each edition we want to encourage our audience to explore different parts of the city with new perspectives. In 2019, we held the festival in 17 locations around Central Jakarta. Some of the exhibitions were held in public places like Taman Menteng, and that was when we saw the excitement of seeing photo works mingle with daily activities of people around the area.
This year, we want to bring in people to historical sites, which have been turned into festival venues with new photos, new topics to discuss, and new networking opportunities. We hope the juxtaposition creates an inviting atmosphere.
If I may add, Kota Tua is one of the biggest tourism highlights of Jakarta, and during the pandemic, businesses up there have been struggling. I wish JIPFest could contribute to the recovery by bringing back the tourists, hopefully also from overseas, to the historic area.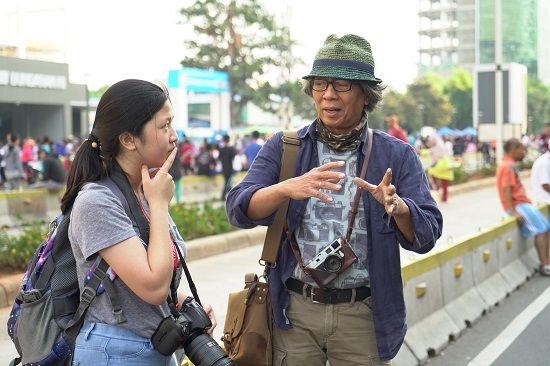 NJ. When you say this an international festival, what makes it international?
C.R. The easiest way to explain the international scope of the festival is by looking at the Photo Exhibition. The Open Call amassed 398 works from 47 countries, from which the curatorial team selected 14 works from 12 countries. In a short time, JIPFest has managed to build an international network that attracts global photographers, and I think that's really interesting. One of our curatorial team members, Sayed Asif Mahmud, is a working team of Chobi Mela, the largest —and arguably the most influential —photo festival in Asia.
We've also been invited to participate in public discussions by other photo festivals, including Singapore International Photo Festival and Hong Kong International Photo Festival. The involvement signals a network of photo festivals where we can learn from each other.
What makes JIPFest international is also its lineup and participants. In the first edition of JIPFest in 2019, we managed to bring 70 guest speakers from eight countries, including Croatia, France and the Netherlands. Also in 2019, our workshop program attracted participants from overseas, including Canada and New Zealand. Sadly, this year, it is highly unlikely same things will happen.
NJ. What visitors should pay attention to in order to come to this festival?
C.R. Most of our events are free, but we require all festivalgoers to pre-book their visitation slots. We will be launching a microsite (ticket.jipfest.com) to enable easy online pre-booking. Other that, we require all visitors to have received at least one dose of Covid-19 vaccination. And of course, don't forget to wear a mask.
NJ. What do you see from the impact of holding this festival?
C.R. One of the most tangible effects we've seen from JIPFest 2019 is the publication of photo books as a result of the Photo Book Workshop we held with Teun & Sandra van der Heijden. Some of the alumni of Curators Lab program in 2019 have also gone on to be exhibition curators and photography writers. While their personal effort decides their success, it makes us happy to see their career progression.
Another story I remembered, in 2019, there was a gallerist from Slovakia visited JIPFest to scout for talented young photographers and exhibited their works back in Slovakia. This is what I want to see more. Through JIPFest, I want to put Jakarta, and Indonesia, in the global photography map. I want to bring opportunities to Indonesia, and propel Indonesian photographers onto the world stage. In the end, like any other festival, JIPFest is a platform for people to meet. You could do it via Zoom, if you have to, but the impact will not be the same.
In the long run, we hope the festival would be a regular part of Jakarta and its people.
NJ. Just curious to know what your favourite moments from previous festival? Did you develop it into interesting program for next event?
C.R. To be able to bring Shahidul Alam and Teun van der Heijden were definitely my favourite moments. Both are highly respected in their own fields. Shahidul was part of Time magazine's 2018 Person of the Year. While Teun is known as a maestro in photobook making.
Other moments I cherish are the human encounters. People from different corners of the globe came together and exchange insights in Jakarta. It has been a while since we feel like we are part of the global photography ecosystem. This is the reason why, initially, I prepared a 'networking night' program in 2021, so our guests can have more chances to casually mingle. Unfortunately, the pandemic forced us to cancel the program.
But we will introduce a new dialogue format. It's very interesting to see dialogues that happen during the festival – be it onstage or off. One of the things we experiment with this year is conversation-style discussion. We pair two experts to discuss a current issue for 90 minutes, hoping for casual discussion between two friends over coffee.
NJ. To hold this festival, we saw you open recruitment for volunteers? Can you tell me more about that? How you manage them and what can this festival give to them?
C.R. Yes, and we're very happy to see close to 150 registered for the open recruitment. We recruit volunteers to support the festival during its 16-day run. The volunteers will help different departments –including exhibition, public program and communications -in the hope that they could learn about different facets of festival management.
Through this process also, I will look for new talents to be part of the festival's committee. Referring to the figure provided by the Tourism and Creative Economy Ministry, Indonesia has more than 70,000 photographers. It's good. But, to hold a photo festival, you need people who are not only passionate about photography, but also have the organizational skill and interest.
NJ. On personal level, how do you see Indonesia's photography scene? What are your thoughts on developing further?
C.R. This fact might amaze some people: I'm not a photographer. But I believe photography, as a medium, plays a vital role in heling us understanding and navigating the world, and even shape our perspective in seeing the world. Thus, to have a platform to grow the photographers and the photography ecosystem is important—and this is where JIPFest plays its part. The festival fills the gap in the scene –a place for photographers to meet with the local and global audience, and a platform for them to network and develop necessary skills to thrive in the industry. We hope to continue doing this in the years to come.
Speaking of the photography communities here in Indonesia, it's very heartening to see new initiatives popping up in different regions across the country – and I hope that these communities could provide relevant training ground for local photographers, managers, curators, writers, and other members of the photography industry.