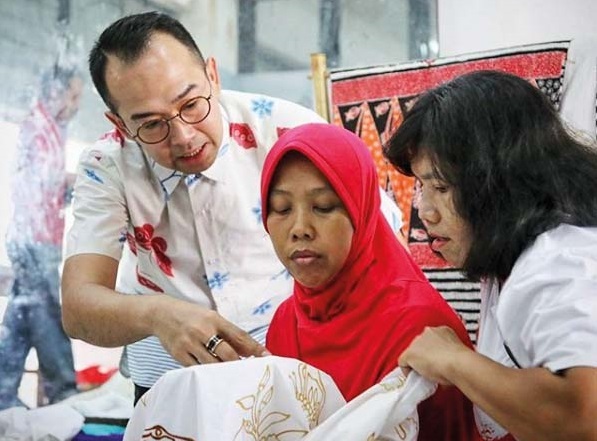 Working with local creative talents, mothers residing in Jakarta's rumah susun have created an impressive collection of truly-characterized Jakarta handicrafts.
Life in low-cost apartments or rumah susun does not only give a limited view of life restricted by minimal facilities and with the residents only able to take advantage of small alleys for their various activities but amazingly it is also able to create a portrait of empowerment towards an independent economic life for them.
A prominent radio announcer and batik designer, Iwet Ramadhan understood and realized that women play big roles in the welfare of the nation, probably the most important role. So he established a retail company with the purpose of empowering that society through the creative industry by bridging creative professionals and the residents in rumah susun, especially the mothers. Through the company, Iwet provides an option for people and tourists to buy souvenirs in the city, in addition to the famous handicraft retailers, Sarinah and Alun-Alun Indonesia.
The story began when Iwet was asked by Veronica Tan, when she was the wife of the Governor of Jakarta, to promote Jakarta's batik industry through a fashion show. But he refused the offer because he assumed that the batik was so old fashioned and ugly and he didn't want to do that just to please government officials!.
"Then Ibu Veronica challenged me and asked me directly what I could do for Jakarta batik. I said, that actually in the city there were good batik makers but they had been evicted from their workplaces, one of which was in the famous Karet area, then again from Palmerah and now the only remaining one is in Terogong. That's the only place for Betawi classic batik. I said it would be a shame if this situation cannot be reversed and we could try to empower the batik women makers because they were still living below the poverty line. We can train them again with skills and revive the traditional motifs. " Iwet said that the idea wasn't well-received because the officials didn't really believe the people of Jakarta could make good batik.
According to Iwet, Jakarta is indeed not a cultural city like Yogyakarta, Solo or Pekalongan where the quality of the batik products is much higher than that of Jakarta. The same is true for the motifs, the batik of the three cities which comes from the heritage, behaviour and stories of the people, so the motifs emerge from the heart. Meanwhile, Jakarta, which is a business city, has experienced many cultural shifts, also in terms of batik motifs. So, it's not a surprise if most of Jakarta's batik products only have ondel-ondel motifs.
"To them (the government officials), I just said, there is nothing wrong with trying because there is nothing that cannot be done in this world, there is only willingness to try. Finally, after being unsuccessful in finding donors, Ibu Veronica committed to supporting the plan by providing money as capital. "Initially, we wanted to provide training to 60 mothers, but we were only able to afford to pay for 30 people. But finally, we started our first project to train women at the Marunda flats to make batik. So Marunda batik is the forerunner of JKT. Creative. " explained Iwet.
In addition to carrying out the mission of empowering women, Iwet also wants to break the stereotype that batik makers are poor, the work is difficult and long and low-pay so that no young generation wants to become batik makers. For this reason, after he made a business plan, so that women have the responsibility to make quality batik, and incorporated an outright buying system to make them accustomed to working professionally and in a more focused manner. To promote Marunda batik, Iwet invited a well-known designer, Chitra Subiyakto and together created an exhibition, Batik Semanggi in 2017, which was a collaboration between Dekranasda and the women in the Marunda flats.
JKT. Creative also produces a wide range of products including, T-shirts, sweatshirts, tote bags, pins and many more, besides the batiks, with modern and elegant designs including shibori or jumputan (tie-dye).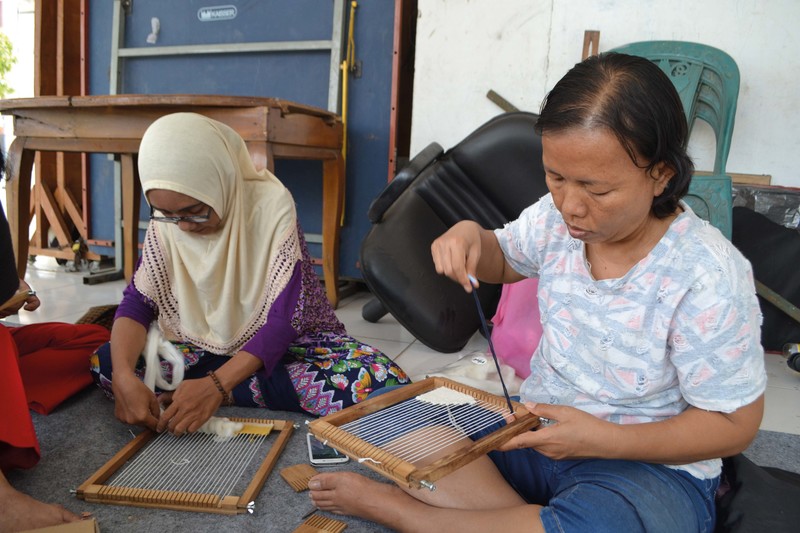 According to Iwet, after the project had been running for two to three years, they began to feel that their self-confidence growing. Initially, they felt they had no value but finally they could earn real income for their families. They can earn between IDR 500,000 to IDR 1,500,000 per month, which they mostly use to pay for their children's needs, such as paying for tutoring and other school needs. After the project in Marunda was successful and Marunda batik became well known, Iwet continued to start to provide training to women at the Pulogebang flats.
"Many think that the mothers in the flats are lazy. Most of them are people who have been relocated by the government from riverbanks, garbage dumps and other slum areas, and as a result, they rely on the government. But after I had an intense chat with them, it turned out that they were very excited to learn new things, especially batik, and were grateful for the chance to get additional income. 'They really have very high motivation. " added Iwet.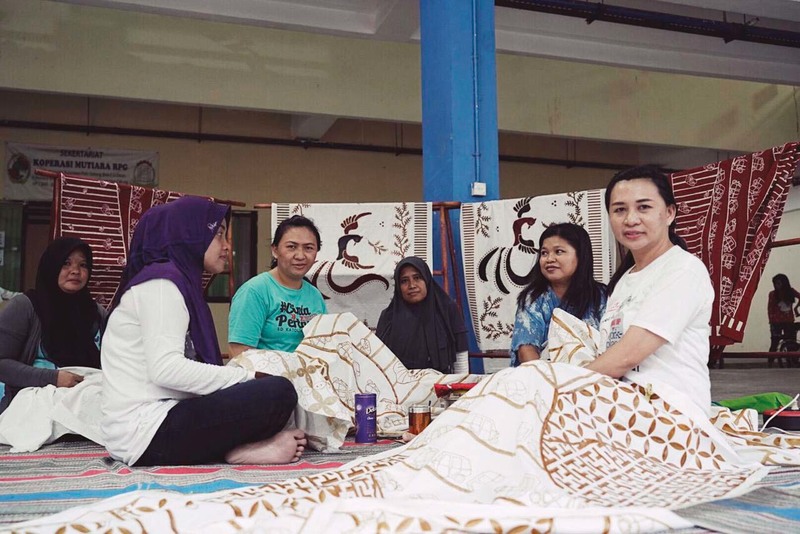 During this pandemic, the company cannot rely solely on sales of T-shirts and sweatshirts as their best-selling products. Iwet again taught women to make care packages, and especially masks from batik designs.
"Within five days of opening for orders, 172 masks had been sold and it took three weeks to work because all of the masks were handmade. Now we are making it for the 2nd batch. From that first sale, it can help 10 to 20 of their children to provide quota internet for them to learn online." Iwet revealed.
Not to be content with that, the next project is that they are designing products made from used linen in collaboration with hotels in Jakarta and collaborating with a fashion brand that is currently being craved by young people, Tenue de Attire, to create sibori products for tote bags and home living products.