Javasmith knives embrace the heritage and culture of Indonesia, in particular Java. These knives are a natural evolution from traditional keris allowing the designer to express his imagination, deep love and pride for Indonesian history and legend.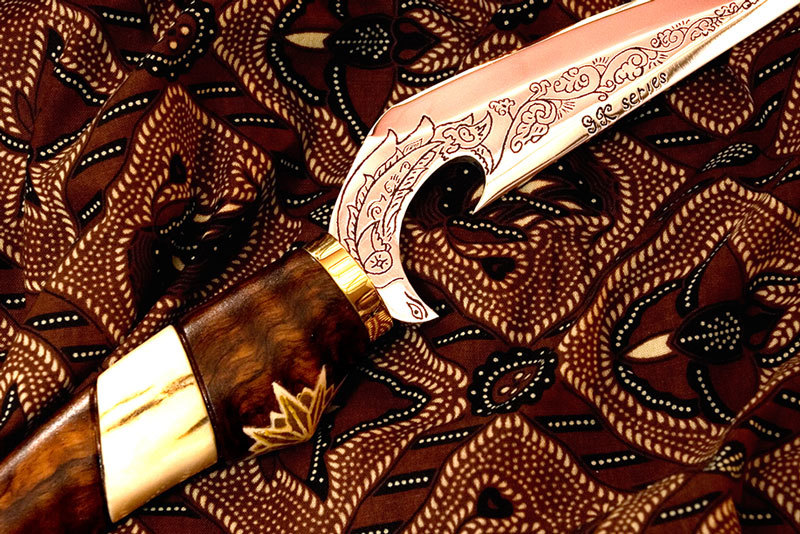 Many of us dream of doing work that gives us joy and embodies our love of culture and our values. Dimas Satrio Pamungkas is an individual who took a giant leap of faith to pursue his dream and founded Javasmith, his company that designs and produces beautifully, handcrafted Javanese knives.
Dimas left the corporate world and followed his vision for a company where he could use his art and design background, collaborate with local artisans while satisfying both the Indonesian and expatriate markets for high quality ethnic products. His knife creations not only fulfill those yearnings but also fuel his love for Javanese culture. Like keris, Javasmith knives embrace the heritage and culture of Indonesia, in particular Java. Javasmith knives are a natural evolution from traditional keris allowing Dimas to express his imagination, deep love and pride for Indonesian history and legend.
Dimas arrived at the Indonesian Heritage Society library recently in full Javanese clothing - jas, sarong and blangkon- prepared to share the backstory of his five knife designs from Javasmith. Each handcrafted piece was inspired by either Indonesian legend, historical or heroic figures, women, or the Garuda. He lovingly described the production process of each and shared his inspiration to an absorbed audience from the Indonesian Heritage Society and guests.
Gatotkaca
This knife is based on the Baratayudha legend about Gatotkaca. The son of Pandawa Bima and Arimbi. drowned in a crater at Mount Jamurdipa while he was still young. In response the gods threw sacred weapons into the crater and at that exact moment the young boy re-emerged as an adult with the weapons melted inside his body. The king renamed the young man, Gatotkaca, and presented him with sacred garments. Gatotkaca was summoned by his father to fight in the Kurukshetra war and called on his magical powers to subdue enemies.
The Gatotkaca blade is forged from carbon steel and finished with stylized engravings. The handle is shaped from limus piit (iron wood) and stag horn.
The Shape of a Woman
The contour of Shape of a Woman celebrates the soul of Indonesian women across all generations. This knife is fashioned from Dimas' vision of Balinese women, powerful and strong yet gentle and soft. The blade is forged from a single bar of Indonesian Damascus steel which is heated and then pounded into shape by a specially trained craftsman. The handle is made of limus piit (tiger wood), encased in terracotta and then finished with a beautiful etched pattern.

Parang Naga Pattimura
Parang refers to a machete in some regions across South East Asia and especially in Indonesia. This knife is a tribute to Kapitan Pattimura, an Ambonese soldier and National Hero of Indonesia. During Dutch occupation, Pattimura joined the British army when the red coats took possession of the Maluku islands from the Dutch colonists.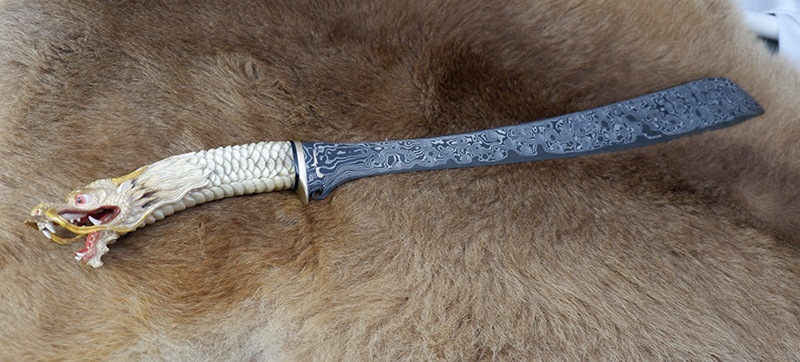 After the islands were returned to the Dutch in 1816, Pattimura was uneasy about possible repercussions if the Malukus were returned to the Dutch. He led an armed rebellion that seized Fort Duurstede on 16 May 1817. Pattimura was betrayed and eventually captured by Dutch forces and hanged to death. He is known as the leading champion of Maluku and Indonesian independence.
The blade of this magnificent parang is fashioned from Indonesian Damascus steel. The stag horn handle is an intricately carved dragon head with scales. The dragon (naga) embodies primal forces of nature, religion and the universe. Dragons are also associated with wisdom and longevity. They are often said to possess some form of magic or supernatural powers.
Garuda series
The Garuda is a mythological beast in Hindu and Buddhist literature and can be found etched on ancient Indonesian temples as a symbol of many characteristics including power, bravery, loyalty and discipline. Indonesia selected the Garuda as its national image of strength and determination and as an emblem of the five pillars of Pancasila.
This limited series was produced in commemoration of Indonesian Independence. The high carbon steel blade is beautifully engraved with a batik pattern and crowned with five holes as a sign of Pancasila. Along the spine of the handle, the blade is encased in tanpusu burl wood and secured with handcrafted mosaic rivets.
Soekarno series
This series is dedicated to the first president of Indonesia, the father of Indonesian independence. Former President Soekarno was noted for his intellect and his ambitious goals for the country. He also possessed a design aesthetic which can be seen in local landmarks and buildings in Jakarta.
The blade has a stonewash finish. This painstaking process involves grinding the blade in sand and stone to achieve a textured effect. This finishing texture was used to represent the character of Soekarno as a warrior who fought for common men, an ambitious leader and as Indonesia's independence founder.
A brass liner coated with gold is added to the blade as a reminder of Soekarno's desire for wealth for the new nation. The blade is set in a pamor handle of Damascus steel and fastened with one copper and five brass pins.
Knife affecionados should not miss an opportunity to view Dimas' designs up close. He can be reached by email at [email protected], through Instagram @javasmith_indonesia, or by Facebook: Javasmith Indonesia.
Dimas was one of many speakers who volunteer their time to share their expertise and passion with members of the Indonesian Heritage Society after the work day. The society offers several evening and weekend programmes for those who are unable to participate in daytime activities.
To learn more about Indonesian Heritage Society, the Night Study Group as well as other upcoming events, visit www.heritagejkt.org
_______
text by Regina Moss and Stephanie Pirolo, Photography by Dimas Satrio Pamungkas. This article is originally from paper. Read NOW!Jakarta Magazine June 2018 issue "City of the Future?". Available at selected bookstore or SUBSCRIBE here.