Museum of Modern and Contemporary Art in Nusantara (Museum MACAN)'s latest exhibition "Matter and Place".
The six large-scale works from local and international artists focuses on the exploration of the relationship between humans and spaces, and invites one to further observe human identity that has been shaped by dwelling spaces which also intersect with nature, politics, social norms, culture, and architecture. "Matter and Place" requires our sensory observation to investigate the connection between material and place that helps define our understanding of identity.
The exhibit features works by respected Indonesian architect Andra Matin and Malaysia-based contemporary artist Shooshie Sulaiman, as well as museum private collection which come from notable artists such as Danh Vō, FX Harsono, Genevieve Chua, and Theaster Gates. From site-specific installation to contemporary works, the presentation employs a range of medium and approaches show the intention on how the idea of surrounding — both physical and psychosocial, from specific location to geographical region — could mould the human identity.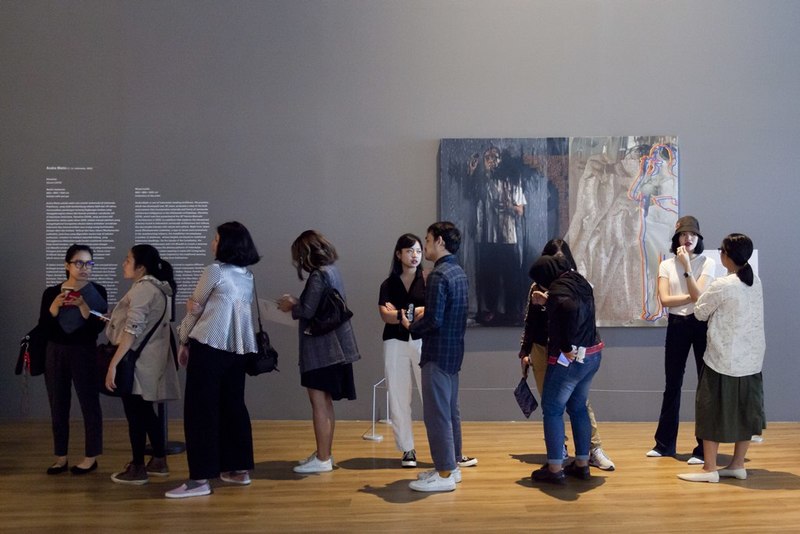 Andra Martin's striking installation "Elevation" was awarded a special mention at the 16th International Architecture Exhibition - 2018 La Biennale in Venice. The installation explores the elevational diversity gradient in Indonesian architecture that reflects the way people interact with nature and their culture by incorporating modern materials with traditional components.
Lim Masulin who collaborates with Matin has worked on the facade of the installation with intricate rattan weaving which was inspired by pattern of Indonesian textiles. The visitor is welcomed to discover nine different traditional Indonesian houses, including Rumah Joglo from Java and Honai from Papua through a spiral staircase made of Jabon wood where the scale model of houses are placed in order of the real life elevation.
Elsewhere, Malaysian artist Shooshie Sulaiman presents 'Tadika Getah' (Rubber Kindergarten) an installation inspired by her childhood and her connection with rubber plantation which tells a broader narrative on how the rubber industry builds Malaysia's economy despite its negative effect on the environment. The artist's fascination with rubber latex as an artistic material reinforces the intrinsic cultural value and economic and political context it holds to much of Southeast Asia's history.
A Transgressive Wyoming (2017) by American artist Theaster Gates showcases a large bronze sculpture in the shape of the United States map, whose surface is painted with tar on the surface, Gates' work is the manifestation suburban vernacular architecture in black communities in America whose mostly work as a labour. Danh Vō's 165° W whose created in 2011 is a part of the artist's ongoing series presenting cardboard boxes he has found from his birthplace in Vietnam. Painted on gold, Vō refers it to colonisation, migration, eviction, and identity. Indonesian artist FX Harsono's contemporary painting, Wipe Out #1, is an illustrated depiction of Chinese-Indonesians abolition during President Soeharto's authoritarian regime.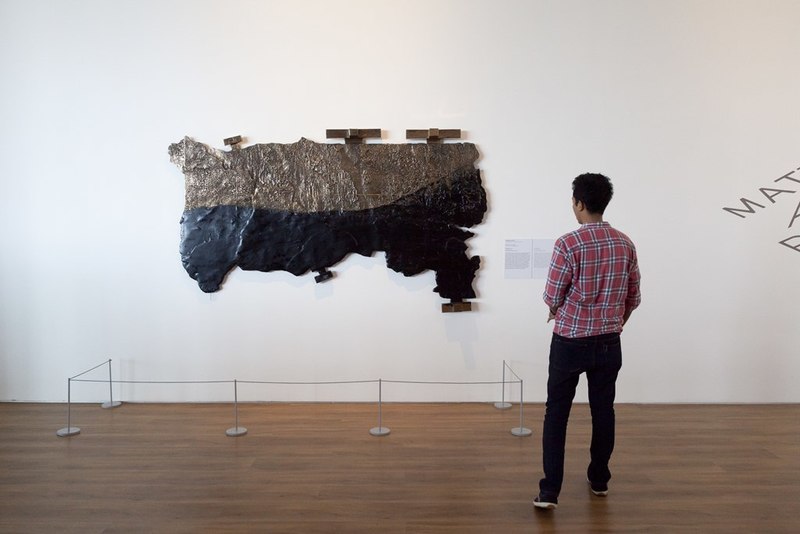 Aside from Matter and Place Exhibit, Museum MACAN also holds ongoing solo exhibition from Indonesian artist Jihan Sukmantoro 'Hari-Hari di Cicadas' (Days in Cicadas) which is on until 26 May.
"Matter and Place" is on display until 21 July.