For award-winning animator, comic artist and illustrator Aimée de Jongh, it was obvious from a very early age that she had found her life calling. Hailing from Rotterdam, Aimée published her first comic book when she was only 17 and has since made a name for herself as sequential artist.
Aimée will visit Indonesia in August to exhibit her works, which are influenced by European comics as well as Japanese manga and animated films, at Dutch cultural center Erasmus Huis and take part in Popcon Asia 2017. Prior to her departure, she spoke to NOW! Jakarta about her work, her inspiration and her Indonesian roots.
When and why did you first become interested in art and comics? At what point did you begin drawing and illustrating yourself?
When I was a kid, I watched Disney movies and read comic strips like Tintin and Spirou. I started copying the characters even though I wasn't very good at it. After a couple of years, I got better and better in doing this. Later, in primary school, I drew full comic strips featuring these characters. I also started creating my own characters and writing my own longer stories. I found out very quickly that I really enjoyed creating worlds and characters.
When did you decide that this was something you could pursue as a career path?
When I was about 14, people started asking me to draw pictures for them – portraits of themselves or gifts for other people. This increased as soon as I started a website for my art. When I was 17, a local newspaper asked me if I could make a weekly comic for them. This was when I knew that I was able to earn money as a comic artist. I decided to keep drawing, and to get better, in order to make this my fulltime career. And that has worked out very well!
You published your first comic book at the age of 17. Looking back at it now, how has this experience shaped your career and yourself as a person?
It was very interesting to learn about the process of publishing. It's not just drawing comics, it's also about communicating with your publisher, talking with the print shop and the customers. The drawings of the book I published back then were actually not very good. It's hard for me to look at them now! But I am proud that I was able to publish it at that age. I look back at it as a very useful experience.
You have also created the animation film Aurora. Could you tell us what it is about? What was the most challenging part creating it?
The film is about a Dutch legend set in the De Veluwe National Park, of how ghosts of women (De Witte Wieven) haunt the forests there. If you come early in the morning, you could sometimes still see them hanging in the mist. The women would try to seduce and then kidnap young men. This was the idea that our story was based on. I was given a grant to make the two-minute film in six months. I gathered a team of five animators and we started working on the film like crazy. My producer wrote the scenario, I directed the film and animated the major scenes. Then we had our assistants doing the colours and the drawings in-between. It was hard work. An animation has 24 drawings per second and we had to finish about one second per day. I always tell people that if they blink their eyes while watching the film, they miss about two weeks of work!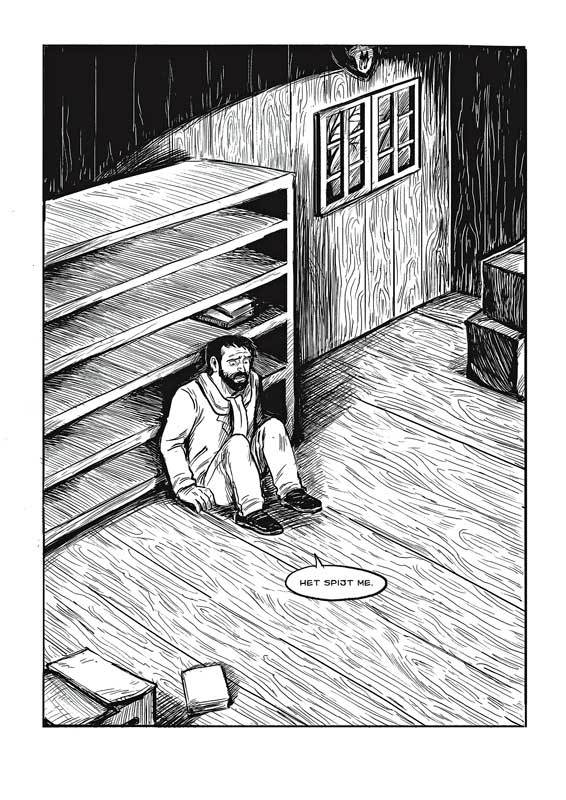 Your works will be exhibited at Erasmus Huis in Jakarta in August. Is this the first time you will visit Indonesia?
It is the second time I will visit Indonesia, but the first time that my work is exhibited in Asia. This is really special for me, but I'm also pretty nervous too. I am curious whether the visitors will enjoy my comics. Humour is so different around the world, so I hope they're able to get my jokes! And even if they don't, it's okay.
I visited Indonesia for the first time in June, for a holiday. I was very curious, because my dad comes from Indonesia. He was even born in Jakarta! I enjoyed the country a lot. The people are much friendlier than in Europe. And I really enjoyed the beautiful nature and beaches. I think Indonesia is a very special country. I am excited to see it again.
What can we expect from the exhibition?
The exhibition features my work as well as the work of comic artist Peter van Dongen. Peter has been an artist for much longer than me, and still works the traditional way, on paper. I, on the other hand, work digitally. I will show some pages and sketches from my most popular book, "The Return of the Honey Buzzard", which came out in 2014. It's a graphic novel in black-and-white, and it won the Prix St-Michel in Brussels. In 2017, a live-action film was based on the book as well. The pages have never been exhibited in Asia before! I'm also showing episodes from my humouristic daily comic "Snippers", which is published every day in the Dutch newspaper Metro, as well as more of my illustrations and comics. Because I am also an animator, I decided to screen my recent 2D digital animations, along with music videos, graduation films and scenes from my recent film "Behind The Telescopes".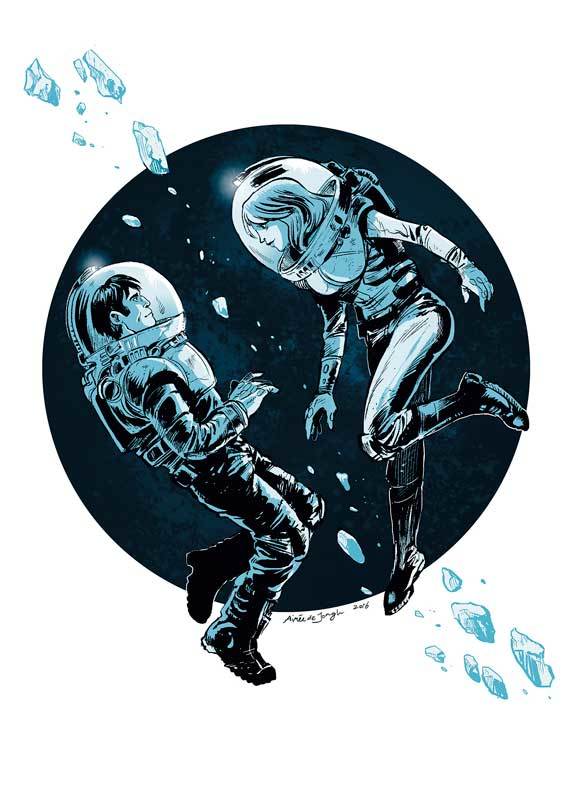 You will also participate in the Popcon Asia 2017, holding a workshop as well as a doodle battle and live art jam. What will this look like?
For Popcon, my main goal is to find an Indonesian publisher to publish my books. I will share a booth together with Dutch comic artist Peter van Dongen and the Erasmus Huis, to promote our work. We want to get people excited about the exhibition, which will open one day after PopCon, on Monday, August 7. During Popcon, I will give a master class for professionals and students. The doodle battle and live jam will be a lot of fun. There will be several artists, a drawing pad, lots of paper and pens. And then we'll just have to determine who will make the best drawings of us all!
Are you familiar with the creative industry scene in Indonesia? What is your impression?
I am not really familiar with the industry, actually, but I am very curious. I hope to see some of it during Popcon, and I also hope people will approach me with their stories during the workshops. I believe that comics and animation are all about communicating, without the borders of language or traditions.
Where do you draw your inspiration from?
My inspiration comes from everything in life: music, documentaries, books, people. It's always there in the background. Even if it's just the way somebody talks or the clothes that he wears, it originates from something I've experienced or seen. I also love reading other comics, especially manga. I think those comics are very clever in storytelling, dynamics and drawing style.
What have you planned for the future?
I am working on a couple of new graphic novels, which will be finished in 2018/2019. It's still a lot of work, because they're about 140 pages long. But I can't wait to finish them, because they will be the best work I've made so far. I hope there will also be an Indonesian publisher who's interested in my books. And of course, I hope to return to Indonesia soon!
For more information, visit www.aimeedejongh.com, the Vimeo page www.vimeo.com/aimeedejongh or follow the artist on Instagram and Twitter.