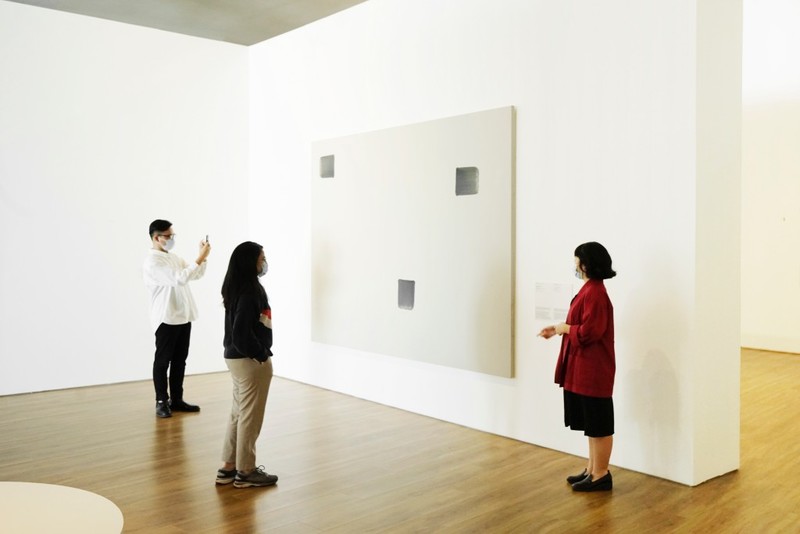 Many people have missed the opportunity to visit museums, come to art exhibitions, and experience real-life events throughout 2020 due to the raging Covid-19 pandemic. As the forefront of Indonesian contemporary arts and homegrown creative hub, Museum MACAM is scheduled to reopen for the public in 2021 with programmes that are tailored for different ages, presented as both virtual and physical events.
Even though the Indonesian public is expected to be vaccinated starting early 2021, Museum MACAN will impose strict health and safety protocols on its onsite exhibitions and programmes to avoid transmission as the virus probably won't be fully eradicated in the near future.
Lineup Exhibition and Programme in 2021
In 2021, Museum MACAM will kick off with an initial event named Stories Across Rising Lands, an exhibition celebrating contemporary art from Southeast Asia. Taking place from 23 January to 22 May 2021, the group exhibition is commissioned by KONNECT ASEA and supported by the ASEAN-Republic of Korea Cooperation Fund. Stories Across Rising Lands is a group exhibition that will present a diverse range of artists' works including video, installation, photography, painting, and video performance.
Through onsite and online exhibits as well as talk shows and discussions, the exhibit is aimed at visualizing everyday life and the small daily narratives that help to define social and cultural connections to places. As a preview, this exhibition reflects the diversity and substantial geographic spread of the region by emphasizing personal and fragmented connections to history and politics observed through the perspectives of artists.
Curated by in-house MACAN curator Asep Topan and Jakarta-based Korean curator Jeong Ok Jeon, Stories Across Rising Lands will be featuring 8 artists from Southeast Asian countries namely Cian Dayrit (the Philippines), Ho Rui An (Singapore), Kawita Vatanajyankur (Thailand), Saleh Husein (Indonesia), Lim Kok Yoong (Malaysia), Souliya Phoumivong (Laos), Maharani Mancanagara (Indonesia), Nge Lay (Myanmar), as well as a collaboration between Tan Vatey and Sinta Wibowo (Cambodia/Belgium).
In January, Museum MACAM will also publish its private collection for the exhibition Semesta dan Angan / Multiverses and Dreams: Selections from the Collection of Museum MACAN, held from 23 January to 25 July 2021. The exhibit is expected to highlight the unique ways in which artists respond to the reality around them and explores how the future is imagined through the eyes of artists.
Semesta dan Angan is a timely exhibition in the context of the ongoing upheaval caused by the Covid-19 pandemic. It includes important installations, including Multiverses and Futures (2017) by Danish-Icelandic artist Olafur Eliasson; Portrait of Grace Jones (1986) a major work by Keith Haring, as well as works by Sigmar Polke, Barbara Kruger, Zai Kuning, Tisna Sanjaya, and Bandu Darmawan.
Launched on 15 December 2020, kids and parents could visit the ongoing onsite and virtual exhibition by Citra Sasmita Tales of Nowhere as the new UOB Museum MACAN Children's Art Space Commission. Tales of Nowhere is inspired by the classic Balinese Tantri story, a fantastical myth that contains stories within stories and animal fables passed down through generations.
When the Museum reopens in January, visitors will be able to encounter the artist's massive eight-meter scroll painting, get to know the animal characters within the tales and smell the spices that the artist has placed to bring audience to the imaginary realm of Tales of Nowhere which will last until 22 May 2021.
Besides new exhibitions, Museum MACAN also extends the period of its existing exhibition in 2020 which involves the reopening of 'Melati Suryodarmo: Why Let the Chicken Run?' (23 January – 22 May 2021) and the continuation of the UOB Museum MACAN Children's Art Space Commission: Color in Cave by Mit Jai Inn (23 January – 28 March 2021).
New Rules, New Campaign
Currently, Museum MACAM is focusing on the campaign 'Kembali ke MACAN' (Back to MACAN) to invite art enthusiasts and the general public to celebrate the museum by coming back to show support for Indonesian artists. The campaign also highlights the safe visit by putting attention to Covid-19.
Director of Museum MACAN Aaron Seeto said that people have all missed the opportunity to visit museums due to social restrictions. The team has been working hard to adapt the programmes and plan for the moment when the museum can begin to welcome limited visitors back to MACAN.
"Throughout 2021 you will see a hybrid mix of online and limited onsite events. This is a time for us to experiment with how we engage with the public, to ensure that health and safety protocols are prioritised, and to elevate the experience and conversation about art and culture as an essential part of our future society," Seeto said.
Therefore, visitors are expected to follow some rules including (1) completion of self-assessment forms by scanning QR code provided by VIDA (Verified Identity for All), (2) cashless methods for all financial transactions within the museum, (3) face masks must be worn at all times during the visit, (4) keeping a 2-meter distance with other visitors, with limitations on numbers of guests within the gallery spaces, and (5) small bags in the size of A4 or less are recommended for maximum comfort during the visit.
The Museum's gift shop at MACAN has been rearranged to enable a safe shopping experience for all visitors. Display products are reduced in volume, to provide shoppers with packaged products. For one's convenience, shoppers can also shop from home via shop.museummacan.org and tokopedia.com/shopatmacan .
Pre-booking tickets through the official website or online ticketing partners (Traveloka, Tiket.com, Go-Tix and Klook) is highly recommended for those planning to visit, as to shorten the process before entering the gallery and avoiding crowds. Museum MACAM in 2021 will open daily from Tuesday to Sunday from 10 AM to 6 PM.
Tickets will be limited to 100 tickets per session, and will only be available online, and strict health and safety protocols in line with government regulation will be in place.
For the update, ticket, and information, visit museummacan.org.