Celebrating its official opening in Bandung, West Java, the new contemporary art gallery Orbital Dago is staging an art exhibition entitled Perjalanan Senyap (Silent Journey) from May 7 to July 11.
Inspired by the dramatic art performance by Belgrade-born artist Marina Abramović and her former partner German artist Ulay (Frank Uwe Laysiepen) called Nightsea Crossing, prominent Indonesian art curator Rifky Effendy invited 13 local and international artists to collaborate for an art exhibition based on that theme.
Nightsea Crossing is a series of 22 art performances taking place from 1981 to 1987 in various locations throughout the world, in museums and outdoors. Despite donning different models and colours of outfits in each session, both artists always used the same mahogany table and chairs when delivering the performances. In total, their epic performance lasted for 90 days. They spent roughly seven hours per day doing nothing but sitting on the chairs motionlessly in complete silence. To fall into character, Abramović and Ulay would fast and submerge themselves in total silence before and during every performance.
"I chose Nightsea Crossing because of its interesting quality and the fact that it was based on equal, absolute principles between the two artists. They also opened and divided the concepts of art and life, private and public very well. In fact, their work and performances as a couple back then attracted a lot of researches and studies aesthetically, socially and politically," Effendy told NOW! Jakarta.
In selecting the artists for Perjalanan Senyap, Effendy based his decision on how they understood and interpreted the concept.
"The 13 artists saw different values and meanings in Nightsea Crossing, which they redefined into artworks in different contexts and forms, with new values and meanings. The artists involved in this exhibition are different in terms of their generations, attitudes, sociocultural values, and the way they see the world. Therefore, they perceived and read the signs of Nightsea Crossing in different ways," he said of the artists, who included Aliansyah Caniago (Bandung), Eddi Prabandono (Yogyakarta), Richard Streitmatter-Tran (Ho Chi Minh City, Vietnam) and Yudi Noor (Berlin) among others.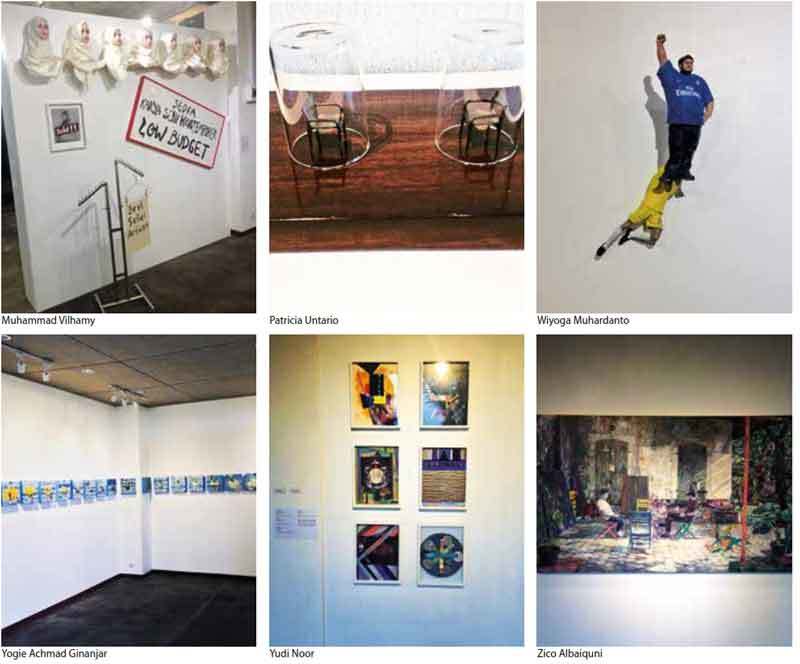 Difference is highly embraced at Perjalanan Senyap, as clearly shown by the artistic pieces displayed, which ranged from paintings to statues and timber-based artwork.
One of the most prominent ones is You in Me by Jakarta-based artist Dita Gambiro. She made two pieces of translucent clothes, one for female and the other for male, each missing a sleeve. The two clothes are hung on a ceiling and showcased side-by-side, as a hint that such imperfection (the missing sleeves) actually will create unity even perfection itself if they are put that way.
Meanwhile, in Fasting, Bandung-based artist Patricia Untario chose to put two miniature metal chairs facing each other, each covered by a tall, clear glass. The chairs resemble the ones used by Abramović and Ulay, with a note that "the chairs in the glasses represent a space limited by see-through barriers that allow one to see others but one is actually trapped and cannot touch others—the irony of being humans nowadays."
A painting by Zico Albaiquni from Bandung called The Next Sentence is True, The Previous Sentence is False shows two individuals sitting face-to-face on colourful wooden lawn chairs in a garden. To Albaiquni, sitting positions can indicate certain tendencies and meanings especially in art performances.
"Hopefully this event would allow everyone to further understand the meaning of more spiritual relationships and the historical context of international modern arts," Effendy said.
Perjalanan Senyap is open from Tuesday to Sunday, 10:30 AM to 7:30 PM.
Orbital Dago
Jl. Rancakendal Luhur No. 7, North Bandung
orbitaldago.com
[email protected]
Instagram: @orbitaldago
Facebook: www.facebook.com/orbitaldago