"If the architecture is any good, a person who looks and listens will feel its good effects without noticing," Italian architect Carlo Scarpa once said.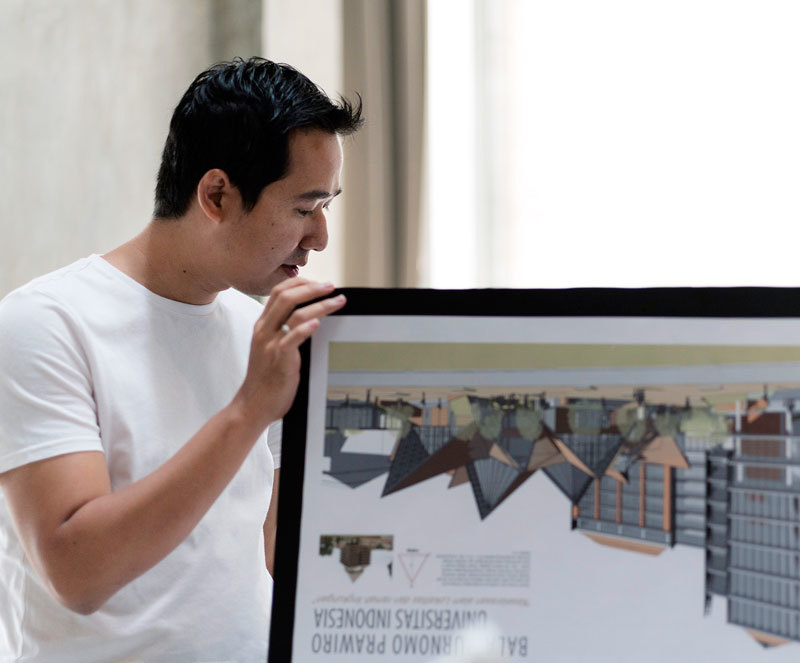 Scarpa, whose works show a deep influence by the materials, landscape and history of Venice as well as his admiration for Japanese culture and traditions, is also one of the figures Sjarief Realrich looks to for inspiration.
The Indonesian architect and founder of RAW, one of the leading architecture firms in Jakarta, was born in Surabaya into a family of builders - he inherited his interest in constructions, shapes and forms from both his father and grandfather. When he was still a young boy, the family moved to Jakarta, where Sjarief stayed until graduating from high school.
"Then I moved to Bandung to study architecture at ITB," he says. "Afterwards, I worked for one year in Singapore, three years in London, took my master's degree in Australia and traveled around the world for a whole year, including to Japan and France."
Upon his return to Indonesia in late 2010, Sjarief tried to gain a foothold in the country's architecture scene. He entered several competitions - some of which he won - and soon opened his own business. But it was a struggle.
"The most important thing about this business is persistence," he explains. "You have to have patience until people get to know you. I started my own practice but it was difficult to acquire new clients and projects so I closed it again and moved back to Bandung to work for my first company again."
After only three months, however, Sjarief decided to return to Jakarta to try again. This time, he stood the test.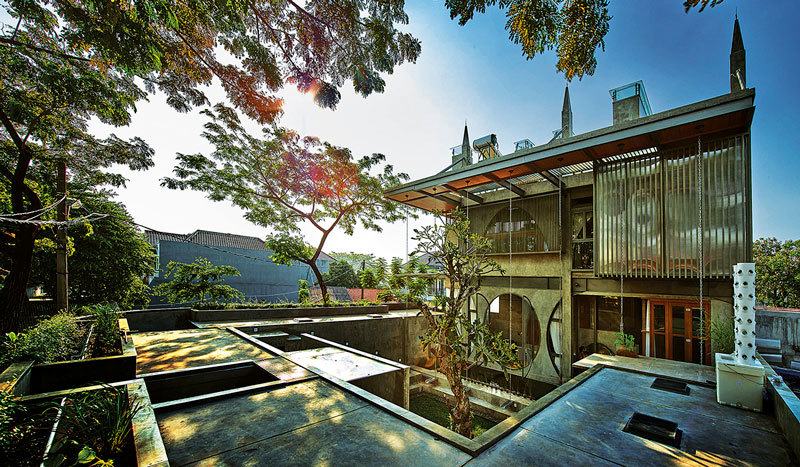 "I built the house of a new client. I didn't care too much about the fee at that time, which was very low," he recalls. "But this project was nominated for an architecture award, which in return brought me new offers, and it helped me to establish myself as an architect. More clients and projects followed. Today, I have worked on 400 projects, not counting the many competitions I entered. But the road to getting here was quite painful."
His own experience seemingly had an impact on how he conducts himself today. Sjarief's architecture firm RAW is located in residential area Villa Meruya in a multipurpose building called The Guild, that serves as his home that he shares with his wife and son, his studio and the OMAH library, encouraging people to read and learn more about architecture.
"I try to each everybody to have a common ground," Sjarief says. "If I decide something, I will tell my team the reason, the consequences and the output. Like in a basketball court, I like to pass the ball. It's true that we have to guide people to follow us but the right way to do so is to provide them with information. There is no reason to withhold information from your staff in order to protect your own 'mastery'."
Sjarief believes that it is crucial to establish a culture of teaching. On the weekends, the library is open to everyone to browse books and find more information about architecture. Together with his associates, Sjarief also teaches free classes on Saturdays and Sundays and organizes regular exhibitions on architecture.
"I am trying to building a space where I can train as many people as possible, internally and externally," he says. "The architecture scene in Jakarta is very competitive because the appreciation for architects in Indonesia is quite low, but I don't believe in backstabbing. I think that the best results are achieved when everyone is working together."
He fully supports the architects working in his firm, even when they leave again after a short time in order to pursue their master's degree or find a job abroad.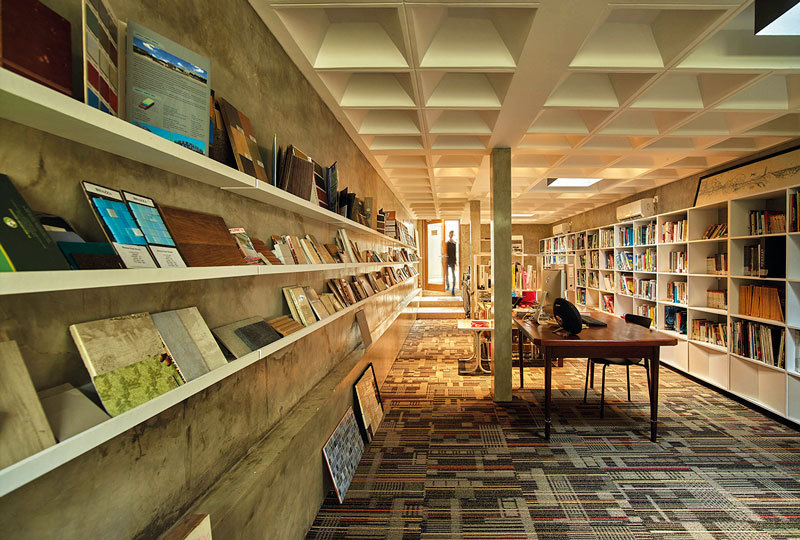 "At the very least, I have taught them why architecture matters," Sjarief says.
The Guild is a beautifully designed space that speaks of his fondness for pure geometric shapes. Centered around a courtyard featuring a pond, the property is a stunning and contorted piece of architecture that allows Sjarief to easily access his studio or retreat to the comfort of his own home.
"Because I live here with my family, I have to have access to everywhere. It was my wife who said to me, that it won't be possible for me to live far away from my office because I will work very late, but I still need to get some rest too," he explains. "So this is a very intimate space but you still need to maintain your distance. In that regard, I learned a lot from the book 'The Monk Who Sold His Ferrari' by Robin Sharma that conveys the message that one should not forget to live his life freely in spite of working all day."
Spiral staircases, arch-shaped openings and windows, metal doors and semi-circular glass panels dominate The Guild, whereas on its roof, pyramidal volumes function as skylight, allowing both daylight and air to flow into the building, creating a natural ventilation. Additionally, all the water being used on the property is recycled.
"Many people say The Guild is like a labyrinth, but I think it is more like a beehive where everything is connected according to a certain plan which keeps evolving," Sjarief explains. "It's responsive to the tropical climate, and I keep experimenting with this space. What matters most to me is the functionality of design. The job of an architect is about efficiency, integration and philosophy."
Sjarief's success as an architect didn't make him forget about the hardships and challenges he faced at the beginning of his career. Therefore, he tries to be a mentor for the younger generation while still drawing inspiration from his seniors.
"I want to bring together senior architects with the generation of young and upcoming talents," he explains. "I want to bridge that gap. It might sound simple, but when it comes to architecture, this is my philosophy."