For maestro Indonesian painter S. Sudjojono, sketch is the most important element in creating a masterpiece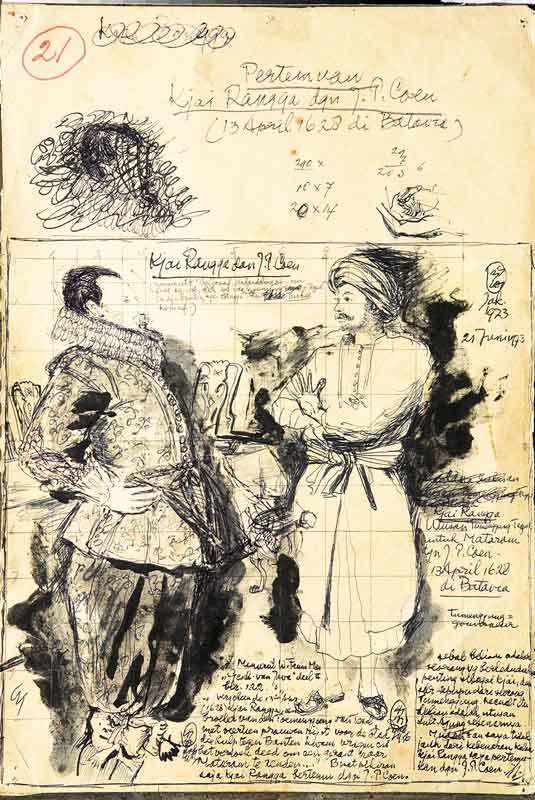 Sindoedarsono Soedjojono, widely known as S. Sudjojono, is one of Indonesia's greatest artists. He was dubbed the father of modern Indonesian art, having played an important role in guiding the movement and introducing the idea of applying factual context to any artwork.
Sudjojono was born in North Sumatera in 1913 and passed away in Jakarta in 1986. With a well-respected career that spans pre- and post-Indonesian independence, he was known by his closest friends and fellow artists as a nationalist and a multitalented person. He was a sketch artist, painter, sculptor and writer – the latter being rather unusual among his circle of artists.
It was his conviction that through his or her sketches, one can be judged as having the technical ability to be a great painter. Personally, it also serves as his diary, an aantekening or note of his feelings, his thoughts, visualisation of his stories and autobiographical pieces.
"People can cheat using colours. They can lie using themes. With sketches, people cannot lie, they've got to be honest," once said the late artist, who produced more than 500 paintings and thousands of sketches throughout his career.
Almost 25 years after hosting his exhibition, in June 2017 Bentara Budaya Jakarta once again organised a display of the late artist's paintings and sketches, this time in collaboration with Kepustakaan Populer Gramedia and S. Sudjojono Center, a foundation that maintains, manages and preserves his archives and masterpieces.
Held from June 7 to 13, the exhibition entitled Hidup Mengalun Dendang (Life is a Flowing Song) showcased, among others, around 130 sketches – divided into several themes – created using pencil, watercolour, pen and Chinese ink. There are also three original paintings and four reproductions.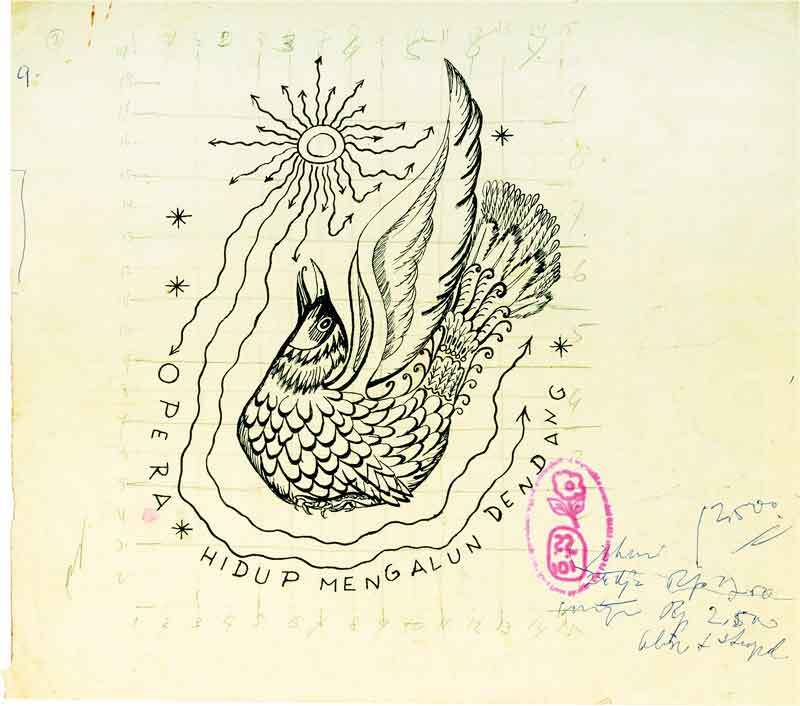 One of the most popular items on display was "The Battle of Sultan Agung and Jan Pieterszoon Coen", a painting ordered by the late former Jakarta Governor Ali Sadikin that currently belongs to the Jakarta History Museum (Fatahillah). Other captivating masterpieces include sketches of national hero Pangeran Diponegoro.
"If you want to see the real work of a maestro, don't look at his or her coloured paintings. Instead, look for the sketches," said Ipong Purnama Sidhi, one of the curators of the exhibition.
Hidup Mengalun Dendang becomes even more special because it allows visitors to gaze at memorabilia from the lives of Sudjojono and his wife Rose Pandanwangi, an Indonesian seriosa (mezzo soprano) singer.
In addition, the event also saw the launching of two personal books: his autobiography, entitled Cerita Tentang Saya dan Orang-orang Sekitar (The Story about Myself and the People Around Me) and a biography of his wife, entitled Kisah Mawar Pandanwangi (The Story of Rose Pandanwangi).
The two books, bundled together, take a closer look at the creative world of the late maestro and the life of his wife as an artist and singer, as well as the ways their lives intertwined.
Visitors also got to see a series of Sudjojono's original handwriting, which according to his daughter Maya, were produced beginning in 1970.
Throughout his life, Sudjojono gained much respect for his honesty and courage. This exhibition, pleaded Sidhi, should be regarded as a tribute to those fine qualities.