Sixty years ago, due to political tension between Holland and Indonesia, Dutch nationals living in Indonesia faced expulsion. That year, Dutch artist Rudolf Bonnet, like many other Dutch residents of the former Netherlands Indies, packed his bags to return to the Netherlands. His departure left plans for the Museum Puri Lukisan in Ubud, which was already under construction, uncompleted. However, Bonnet seemed to have arranged for the Italian artist Renato Cristiano, who arrived on Bali two years earlier and immediately became his good friend, to become the curator of the museum.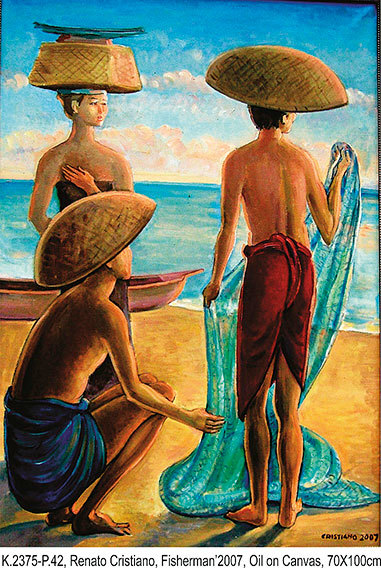 Cristiano was born in Rome in 1926. He attended courses of the Museo Artistico Industriale and studied at the Academy of Fine Arts in Perugia. On a scholarship from the French government, he moved to Paris in 1950 and became acquainted with many artists. Yet, his adventurous spirit led him to leave Paris to travel. After a long journey through Africa, West and South Asia, Sumatra and Java, Cristiano finally arrived in Bali in 1955, where he met Bonnet.
Cristiano also spent considerable time in the east part of the island and started to build his studio in Putung. The works completed in Putung were exhibited in Rome two years later, but upon his return he found his studio, a simple and fragile hut constructed out of bamboo, had been seriously damaged due to exposure to open wind and humidity. He built a new studio by the beach at Manggis.
The new studio was completed at the end of 1962, not long before Mt. Agung's great eruption of 1963. which destroyed the city of Karangasem. The flow of hot lava razed the Klungkung bridge, leaving Manggis isolated. In the midst of this calamity, Cristiano married Wayan Nesa of Manggis. Following the eruption of the 1965 political struggle in Indonesia, it became precarious to live in Manggis. The artist and his wife left Bali for Rome.
During Cristiano's brief appointment as the curator of the Museum Puri Lukisan, he was often summoned to Sukarno's retreat in Tampaksiring, where the Indonesian President would ask the artist for advice on his art collection. They engaged in discussions about philosophy, art, aesthetics and beauty. Perhaps Sukarno was interested in knowing more about Romualdo Locatelli, another Italian artist that lived in the Dutch Indies and whose works were in his art collection.
Locatelli was born in Bergamo, Italy in 1905. He was descendant from a family of artists. His paternal grandfather owned a firm that specialized in decorative painting. Romualdo's father and uncle both worked for his grandfather, painting frescoes in numerous churches and palaces. Romualdo himself started helping his father creating decorations for churches since the young age of fourteen.
Later, he attended the Academia Carrara in his hometown, then went to another academy at the Palazzo di Brera in Milan. At this art academy, he met his future wife Erminia, who was also an art student there. Romualdo posed her as a model and painted as the Madonna.
In 1926, Locatelli exhibited his allegorical self portrait Il Dolore, dedicated to his father who was suffering from cancer, in a group exhibition at the Palazzo di Brera. It was spotted by a critic as a painting of note, and the artist was awarded the Prince Umberto Grand Prize, raising his career as an artist.
Living in Rome almost a decade later, Locatelli already became quite a well-known artist. There he had an exhibition which apparently was opened by King Vittorio Emanuele III. With the help of his wife Erminia, Locatelli received several commisssions to paint portraits, including portraits of Cardinals and prominent members of society.
By 1938, under Mussolini, the rise of fascism in Italy had made it an unpleasant place for the artist to live and work. Locatelli received an invitation to be the guest of the Governor-General of the Netherlands Indies to come and spend an extended amount of time in the Indies. The artist saw this as a great opportunity to explore new worlds and new freedoms. At the end of the year, they left Naples on their tour of Southeast Asia. Apparently Locatelli was quite content settling in Bandung and was able to be productive there. An exhibition of his works was held as early as 1939.
As many artists did, the artist and his wife eventually moved to Bali, establishing a studio in Denpasar. After satisfying many requests for portraits, the artist and his wife moved on to Sayan, just northwest of Ubud.
His mastery of painting children and fascination with Balinese dance led him to paint a number of depictions of Balinese dances. Only very few have survived, including the painting now hanging at Museum Pasifika near Nusa Dua in Bali.
In 1940 the political tension in Southeast Asia and the artist's health concerns led him and his wife to leave Bali. Instead of returning to Europe, where the situation was not any better, they chose to travel to Tokyo by way of Shanghai. Thereafter they set foot to live in the Philippines, where Locatelli eventually disappeared while bird hunting in 1943, never to be found again.
Artworks by Romualdo Locatelli and Cristiano Renato can be found in Sukarno's art collection. Locatelli's two large oil on canvas paintings, Harrowing a Field In Java and Reaping Rice, were probably "inherited" from the colonial government of the Netherlands Indies. Meanwhile, Cristiano's drawings, Portrait of A Little Girl and Three Sisters, both works on paper, were most probably modest purchases by Sukarno himself, in appreciation of the artist's work and assistance in helping him learn more about art and his art collection.
Whether or not Sukarno actually asked Cristiano about Locatelli, and whether the Italian artist knew enough about his senior artist to tell the President, we might never know. However, since Romualdo Locatelli had become very famous in Italy since the mid-1930s, it is very likely that Renato Cristiano knew about him. For all we know, Locatelli may have even inspired him to travel to Southeast Asia, particularly to Java and Bali.
Locatelli and Cristiano were not the only Italian artists who worked in the Netherlands Indies. Luigi Nobili and Emilio Ambron are also known to have lived and worked in the Indies around the same time. The tradition of Italian artists living in Bali continues until today. One day I hope to tell their tales as well.