At the peak of the campaign period of the Indonesian general elections in 2014, the image of Presidential candidate Joko Widodo in a comic strip drawn in the style of Hergé's famous Tintin cartoon character appeared on various social media platforms and became very popular especially among the younger generation. Later, many comic books featuring Jokowi's "blusukan" impromptu visits down the sites of cities or villages where people "really" live and work were published. Jokowi à la Hergé became the most sought after popular culture image in the country. Indeed it made a significant impact in Joko Widodo's campaign and contributed towards his victory.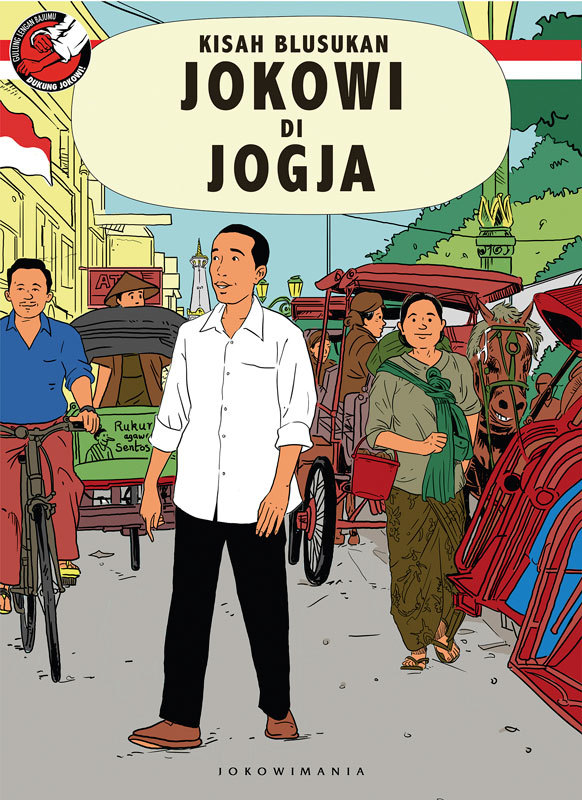 It all started when advertising illustrator Hari Prasetiyo received a brief from a group of Joko Widodo's volunteers to create campaign material that had a "pop" appeal and make people interested in collecting the campaign material.
"In the midst of all the black campaigning that was rampant at that time, I got the idea to use the Tintin style," said Hari.
"At the time, I saw that there were many similarities between Tintin and Jokowi. I saw Jokowi not as a superhero, but as a person who liked to work hard, had a lot of friends coming from various ethnic groups, like to make impromptu 'blusukan' visits around the world, and usually investigative in his approach. This immediately reminded me of Tintin, and that is why I used the Tintin style," Hari explained.
During his childhood years in Tulung Agung, East Java, in the mid-1980s, his grade school friend introduced him to Tintin comic books. Later, he rented Tintin comics from a comics rental shop, and sometimes he would try to learn to draw the figures. "I grew up with Tintin," he claimed.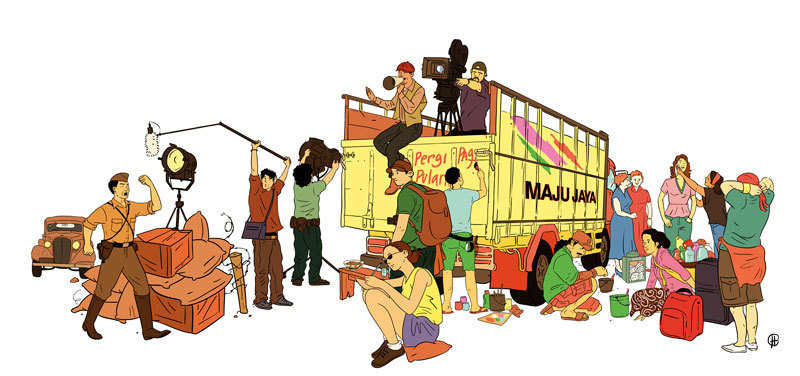 After completing high school in Banyuwangi, East Java, he studied visual communications at the Indonesian Arts Institute (ISI) in Yogyakarta. Upon graduating, he worked in the advertising field in Jakarta. In 2008, he founded an advertising bureau called Berakar with some of his friends. In 2014, as the Kisah Blusukan Jokowi comics was going to be published, also with his friends, he founded Demokreatif.
Hari Prasetiyo's story is but a glimpse of Tintin's tremendous impact in Indonesian popular culture as well as the way of thinking of many modern Indonesians. Although some foreign language speaking young Indonesians already had the privilege of reading Tintin in English, French or Dutch, Tintin's real debut in Indonesia was through the Indonesian language comic books published by PT Indira as early as 1975.
PT Indira was a publishing house founded by Wahyudi Djojoadinoto in 1952. His son Bambang Wahyudi lived with their family friend in England and studied at Ealing Art/Technical College (where Freddie Mercury of Queen and Ron Wood of the Rolling Stones also studied, currently known as West London University). Bambang Wahyudi returned to Indonesia in 1970. That year, along with his friends Malik Syafei, Imran Amir Mursid Rustam and Tri Tunggal, he established Prambors radio which remains tremendously popular even until today. Later, he also established Indira's comics division, seeking copyrights from the Casterman publishing house to publish translations of Tintin comics in Indonesia.
Bambang saw Tintin as an adventurous figure who always attempted to uphold the truth. "To defend the truth, one not only needs courage but also the will to rise from failure and overcome forthcoming difficulties and continue the fight - that was the lesson we could learn from his adventures," he asserted.
Apparently, he learned from Tintin when dealing with Casterman. Bambang remembered that the publishing house was very particular and perfectionist in making decisions. It took patience, persistence, diplomacy and also a bit of luck to convince the company, and fortunately Bambang, who lived for quite a long time in Europe and even apprenticed with Oxford University Press, was well prepared. Finally, Casterman agreed.
The first Tintin comic book Indira published in Indonesian was "Rahasia Pulau Hitam" (The Black Island) which Bambang translated himself. Later, the translation of other titles were done together with Marion Apitule and Galinar Kartakusuma during their spare time. They translated all twenty-four Tintin comics and worked on other Franco-Belgian comics such as Tangui Laverdure, Barbarossa, Kwik & Flupke, Lucky Luke and even Michel Valliant over the course of around a decade. Indira distributed millions of comics which helped shape the open-mindedness of many young modern Indonesians during the height of the New Order.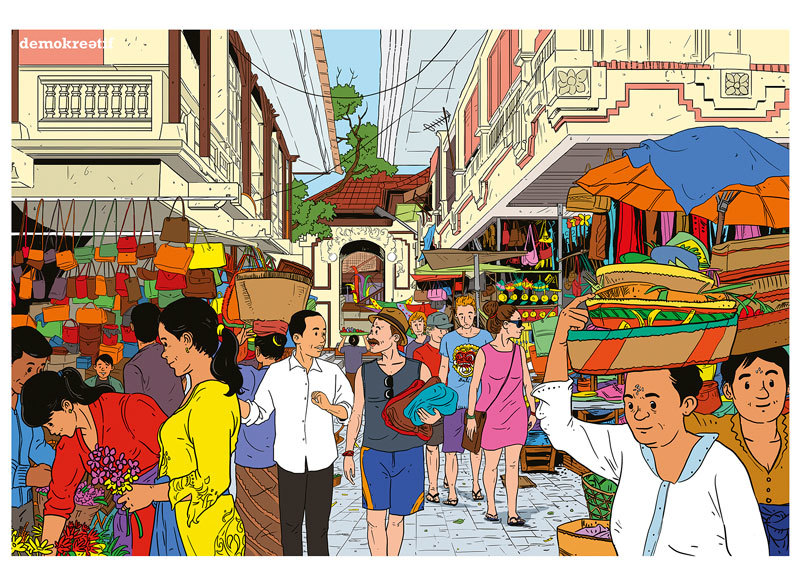 On Valentine's Day 2005, the premises of PT Indira was set ablaze, destroying everything, documents, computers and even their steel structure building on Jl. Sam Ratulangie. All was lost, and the company discontinued the publication of Tintin comics. Three years later, Gramedia Pustaka Utama started publishing their translations. Publishing Tintin comics continues to remind Bambang Wahyudi that "past success does not mean you are successful today. It's an ongoing work in process and of progress."
In any case, the spirit of Tintin and other comic book characters published by Indira remain in the hearts of many young Indonesians, maybe even without them realising it. "My favorite character is Captain Haddock," Hari Prasetiyo surpisingly admitted. "He often gets angry, but deep down, he has a very kind heart and great character" he explained.
"Oh, who does that remind you of?" I asked Hari. He just smiled, but his smile was indeed full of meaning.