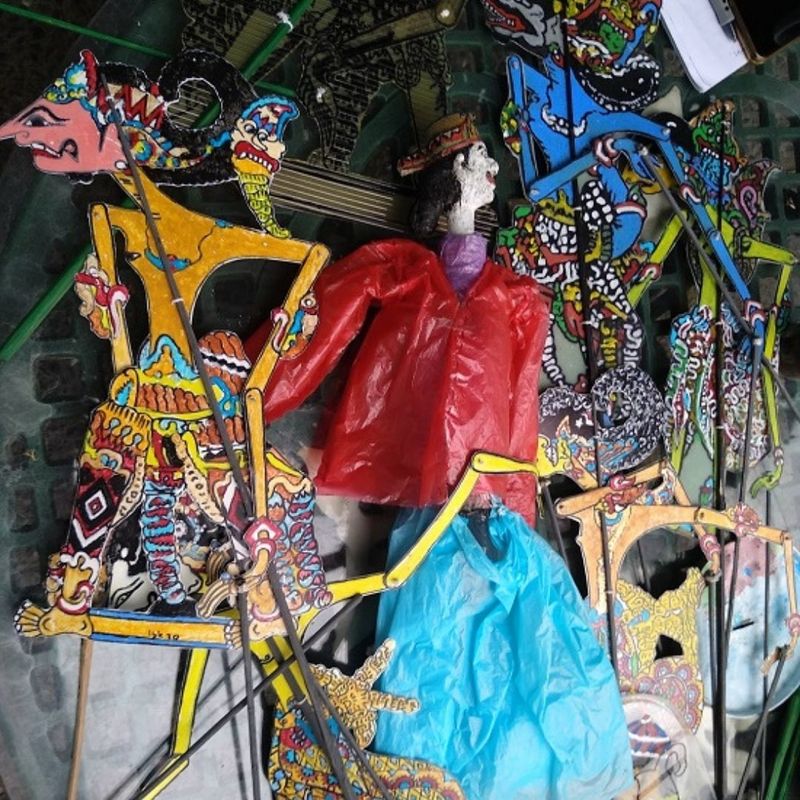 Indonesian artist Iskandar Hardjodimuljo transforms household waste into artworks as a form of cultural preservation and fronts a campaign to invite people to protect the environment from waste, especially single-use plastic. Photos provided by Iskandar Hardjodimuljo.
There are messages offered from Iskandar's artworks.They are called Wayang Uwuh (wayang or puppet and uwuh in Javanese language means trash), simple and enchanting puppets that are far from the classic and exquisite puppets played by renowned puppeteers in a big hall or palace courts which are commonly made of goatskin or buffalo hide. Wayang Uwuh are designed with rustic and bright colours made from discarded plastics and used cardboard which most of which could be our waste that Iskandar found in the garbage bins, on the roadside or even on the river banks.
Iskandar loves wayang very much. In his homeland, Yogyakarta, he used to paint wayang every time he came home from school. Iskandar never dreamed of becoming an artist, let alone a puppet maker. When he was in high school, he admitted that he had made batik with puppet motifs but during college he was not at all interested in developing his artistic spirit.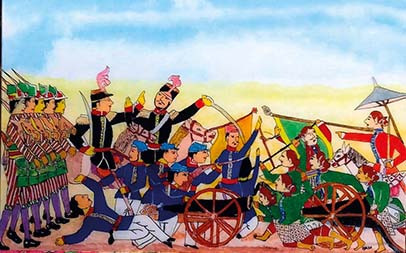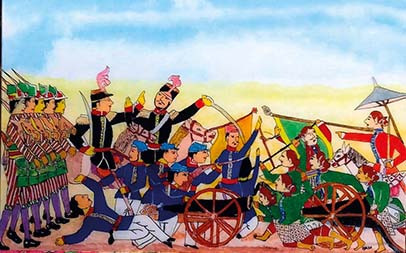 In fact, his love for the arts grew when he started working. Every time he came back home for work as a financial manager and tax consultant in a mining company, a profession that he pursued for 25 years, he took the time to prepare paper or canvas and began to paint puppet characters. Not only that, along with his friends he was also a puppeteer by performing various kinds of plays with his paintings. In addition, he also pursued the art of painting the reverse method on glass.
"I paint as a hobby. I am self-taught. But I have always painted wayang from the past, to remember my childhood. When I was little, I used to watch wayang in the village," said Iskandar, who gradually became known as one of the few artists who specialize in the art of puppets and started to exhibit his puppets and glass paintings around 2000 in Yogyakarta.
Wayang Uwuh was actually created after the big flood hit Jakarta in 2013 when Iskandar became a humanitarian volunteer on the banks of the Ciliwung river, areas prone to flooding. He saw so much garbage scattered at the flood site, in addition to the large amount of waste that was not managed properly.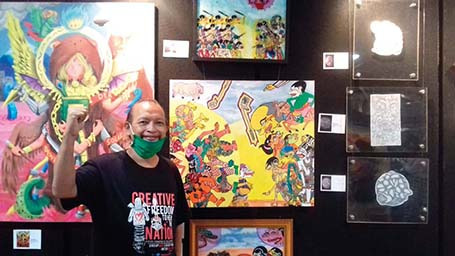 "I feel very concerned about Indonesia, where the disposal of the waste is not managed and the people are not aware of the waste that pollutes the environment. At that time, I collected mineral bottles and food packaging waste, cut it into sheets and then ironed it using four layers of cloth-newspaper-newspaper-cloth to produce a smooth plastic sheet. I made a wayang pattern, I colored it with acrylic and I assembled the parts of the puppet with the yarn. Quite simple to make. Sometimes I also use discarded plywood. From here, I was determined to turn trash into art." the 59-year old artist said.
Since 2017, this Wayang Uwuh has been regularly exhibited at SEA-Junction at the Bangkok Arts Center and Education Center where he also provided workshops on wayang uwuh and glass painting. In Jakarta, he sells the puppets from IDR50,000 to 300,000 depending on size and complexity.
"There's a buyer, he is a teacher. He likes to buy my puppets and use them as props to teach his students. Finally, my puppets entered schools and I also often gave workshops to school children on how to use unused waste while preserving and loving their own culture. Through wayang, we also learn the psychology of colors and human characters based on the story of the wayang epic." Iskandar said.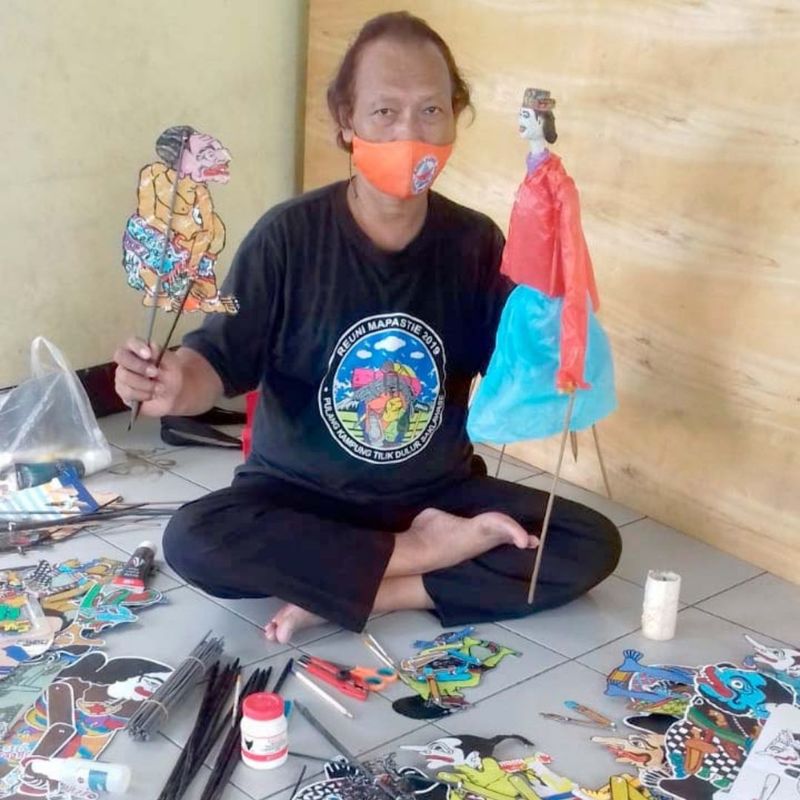 At the beginning of this pandemic, Iskandar took the initiative to make a Wayang Bersedekah or charity puppet where he hung a food package on a tree in front of his basecamp on Jalan Cawang Baru Utara, East Jakarta which anyone can take. He set aside the proceeds from the sale of Wayang Uwuh to help residents who are struggling due to Covid-19. It attracted so many people that some people donated money to join the action and as a token of gratitude he gave his puppets.
He did that until September last year, he thought the Covid-19 pandemic would not last long. But now, he is implying that he is just like other Indonesian artists who have to struggle to survive in the midst of this health crisis when there are no jobs available for him.
"I have tried many times to access grant funds from the government but have always failed. But I have high hopes, I still invite people to love their own culture in this case through wayang and to manage waste properly, especially turning waste into art items that are worth selling. If this pandemic ends, I will return to Jogja and will build a Wayang Uwuh museum and a store." he said while tidying up some perfectly painted puppets.