One of the oldest and most renowned theater troupes in Indonesia, Teater Koma, celebrated its 40th anniversary by reviving one of its legendary plays – Opera Ikan Asin (Salted Fish Opera) – from March 2 to 5 at Ciputra Artpreneur Jakarta.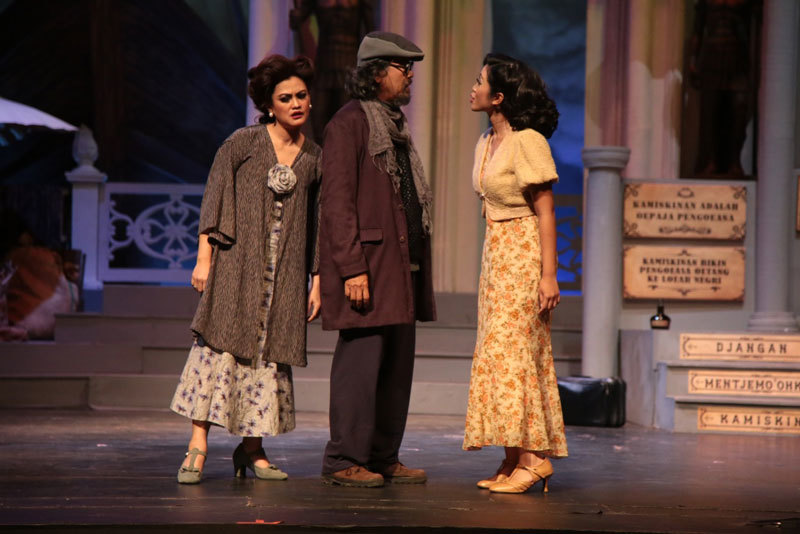 Opera Ikan Asin was first performed in 1983 with music by the late Harry Roesli at Taman Ismail Marzuki and staged again in 1999. The play, which lasts for almost three hours, is an adaptation of "The Beggar's Opera" by John Gay and music by J.C. Pepusch, which debuted in London in 1728, and "The Threepenny Opera" by Bertolt Brecht with music by Kurt Weill which was first brought to stage in Berlin in 1928. Teater Koma director Nano Riantiarno adapted the two plays and changed the setting into 20th century Batavia of the Dutch Indies era.
Opera Ikan Asin is laden with criticism and moral messages. It tells the story of Mehkit, the king of bandits, also known as Mat Piso. He marries Poli Picum, the daughter of the lord of all beggars in Batavia, Natasasmita Picum, without her parents' consent who then try to separate the two. Natasasmita asks his wife Amalia to formulate a plan so Mekhit can be sent to jail.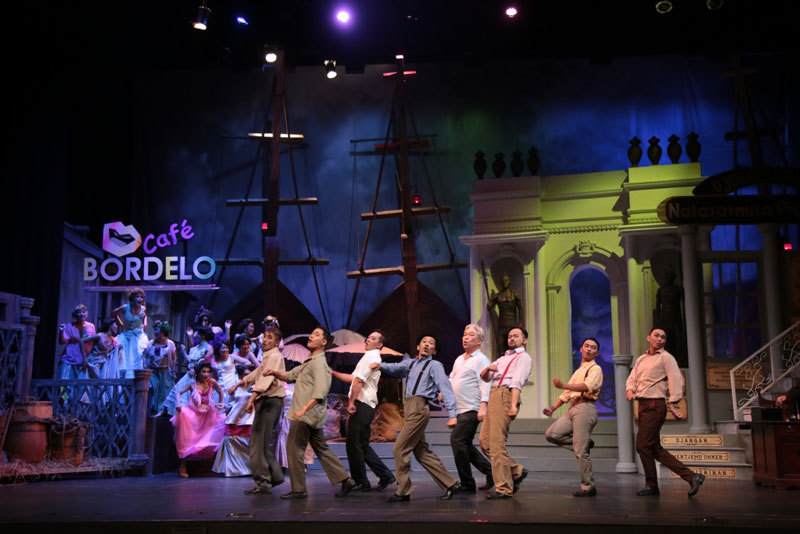 An influential bandit, Mekhit manages to partner up with police commissioner Kartamarmara, also known as the Brown Tiger. With his help, Mekhit is always informed about upcoming raids on his illegal operations. In return, Mekhit shares half of his loot with Kartamarmara.
When Natasasmita is finally able to corner Kartamarmara, he threatens him with riots by his army of beggars, who will take to the streets to protest and disrupt the appointment of the new governer general – if Mekhit is not arrested. Kartamarmara has no choice but to oblige.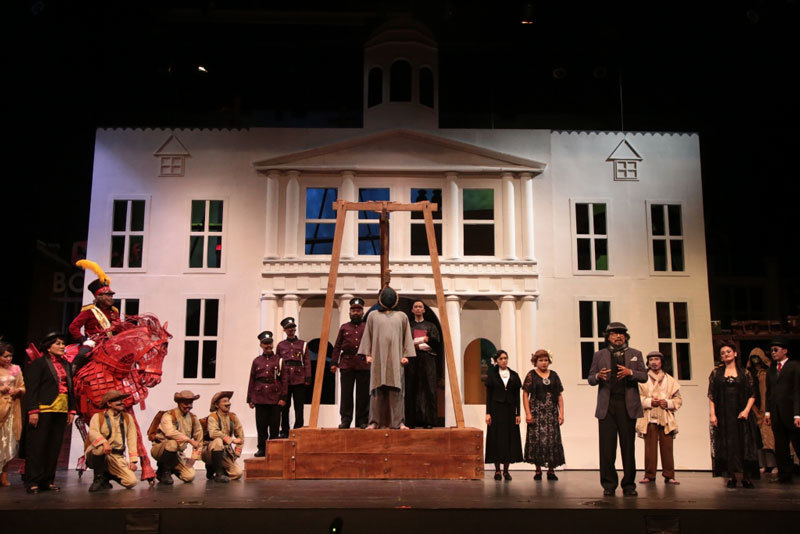 Mekhit is then captured and sentenced to death by hanging. But, as his life is about to end, a letter from the governor general arrives in the last minute, demanding that Mekhit shall not be hanged. Instead, he is awarded a position in the Volksraad (People's Assembly of the Dutch Indies).
That is the moral of Opera Ikan Asin: rich people hate sad stories, and they can afford to buy happiness; an order by the palace stands above the law and can even alter a judge's verdict.
According to Teater Koma's Head of Production, Ratna Riantiarno, the theme and performance of Opera Ikan Asin was adapted with the country's situation and condition where the bandits become heroes in their communities. It is about an era full of uncertainty, where supreme leaders reverse a court decision.
Opera Ikan Asin was choreographed by Ratna Ully and featured many renowned theater actors such as Budi Ros, Cornelia Agatha, Sari Madjid Prianggoro, Alex Fatahillah, Joind Bayuwinanda, Naomi Lumban Gaol, Netta Kusumah Dewi, Sekar Dewantari, Rangga Riantiarno and many more. Well-known fashion designer Samuel Watimena created the costumes.