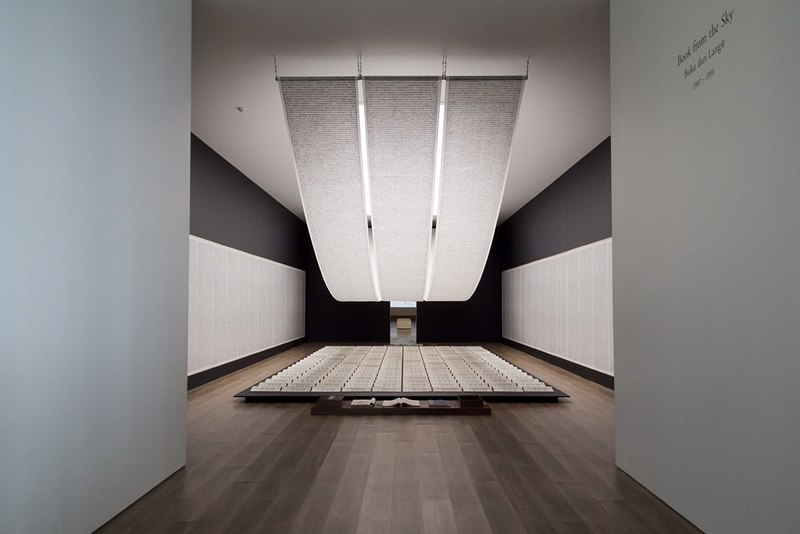 After a successful debut exhibiting the works of Japanese artist Yayoi Kusuma, Museum MACAN invites international Chinese artist Xu Bing to Jakarta for a retrospective exhibition marking his 40-year journey in contemporary arts.
In partnership with UCCA Center for Contemporary Art in Beijing, Museum MACAN invites art enthusiasts in Jakarta to discover 60 pieces of work, which was his substantial contribution to the global art scene. His initial appearance at Museum MACAN is also his biggest comprehensive exhibition in Southeast Asia. Bing's work is a confluence of his life experience in Chongqing and visceral impression of Western arts, evident from the evolution of his works on display at Museum MACAN.
Aaron Seto, the director of Museum MACAN said that this retrospective exhibition has impacted global narrative where Jakarta audience could appreciate Xu Bing's works in personal approach through ideas in local and global proximity. "Xu Bing's work makes us question what it means to be human in a social system. We will see how language impact to our life. His variety of method and presentation also make us learn about the way we deliver contemporary pieces," Seto said during the exhibition launch.
It seems far away and irrelevant to the local art scene, but Bing's approach toward ideas and methodology magnifies universality by raising a variety of subjects with personal proximity. Through multiple media, ranging from drawing, graphics, installation, film and archive material, Bing invites the audience to explore cultural dimension, linguistic anthropology and other subject matters such as traditional knowledge system and intercultural issues.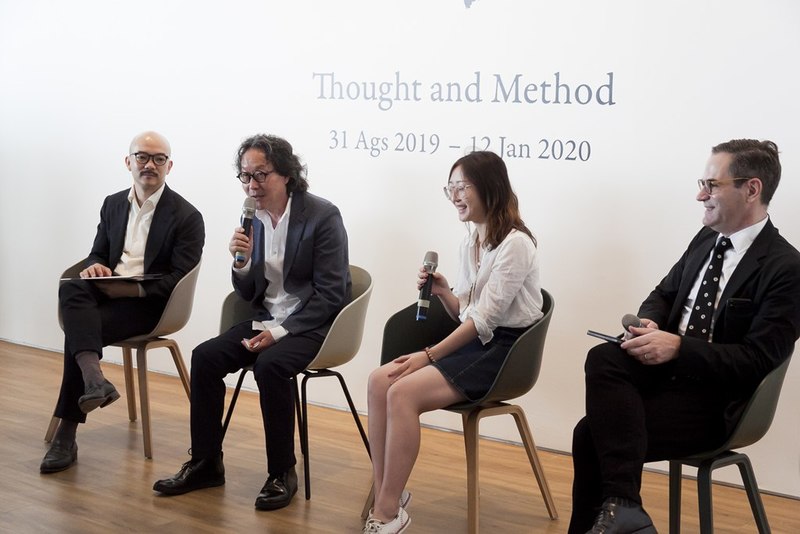 "It's good to introduce Xu Bing's work in Indonesia. It's a major solo exhibit for Xu Bing in Southeast Asia. It's a part of transnational communication, a global communication where art enthusiast in Jakarta could also see the conceptual context behind that. Xu Bing's works are universal and have relevance for global audiences," said Philip Tinari, a director and CEO of UCCA Center for Contemporary Art in Beijing.
One may recognise Xu Bing's distinctive signature — with the name in Roman characters modified in Chinese logographic letter —- represents the way he identifies himself to the world. He is a manipulator of his own language commonly referred him to his notable work Book from the Sky. The mixed-media installation reflects his early career in contemporary arts. Produced in four years from 1987 to 1991, he finished the installation as his depth understanding of language's relationship to power and his response to the Great Proletarian Cultural Revolution in China.
Book from the Sky presents hand-printed books that consist of thousands of false characters resembling Chinese logographs but with no meaning. Designed by the artist in a Song-style font with a counterfeit standard to character popularized during the Ming dynasty, the meter-long installation of artificial Chinese letters complicates notions of language as a 'reflection' of nature and testifies to the incompleteness of all systems of meaning. Book from the Sky is a major symbol which sums up his plentiful works that take inspiration from language and its morphology.
Head to Xu Bing's ongoing work Square Word Calligraphy which he has developed since 1994. This interactive art allows one to discover further about lettering system which combines a creative calligraphic fusion of Roman numerals and Chinese characters. The installation based on adult literacy classroom, complete with textbooks, an instructional video, and calligraphy tracing books. Visitors could enter a site of study in which they can interact with the material. Here, the Indonesian audience will also get a chance to see his latest works rice ink on paper Indonesian Square Word Calligraphy (2019) which depict Indonesian proverb in Chinese logographs.
Xu Bing's influence on Western culture is presented by mega installation Honor and Splendor (2004). During his time migrating to New York in 2001, United States, Xu Bing formed a total of 6.600 premium branded cigarettes as a take away to explore the social and economic history related to tobacco. As a part of Tobacco Project, the installation in the form of tiger skin is a manifestation of Xu Bing interest in reflecting on the problem and weakness of humanity with the long and entangled relationship with tobacco which has a broader narrative to culture, labour, morality, health, faith, fashion, and more.
Take a look inside Book from the Ground Studio (2003 - 2019) as a contemporary development of symbol which has been used in today's society. It's a public sphere which delivers the ongoing development of symbol and sign. Here, visitors could see the universality of its visual signification from the application corresponding to the digital language. In the contemporary world, this particular work invites one to understand the lexicon of sign and digital iconography as well as its association with smart technology. Xu Bing addresses the intermediary form of communication and exchange between traditional language with emerging symbols used in digital conversations.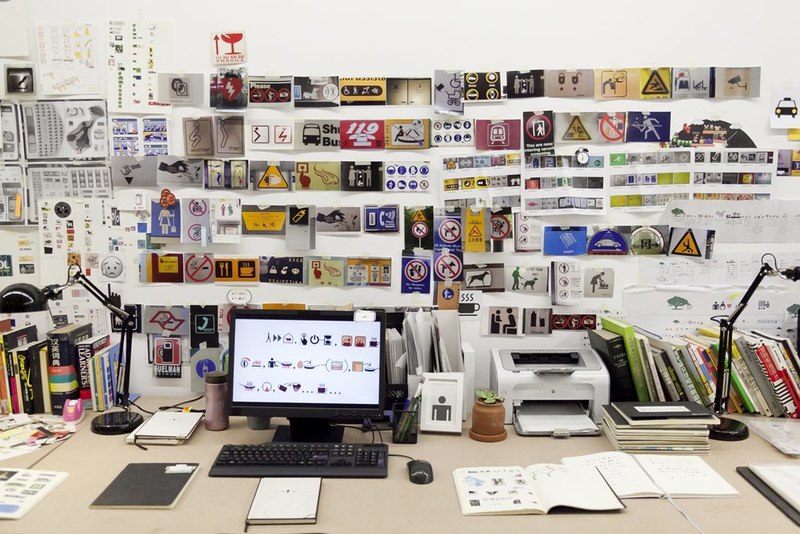 The recent works from 2017, Dragonfly Eyes is Bing depth investigation to public surveillance. The first feature film directed by himself — is made up of 10,000 hours of footage from surveillance cameras that have been streamed online. Xu Bing try to stay in current contemporary issue with the works that reflect an ominous development within society and the collapsing of reality and fiction, as well as public and private worlds, Among those significant masterpieces that mark the artist's transformation in the contemporary world, Xu Bing also presents other works including A Case Study of Transference, Background Story and The Character of Characters.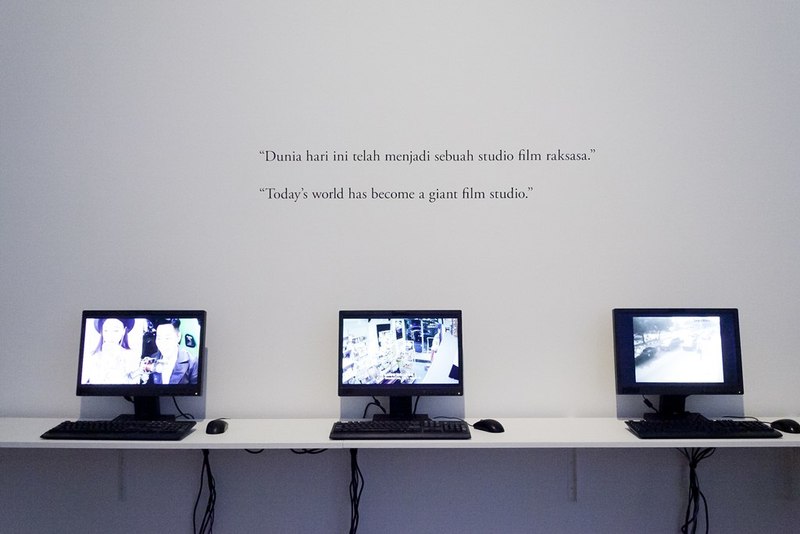 Xu Bing wants to invite Indonesian audience to understand his intention about contemporary art through idea and methodology. His expertise to use multiple methods that allow one to understand art in a comprehensive way. "In this vastly changing world, we sometimes lack the way to present art in our society. The method is really important. Artists have an idea, see the problem in society, then find the solution through the right methods. This is how arts emerge," Bing said.
Until today, Xu Bing keeps exploring a variety of methods to present different ideas in his works. Chinese artists never stop playing with methodology from the most convenient way through calligraphy and printmaking to video presentation.
The exhibit of Xu Bing: Thought and Method is on display at Museum Macan from 31 August 2019 - 12 January 2020. Get the ticket here.
Museum of Modern and Contemporary Art in Nusantara (MACAN)
AKR Tower Level MM
Jalan Perjuangan No.5, West Jakarta
T: +62 21 22121888
IG: @museummacan
FB: Museum MACAN
www.museummacan.org