As part of their celebrations for the new year, a community of Indonesians of Portuguese descent living in the 357-year-old Kampung Tugu in North Jakarta, held a unique tradition where they smeared white powder on each other's face in a sign of peace.
It may not be as big, colourful and riotous like the Holi Festival in India, which has been aptly portrayed by the pop super-group Coldplay in its "Hymn for The Weekend" video clip.
Still, the Mandi-Mandi Festival at Kampung Tugu is a highly anticipated event for descendants of Mardijker – Portuguese freedmen hailing from India, Africa and Malay Peninsula who were brought to Batavia by the Dutch in 1661. They gathered in a strong spirit of brotherhood and celebrate family ties.
Mandi-mandi is the peak of a series of cultural traditions that begin with Rabo-Rabo Festival on New Year's Day. Both festivals are geared towards making sense of their life journey in the year that has passed and the one that is yet to unfold.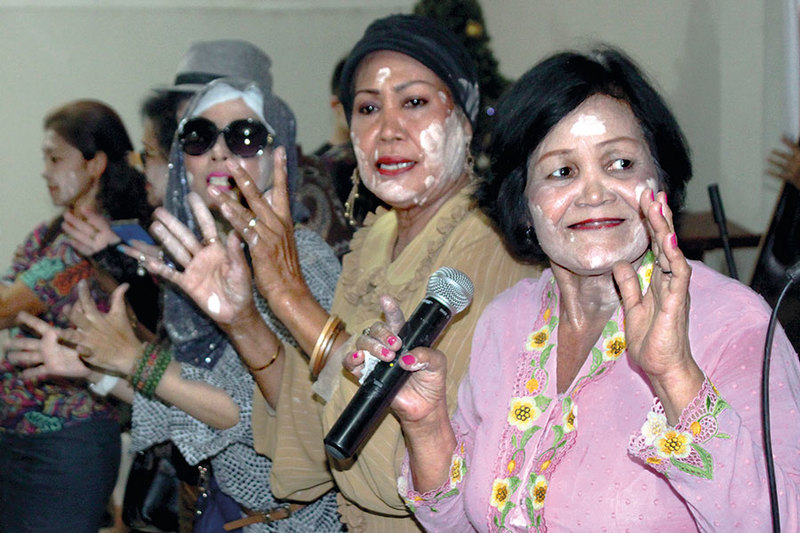 During Rabo-Rabo, family members would visit homes of elder people and neighbours, based on a route determined by the leader of the Tugu community (IKBT), a title currently held by Ernie Lissie Michiels. Keroncong music plays a big part in the event, as the community gathers and sings praises to God. Rule has is that every home visited should send a representative to join the group of musicians.
Following the Rabo-Rabo Festival, on the first Sunday of January, the community would gather again to celebrate Mandi-Mandi Festival. This year's event was held on January 7 at the modest Tugu Protestant Church (GPIB Tugu), attended by the descendants of the Abrahams, Michiels and Quiko families.
The Mandi-Mandi Festival Committee Chairman Johan Sopaheluwakan said that the good relationship between church worshippers and members of the Tugu community was the main reason why this year's celebration was held at the church.
He also expressed hope that the festival can be more creatively packaged to attract more interest among visitors from other communities with Portuguese heritage, such as those in Malaysia, India, Sri Lanka, Singapore, Japan, Myanmar, Thailand, Timor Leste, Macau, Australia and Portugal itself.
The main activity of Mandi-Mandi lies in the smearing of wet white powder on each other's face and expressing apology and peace, followed by singing along to keroncong music.
"Mandi-Mandi Festival is a symbol that Portuguese descendants want to improve themselves, and continue to live throughout this year and sincerely work together for the community, get involved with church activities and throw away any negative behaviour. It's a beautiful understanding. Mandi-Mandi is not just a festival, but a culture of peace and prosperity," said Pastor Egbert Parasin Sihombing, who led the congregation.