Although German-Indonesian relations officially only began in 1952 with the establishment of a representative office of Indonesia in Bonn, the two countries have been connected for much longer.
Notable figures that have helped to build and foster this well-maintained relationship include Indonesian painter Raden Saleh, who spent some time in Germany in the 19th century, Franz Wilhelm Junghuhn, who explored the geography and geology of Indonesia, and former Indonesian President B.J. Habibie, who studied and worked in Germany for more than a decade.
Based on this long-lasting friendship in the field of education and culture, the Indonesian Embassy in Berlin, Germany opened the Rumah Budaya Indonesia or The Indonesian House of Culture in 2012, which was regularly used for events.
Dr. Ahmad Saufi said that one of his tasks as the Embassy's Education and Culture Attaché was to support and facilitate the development of Indonesian language and culture in Germany.
"To be able to fulfill this important task, it is very important to have a platform, which in this case is Rumah Budaya Indonesia," he explained. "Although it has already existed since 2012, we moved to a new site in Berlin Tempelhof in October last year."
The Indonesian House of Culture provides enough space to exhibit traditional music instruments, clothing and other ornaments from the archipelago and house a small library with books and information about Indonesia as well as a hall for events, which is often used by Indonesian music groups – mainly gamelan and angklung – as rehearsal space. It also offers Indonesian language courses and therefore brings the three main pillars under the same roof: exhibition, education and advocacy.
"We want to promote Indonesian culture in Germany and further strengthen the relationship between the two countries by organizing various events," Ahmad said. "For instance, every last Sunday of each month, we host 'Sarasehan', a series of lectures and discussions that revolve around different topics, like German researchers who collaborate with the Indonesian government or the Humboldt brothers' relationship to Indonesia."
Besides "Sarasehan", Rumah Budaya Indonesia also regularly organises contests for giving speeches in Indonesian – this year's winner from Germany went to Indonesia and came out on top when he competed against participants from 19 other countries worldwide.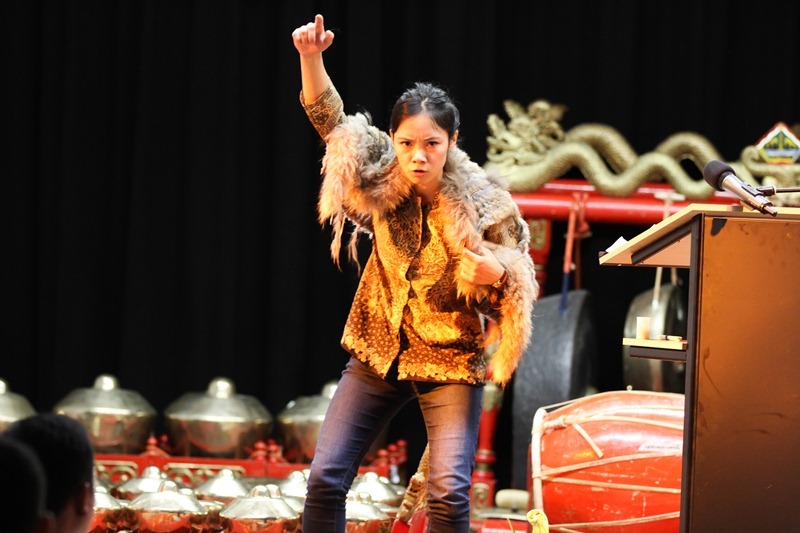 "Temu Sastra" is a new programme at the Indonesian House of Culture. Launched in April this year, "Temu Sastra" sees Indonesian authors coming to Germany to give readings and discuss their latest works with a Berlin-based audience.
"Earlier this year, Laksmi Pamuntjak was here to talk about her novel 'Aruna dan Lidahnya' (The Birdwoman's Palate), which was a perfect fit because she is already well-known in Germany through her first novel 'Amba' (The Question of Red) and therefore the audience was very enthusiastic to welcome her back in Berlin," Ahmad recalled.
According to Birgit Steffan, Head of Rumah Budaya Indonesia, one of the main goals for the cultural center is not only to promote Indonesian language and culture in Germany, but also to seek more exchange and collaboration, especially with the people of Berlin.
"We have begun to actively participate in typical Berlin events, like Fête de la Musique, and will also launch a film series called 'Indonesia on Screen' in the Babylon Cinema," she said. "We also regularly take part in the EXPOLINGUA, an international fair for languages and culture that mainly attracts students who would like to study abroad."
October is going to be a busy month for Rumah Budaya Indonesia, as the cultural centre will host a three-day conference for Indonesian language teachers in Germany.
"They will, among others, discuss new strategies on how to promote the Indonesian language in Germany," Ahmad explained. "We let ourselves be inspired by the Goethe-Institut that has a long history of promoting German language and culture abroad – I myself am an alumni of the Goethe-Institut in Jakarta – and hope to move in the same direction."
In the same month, Rumah Budaya Indonesia will also introduce its ambitious two-week project "Prince Panji Lost and Found" that revolves around the legendary Panji, a Javanese prince whose life inspired a cycle of Javanese stories. Activities include workshops for students and adults, lectures, performances and a visit to the State Library of Berlin that has original manuscripts from Java in its collection.
"The mythical Prince Panji is experiencing a revival in Indonesia, and in 2017, the manuscripts for this cycle were added to the UNESCO World Heritage List," said Birgit Steffan about the project, which was first initiated by Dr. Lydia Kieven from Cologne.
The stories about Prince Panji and his adventurous quest to find his one true love Dewi Sekartaji have shaped many art forms in Indonesia over the centuries. The tales have left their mark not only in traditional mask dances and shadow play, but his adventures were also immortalized in manuscripts and countless reliefs at the temples of Central and Eastern Java.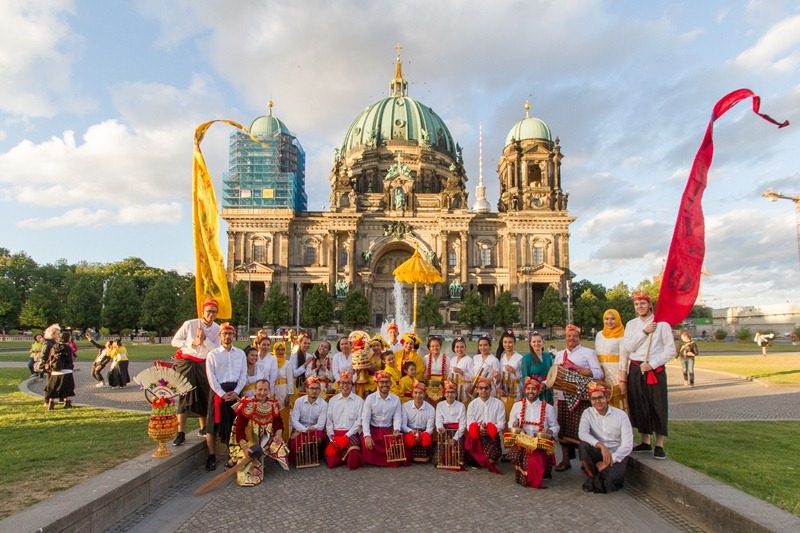 The exhibition "Lost and Found: Indonesian Picture Scrolls Theater", which will be shown at the House of Indonesian Culture through 13 October, is dedicated to one of the art forms that were born out of the Panji tales: the Wayang Beber. This particular art form, in which painted scrolls are used to depict Panji's life, was almost extinct, before being rediscovered and revitalized by young Indonesian artists.
"The exhibition, curated by Tea Škrinjarić and Marina Pretković from Croatia, is dedicated to a photographic documentation of both the traditional forms of the Wayang Beber and the contemporary adaptations of the theme," said Birgit Steffan. "The second highlight of the project is the performance Kidung Panji Biyung Bibi with shadow puppets, dancing and singing. Performance artist Agus Bimo Prayitno and his ensemble Seni Jantur from Java, together with participants of a workshop will bring the adventures of Panji to the stage in the youth centre 'Pumpe'".
The audience at Rumah Budaya Indonesia's events is usually a mix of Indonesians living in Berlin and Germans who have lived in and travelled to Indonesia before and still feel a deep connection to the country or those with a general interest in Indonesia.
"In the future, I hope to be able to attract more students to come to our events, both Indonesian and German," Birgit Steffan said. "There are some who visit sporadically, but I think we could reach many more. I would also like to be more actively involved with the people and community in our neighbourhood and hope many of them will come to our annual Open House event."