Setu Babakan in Jagakarsa, South Jakarta, is the city's indigenous cultural trove as it is a one-stop destination to learn more about the native Betawi tribe, from their distinctive culture to their cuisine.
"Setu" is the word for little lake – and surely enough, there is one located in the middle of this tourism area, greeting visitors with dozens of duck-shaped paddleboats and several long dragon boats for rent. The lake covers approximately 30 hectares with a depth ranging from one metre to a maximum five of metres. The higher land surrounding the lake is planted with mango and rambutan trees, providing some shade for the people who want to go fishing or simply enjoy the view.
The Jakarta Provincial Government officially named Setu Babakan as a Betawi cultural centre 17 years ago through the gubernatorial decision letter number 9 year 2000, under previous governor Sutiyoso.
Every Sunday, one can witness traditional Betawi dances such as Cokek and Topeng. Other artistic Betawi performances include Tanjidor which is a traditional orchestra playing various instruments, Lenong which is a comedy show performed alongside a group of people playing Betawi tunes as the back sound, the giant wooden dolls Ondel-Ondel as well as the indigenous martial art Silat Beksi.
Those who were born in the late 1980s or early 1990s most probably still remember TV show "Si Doel", a soap opera about the humble life of a Betawi man and his family amidst Jakarta's rapidly developing urban scene. He used to live in a traditional Betawi house, locally known as Rumah Kebaya or Kebaya House, thanks to its roof, which looks like the traditional female clothing kebaya folded multiple times.
At Setu Babakan, tourists can see Rumah Kebaya from up close and snap some pictures in front of the house. But visitors should be aware that these houses are still inhabited, as Setu Babakan is both a tourism and residential area, so it is advised to ask for permission first. It is also not that easy to find the houses as they are spread across the whole area but according to the locals and staff working there, they are mostly located deep in the alleys that are too narrow for cars to pass through.
Just like other tourism spots, Setu Babakan also offers a wide array of street food, especially and mostly Betawi cuisine, including the famous Kerak Telor which is made of white sticky rice mixed with either a chicken or duck egg and roasted on a pan above hot charcoals and sprinkled with sweet and savoury fried coconut flakes called serundeng. Hundreds of stalls and carts surrounding the lake are serving other tasty dishes that include Baso, Mie Ayam, Soto Mie, Toge Goreng, Nasi Uduk, Rujak Bebek, Dodol Betawi, Bir Pletok and Arum Manis at affordable prices.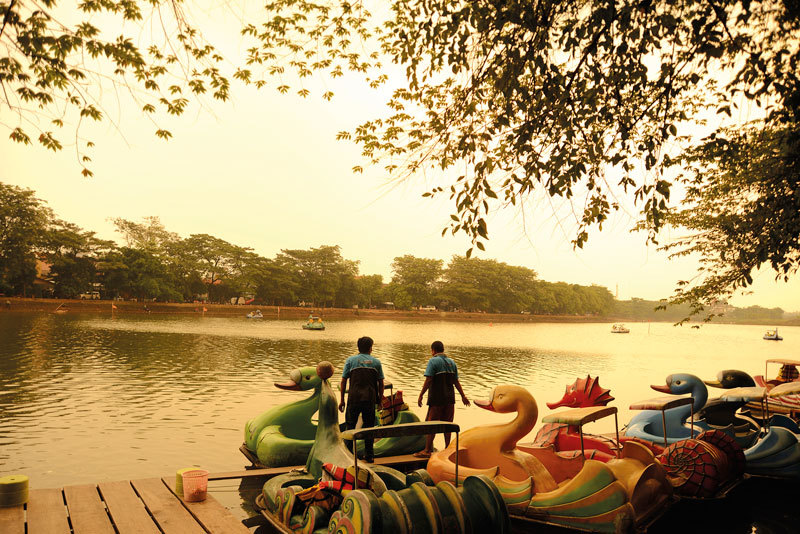 Here at Setu Babakan, one can also food and beverages that are otherwise rarely seen in Jakarta and hard to come by, like the refreshing Es Selendang Mayang, a traditional iced drink featuring sweet cold coconut milk and chunks of sweet glutinous rice.
In addition to the food vendors, there are other stalls selling souvenirs such as miniature versions of Ondel-Ondel and big green Betawi belts with a large brass buckle, usually worn by Palang Pintu (silat show especially performed at Betawi wedding ceremonies) performers.
Visiting Setu Babakan during the holy month of Ramadhan, which this year falls in June, is a splendid experience: while waiting for sunset and breaking the fast with one of the many delicacies on hand, one can sit by the lake and take in the peaceful view. Moreover, Jakarta will celebrate its 490th anniversary on 22 June, which is only another reason to explore this cultural centre.
Setu Babakan is open every day from 6 AM to 6 PM. There is no entrance fee, but visitors driving a motorcycle have to pay IDR 2,000, and those who come by car need to allocate IDR 5,000 as parking fee. Water vehicles such as the paddleboats or the long dragon boats cost IDR 10,000 per person.