Pangkalan Bun in Central Kalimantan is a long way from anywhere. However, as soon as I heard about the Babukung Mask Festival held there every year, I went on the hunt to find out more.
Not long afterwards—after two connecting flights from Jakarta to Pangkalan Bun—I found myself on the four-hour road journey to a town called Nanga Bulik, where the festival is held.
I arrived at the local sports stadium just before the opening ceremony. A large crowd had gathered, and a bottleneck was forming at the front entrance. I soon found out why. Just inside the entrance was a small lobby which housed several strikingly beautiful masks on tall stands. Everyone was posing for selfies with the masks. My arrival meant the bottleneck got even worse because absolutely everyone wanted a selfie with me, the token foreigner. Requests came fast and furious for me to stand with locals in front of the White Man Mask, which depicted the white painted face of a Dutchman with a very long nose.
I got talking with Nanang, a local from a nearby village, who pointed out a Luha Mask in the display—a mask with protruding tongue, large round eyes and an upward pointing nose. He told me, "Luha is the pride of the Dayak Tomun people. It is used to cure a grieving heart".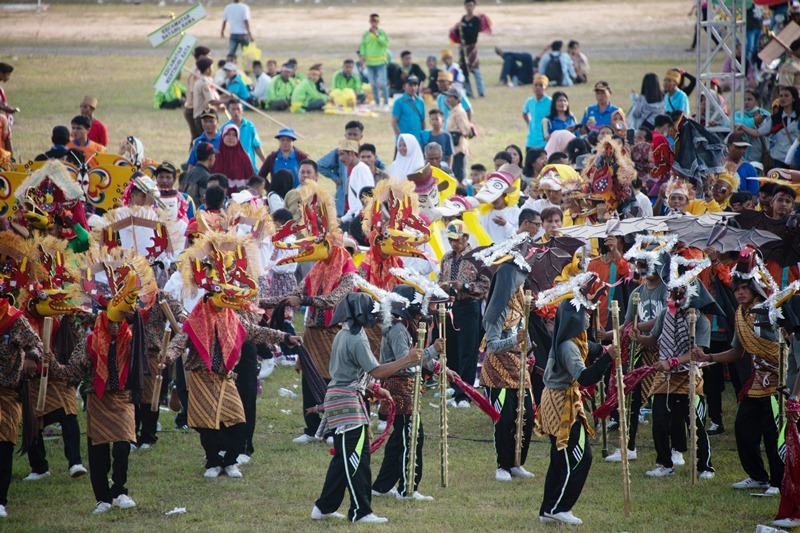 Nanang went on to explain, "My grandmother told me a story she had heard from her grandmother about a village chief's family. The family was in deep grief at the loss of a son. In an effort to help, the villagers made masks resembling a ghost and an animal. They then lined up at the funeral ceremony wearing this Luha Mask and acting out funny animal behaviour. The grieving family started to laugh. The laughing brought the family out of their grief enough to 'let go' of their son, which meant he could go to his final resting place. Dayak Tomun people call this the Babukung dance and it serves another purpose, a greater moral of the story. With masks on, members carry donations for the family such us rice, pig, chicken and tuak (rice wine). The idea is so the grieving family will not notice who's actually giving the donation."
The Luha Mask is an integral part of the Dayak Tomun funeral ceremony. The mask itself is carved by master craftsmen from pulai, a tropical timber. Only natural dyes obtained from materials found in the forest are used to decorate the mask. The red colour is from the kesumba fruit, and the black is from charcoal. The pure white colour is from chalk.
As I began to clamber down the giant stadium stairs towards the field, I got talking with one of the officials. He told me the Babukung Mask Festival has been going four years now, and draws a crowd of 6,000 over the three days of the festival. He explained that there are eight districts in Lamandau and every year the districts go in for a lottery. Depending on the luck of the draw, each community is assigned a specific mask. They then have to get to work carving the masks, making the costumes and learning a dance to perform at the festival. There are 15 different categories of mask used: bird, dragon, crocodile, bat, hornbill, peacock, dog, devil, butterfly and the white face mask called sadap, which represents a Dutchman with a long nose.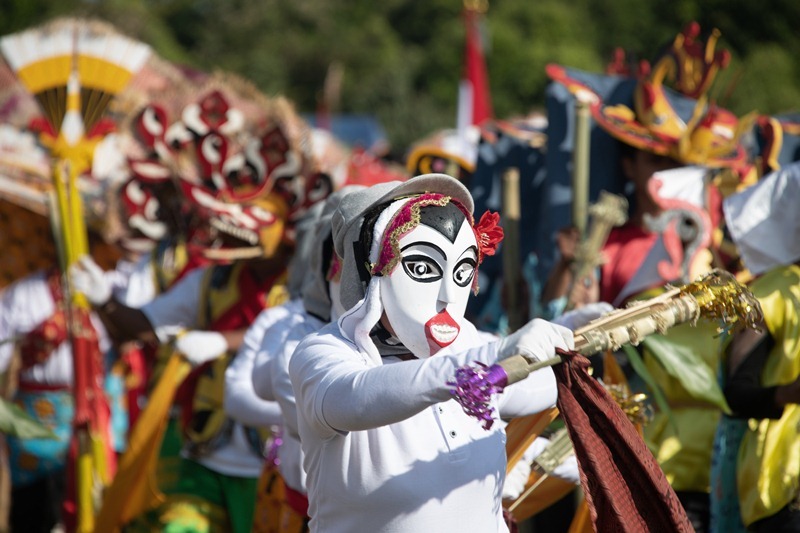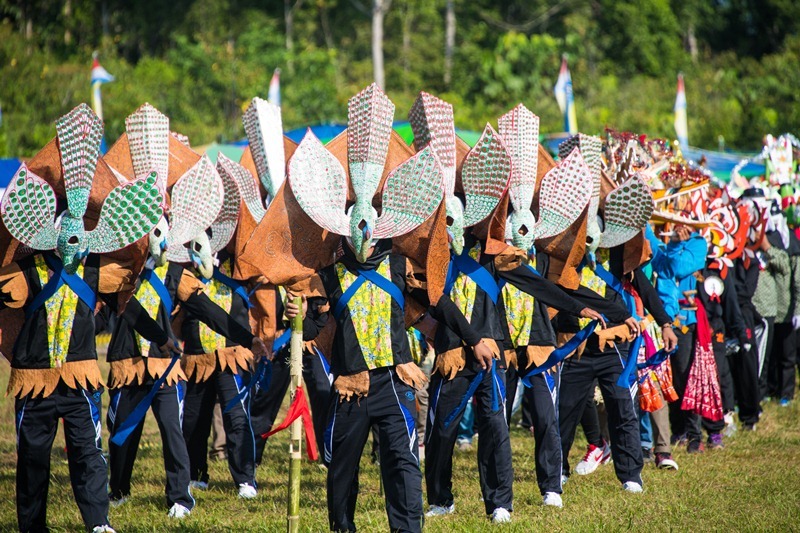 By the time I reached the field, the crowds had gathered in large numbers and the dancers were assembling. The atmosphere was charged with excitement, costumes were being adjusted and musical chords were being struck as instruments were tuned. Since foreigners are a rarity at this very local festival, many masks were turning in my direction – maybe I was a real Dutch person?
Picking my way through the dancers, I got lost among dragons, crocodiles and bats. Many asked, "Where are you from? Are you from Holland?" – a question often repeated over the following three days. I struck up a conversation with Lusi who told me, "This year we got the Hornbill. We got that one last year as well, so that was lucky – we knew our dance routine already. Next year it will probably be one of the other masks, and then we have to do all the carving, hand painting and research, and we have learn a new dance and do lots more preparation. But we all love performing in Babukung – it brings us all together. Hey, let's get a selfie".
At this point, I was up to about my 40th selfie but of course I happily obliged. It was a great way to make an initial connection. For some reason, capturing foreigners on a phone camera roll is a bit of an obsession among Indonesian people, and in this town, it is rare to have the foreign visitors. The giant-sized speakers blasted out instructions to the dancers, and the Grand Parade began. In all, 91 teams, each with five musicians and eight dancers, were to take their place on the field during the festival.
Eventually, I had to peel off from the parade, to join the audience and grab a cold drink. I found the perfect place for watching the parade, under the shade of one of the large colourful umbrellas. There were a line of these which housed festival pop-up food stalls. Many vendors provided ice cold fresh squeezed orange juice using the old-fashioned juice machines with a long funnel apparatus and a hand winding grinder on the side. The food was varied and plentiful, including fast-food satays for on-the-go eating and large pots of steaming bakso (meatball soup).
There was no shortage of people who happily engaged with me explaining the use of masks for ceremonies, ritual offerings and protection. I learnt that these masks are linked with Dayak animist beliefs and some masks hold magical powers. Nanang described how some are an embodiment of the ancestral spirits, some enable communication with ancestors, and some ward off evil spirits from a home, a person or crops. Ceremonial masks have specific functions, such as capturing souls at funerals. In the old days, masks also were used to intimidate enemies.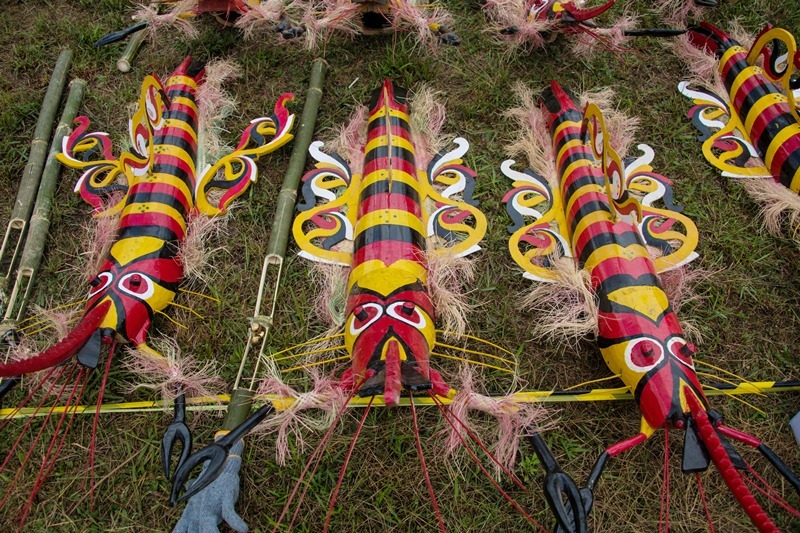 Over the three days of the festival I saw some beautiful traditional dancing and every night there were rock bands and a couple of big name artists from Jakarta, to pull in the young crowd.
Nanang told me more about the use of masks for dance and explained," When we dance in our village, we believe the magic in the mask is transferred to the dancer who wears it. Our masks are used in dancing at festivals like this one, and back in the village. For example, old sacred masks are used for special events, such as agricultural ceremonies, as part of a dance". Nanang said there are forty types of animal masks in his village alone, and the style differs from tribe to tribe. He added, " What you see on display here at the festival is a true celebration of who we are as Dayak people". Later on, when farwelling me, Nanang said warmly, "Thank you for coming. I have only seen five foreigners here over the last three days. We are so far away from Pangkalan Bun, where tourists go to see orangutans. They don't come up here. Please come back and bring your friends next year when we will again be dancing and celebrating at the festival".
Who could refuse that offer? I will definitely return next July to take in more of this magical festival and make more friends. I may even get a little bolder and go further into the interior to seek out some of the more remote traditional Dayak villages. Perhaps I might offer to learn the white face dance and pretend I am Dutch.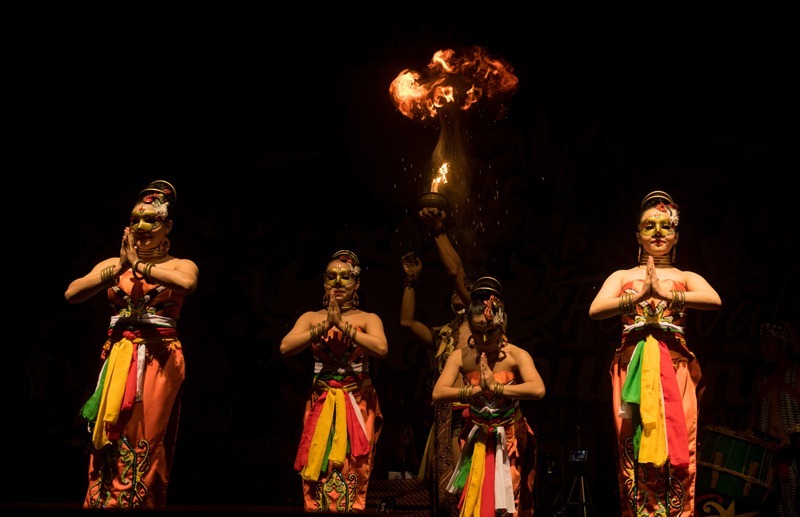 Babukung Traditional Mask Festival was held July 17-19, 2018 at Hinang Golloa Stadium, Nanga Bulik, Lamandau Regency, Central Kalimantan. It is an annual event.
Tour guide: Yomi
T: +62 813 5273 6054
E: [email protected]
www.orangutandays.com
---
Stephanie Brookes is a travel writer and blogger with tales from Indonesia and beyond.
www.travelwriter.ws
http://www.facebook.com/stephtravelwriter
www.instagram.com/stephtravelwriter
Author –"Indonesia's Hidden Heritage; Cultural Journeys of Discovery" (Click here to purchase the book)
David Metcalf is a photographer and runs cultural photography tours in Bali, Kalimantan, USA tribal lands, Toraja, Sumba, Japan and Vietnam
www.davidmetcalfphotography.com
www.instagram.com/davidmetcalfphotography
http://www.youtube.com/user/DayakDave