Converse collaborates with established Indonesian contemporary artist Hanafi for its new Limited Shoes Design line.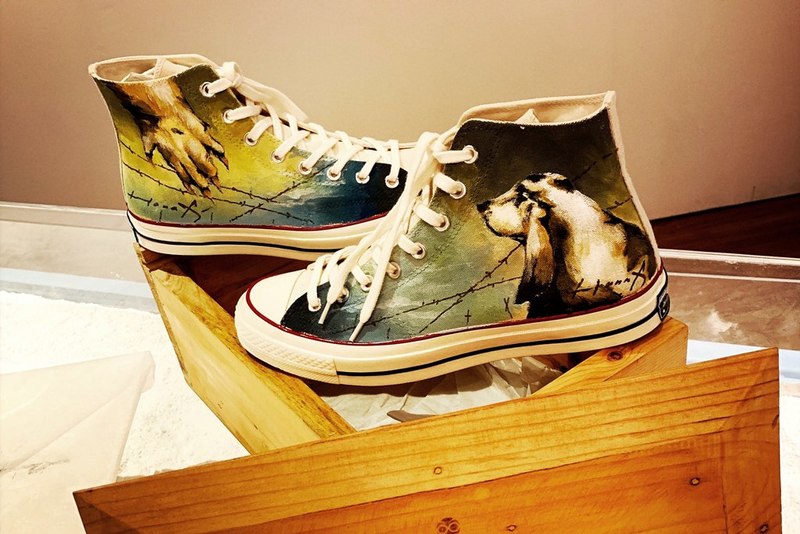 Hanafi embellished Converse Chuck 70 for an exclusive art collection under Converse Incubate project, an acrylic painting on canvas shoes priced at USD 1,044 in honour of the book Bobo: The Traveling Hound.
Hanafi is selected for this project as he is the illustrator of Bobo: The Travelling House, published by Afterhour Books. The book narrates the story of a basset hound named Bobo travelling around Europe with its owner, Irma Lengkong Mikkonen. In 2018, Irma brought her dog to France, Belgium, and Netherlands and created a wonderful journey and deep relationship between human and pet animals.
Converse Incubate—a collaboration program with several designers, musicians, and celebrities—has created partnership with prominent industry players. Hanafi's name is now standing along with Golf le Fleur, Brain Dead, Yuko Shimizu (Hello Kitty), Miley Cyrus, and Dr Woo.
Converse x Hanafi sneaker art edition is featured on High-Top Chuck 70s sneaker, which were the most iconic basketball shoes in 1970. The Chuck edition itself was named after American legendary basketball player, Chuck Taylor that never goes-out-style until today and it's popular among youth culture.
As an established artist, Hanafi—who has been in the art industry since 90s—uses acrylic to create the contemporary works for Converse Chuck 70s art edition. Inspired by his illustrations in the book, Hanafi created the Converse art edition as he would finish his painting in the likeness of how Chuck 70s was made by quality canvas fabric.
Converse x Hanafi only comes in size 44 (28cm) and in a wooden box packaging crafted with Converse and Hanafi signature on it. Afterhours Books offered this particular edition at IDR 15 million or USD 1,044.
Later on, The Converse x Hanafi Sneakers with Bobo character on it will be representing a pair of sneakers that travels around the world with their beloved companion.
Explore Hanafi's works on http://www.studiohanafi.com or check the collection by Afterhours Books on http://www.afterhoursbooks.com/