The third annual Tolerance Film Festival featured varied perspectives on dealing with social issues and tolerance around the world. NOW! Jakarta spoke to Festival Founder Monique Rijkers about tolerance and this year's films.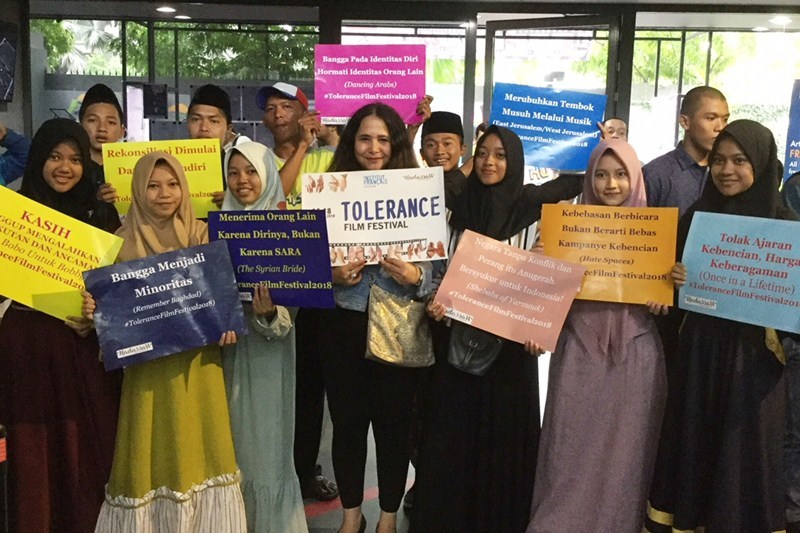 Held in mid November at Institut Français d'Indonésie (IFI) Jakarta, the films featured diverse stories that offered viewers various perspectives. Since its inception in 2016, the Tolerance Film Festival has had a focus on films from the Middle East.
The festival is now in its third year. What are the highlights of this year's festival?
I feel so grateful that many reached out to me to support the event. Through the festival, we are able to screen a number of documentary features that may open people's eyes about tolerance and why we must have it as Indonesian people.
There are 11 films, most of them are documentaries and feature films based on true stories. These are stories about people fighting for harmony and choosing tolerance. The films are mostly produced in the Middle East and Indonesia created by foreign filmmakers.
There are "Dancing Arabs", "Shebabs of Yarmouk", "The Syrian Bride", "Nina Bobo untuk Bobby", "The 90 Minutes of War", "Withdrawal from Gaza", and other movies from documentaries to comedy, all of which deliver the same message: tolerance, harmony, and peace.
What makes this year special compared to previous years?
We still focus on films that feature stories from the Middle East where we could watch social illustrations of how people look for peace in the the middle of conflict between country, religion, and ethnic groups.
We continue to provide entertainment and to raise awareness about acts of tolerance, as people in Indonesia may not have information about the conflict in Middle East between Israel and Palestine, for example. What we see on TV and media often tends to be dominated by the news about war.
Where did the idea for the Tolerance Film Festival come from?
It all came from my personal experience. I was journalist at one of Indonesia's national television channels at the time. I covered stories about social diversity. In 2013, I covered a story about Sukkot in Jakarta where Indonesians with a Jewish connection celebrated the harvest season, a tradition that originated in Israel.
I was accused by one of the organisations of spreading propaganda that could cause tension in the country, and I had to face a lawsuit. This was because Judaism is not one of the legally recognised religions under the constitution of Indonesia. I thought it was a great example to illustrate tolerance when Christian, Muslim and Indonesians with Jewish ancestry can live harmoniously and celebrate this tradition.
At the end of the day, I had to resign from my job and my TV show was shut down. As a journalist who worked based on fact, I thought covering this story would be the same as covering a story about Christians or Muslims. It didn't mean that I promoted one group or religion. So, I realised there was intolerance in the country and I decided to do something to help eliminate this hatred. I wasn't thinking about a film festival at that time until, in 2014, I was invited to a film festival in Melbourne, Australia that featured many documentaries and feature films about tolerance. I then became interested in adapting something similar in Indonesia.
It may be sensitive but what I care about most is promoting peace and tolerance. The first festival was held in 2016.
How can we promote a more progressive movement and eliminate intolerance among Indonesians?
Even though it all happens in the Middle East, we can still implement it in the Indonesia context as we are a diverse country. Here, we find many conflict caused by religious differences. I want people to know who they are, get to know us [Indonesians] better. And maybe we can live side by side without hate.
One of my favourite local proverbs is "Tak Kenal, Maka Tak Sayang" which means "we don't know, then we will not love". The film "Under the Same Sun" also taught me how we are all humans who share the same sun but can't share the same land and choose to have a war?
What was your mission in organising this festival?
There are always challenges when organising a film festival of this nature. It touches on a sensitive area when we have to talk about ethnic community, race, religion and ethnicity. As a mother, I think about the future because I don't want my children to live in the world full of hatred. I am Christian but I will not come here to promote certain groups. As humans, we are always connected and we cannot live alone by ourselves. We can't predict the future of Indonesia. As we have seen recently, there have been many protests and conflicts between social groups that divide us. I always want to promote tolerance and embrace difference to achieve harmony. There is no reason to hate each other because we can't choose who we are, our skin colour or where we are born.
If we talk about the spectrum of tolerance, it's not just religion, it's also about ethnic groups and other areas. Also, why did you choose to screen films from the Middle East?
There are many similar film festivals that screen movies that promotes tolerance, racial issues, sexuality and social life. In Indonesia, people don't take on this field because it may cause a certain reaction and I have to be ready for any consequences. Later on, I want more movies to be screened in the festival that cover a variety of stories.
How has it been received? It appears that the audience is quite diverse.
There are always good and bad responses, It's also interesting during my three years holding the event that I have seen that many Muslims have been eager to come to the film screening. They make an effort. There are many different groups of young people and filmmakers who also come to the festival. Back then, I only know couple things about the region until I experienced it by myself when visiting the Middle East and reading more information regarding these issues. There are so many things that we don't know. If we want love, once again, we have to get to know them first from credible sources.
You are also the Founder of Hadassah Indonesia. Please tell us about this foundation and how it helps promote tolerance?
Hadassah is a non-profit organisation where people can research information on the Israel-Palestine relationship, the Jewish Community, and the Holocaust. We want to provide literature from trusted sources so people can learn the history and be prepared for discussion.
What are your hopes for future film festivals?
I hope that the festival will create a deeper understanding between us as human beings, that those who have never met Palestinians, Israelis or had the chance to visit the country will know more and change their attitudes towards difference. I also hope it will eliminate perceptions of anti-semitism. I wish people will have a new understanding and we will never need this kind of festival to promote tolerance.