The crocodile appeared on the stage in the form of a human. The dancer writhed and slithered, accompanied by the deep tones of the didgeridoo. This opening dance at the 2018 Gawai Festival was received with loud cheers from the crowd.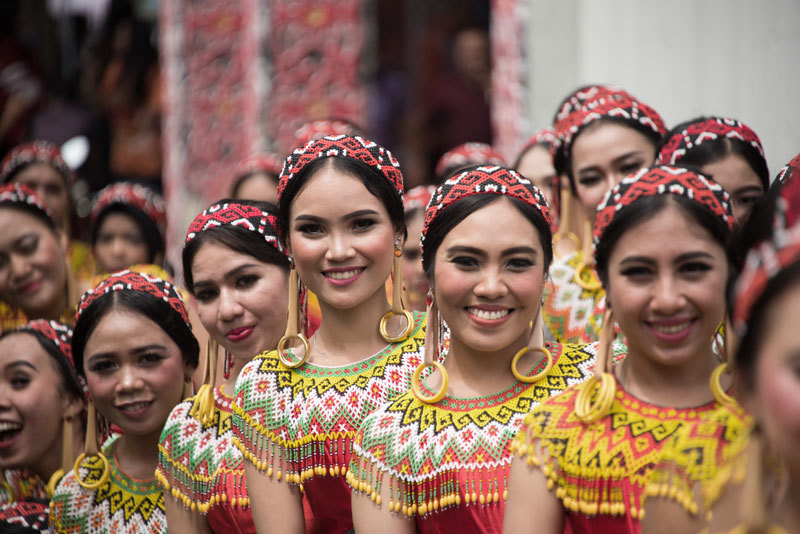 The Gawai festival committee had invited the Australian Aboriginal and Intercultural Performance Group to Pontianak, West Kalimantan to join more than 190 Dayak tribes in a spirit of cross-cultural sharing and collaboration. When it was announced that the group would perform another animal spirit dance during Gawai the volume of the cheers went a notch higher. The crowd were keen to see more. Many Dayak dances represent the hornbill bird and so clearly a special kinship was felt with the Australians who also represent birds, reptiles and animals in their ancient dances.
On the second night of Gawai, several regencies of West Kalimantan took part in a traditional Dayak dance competition. The backstage manager told me that there were between 11,000 and 15,000 people in the packed crowd.
During the course of the evening, we were all treated to spectacular dance performances. Seven of the performances involved dramatic battle re-enactments, with a lot of heads being cut off. The theme of the evening was warrior dance and I guess decapitations were to be expected. Along with the ten other foreign guests, I was invited to sit in the front row.
This seemed very close when the heads went flying, so we were particularly grateful they were only from mannequins.
On the morning following the dance competition, I went early to catch the blowpipe competition which was going on at the same time as a spinning top event. However, I did not make it to either. On arrival, I felt a warm hand on my arm. "Come with me," said a friendly Uud Danum tribe woman, who introduced herself as Lusi. She then guided me to a nearby brightly covered awning with matching plastic chairs. She invited me to sit in the front row. This time I found myself next to some of the community leaders and festival organisers, who were all very welcoming.
"A really important Kaharingan (a folk religion practiced by many Dayaks in Kalimantan) ceremony will be starting soon," Lusi explained. She told me that it was a nyolat borohon, or ceremony to celebrate the passing of a soul to heaven. This one was to honour Bahen Ofang, Lusi's father-in-law who had passed away in 2000. She went on to explain it was a great honour if your tribe was chosen out of the 450 Dayak tribes and sub-tribes of West Kalimantan to share your chosen ritual with a broader Dayak community at Gawai.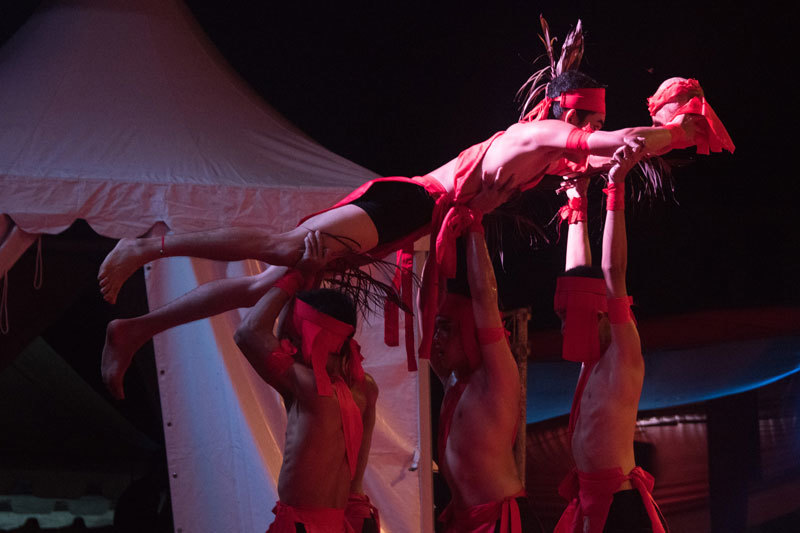 I learned from Lusi that Bahen Ofang was famous for having saved the life of a general in the Indonesian Armed Forces in 1968. The two were in a helicopter when it had an engine malfunction near the city of Bengkayang. As the helicopter was making its descent, Bahen Ofang realised that something was seriously wrong and persuaded the general to jump out of the helicopter with him just before landing. This saved his life and the life of the general. The helicopter then spun out of control and crashed, killing the pilot and one other passenger. The incident was later attributed to sabotage.
Before the sacred ritual began, the other participants and I were doused with holy water infused with forest plants, called sangkah pali to protect us from going into a trance. Lusi then handed me a glass of the delicious local barum (fermented rice wine also known as tuak). This was the first of four glasses offered to me and all other attendees during the ritual and so of course when in Rome ...
During the initial blessing, a sacrificed chicken was waved seven times to the east, as the place where the sun rises and then seven times to the west, as the place where the sun sets. Next, a sacrificial pig was speared and there was a ritual nganjan dance. I was given a sarong and invited to join in. We danced in a circle, going around seven times before sitting to face in the direction of the setting sun.
I learned later that the nyolat borohon is an adaptation of the borohon ritual, which usually requires at least three days. Lusi explained, "The borohon is the largest scale ritual in Kaharingan faith. Both the borohon and the nyolat borohon confer blessings from God. They give us strength and wealth, and the spirit necessary to conserve our Dayak tradition". An elder from her tribe, who was sitting next to us added, "This is a special tradition which we must adhere to consistently from when we are born until we die. This Dayak tradition is still very much alive in the villages. We grow up with it and learn from the start to preserve it with great integrity."
After the ceremony, Lusi explained, "The pig's body will now be taken to a nearby relative's house. It will be cut up and cleaned by a team of four people. Its organs will then be buried at my father-in-law's grave, and then the meat will be cooked and distributed evenly among the family."
In fact, the pig story had a bit of a twist. The pig, which was housed in a pen, had somehow managed to squeeze through the slats and had taken off in the direction of the blowpipe competition just before it was to be slaughtered. A group of men had sprung into action and bolted after it. The ceremony came to a halt as they continued their hot pursuit. The men eventually managed to bring it back, with feet bound so there would be no more escape.
Coincidentally the chase happened in the exact spot of last year's official pig-catching event. This year, the event had been cancelled due to a reduction in Gawai scheduled events because of the timing of Ramadan, but at least I had the opportunity to see a somewhat unconventional version of it anyway.
Next Lusi took me over to look at a toras, or totem pole, which had been erected the day before. It was to be carved with the name of Bahen Ofang. Beside it was a kayu belian, or iron tree, planted, in Lusi's words, "to serve as a reminder that this important ceremony had taken place on the grounds of the Gawai Festival and that, as the tree will flourish in the future, so too will the traditions of our Uud Danum tribe and the Dayak culture."
During the five days of the festival, which was held from 20 to 24 May, I also immersed myself in an amazing array of other authentic cultural displays - traditional singing, woodcarving, shield painting, an oral literary competition, a cook-off demonstration, and a host of other Gawai activities.
I felt enormously touched by the Dayak hospitality and friendship bestowed on me throughout the festival by Lusi and her extended family. By meeting her family this greatly enriched my understanding of the Dayak traditions represented, as well as so generously including me in their nyolat borohon.
Accommodation
Aston Hotel Pontianak
Jalan Gajah Mada No. 21
Pontianak Selatan, Pontianak 78243
T: +62 561 761 118
E: [email protected]
IG: @astonpontianak
FB: @Aston-Pontianak-Hotel-Convention-Center-297106323682919
www.astonhotelsinternational.com
Tour Guide:
Miss Yun Pratiwi
[email protected]
www.centralborneoguide.com
Mr. Iwan Ponty
[email protected]
---
Stephanie Brookes is a travel writer and blogger with tales from Indonesia and beyond.
www.travelwriter.ws
http://www.facebook.com/stephtravelwriter
www.instagram.com/stephtravelwriter
Author –"Indonesia's Hidden Heritage; Cultural Journeys of Discovery" (Click here to purchase the book)
David Metcalf is a photographer and runs cultural photography tours in Bali, Kalimantan, USA tribal lands, Toraja, Sumba, Japan and Vietnam
www.davidmetcalfphotography.com
www.instagram.com/davidmetcalfphotography
http://www.youtube.com/user/DayakDave
---
This article is originally from paper. Read NOW! Jakarta Magazine July 2018 issue "Health in a Era of Urbanisation". Available at selected bookstore or SUBSCRIBE here.