On entering the deserted colonial manor on Banda Neira Island, I immediately felt a chill in the air. This was the former Dutch Governor's residence, once famed for the elaborate parties held there. Now it was adorned only by the odd cobweb-cloaked chandelier. Its polished floors were scuffed and stained and it had a very eerie atmosphere. As I wandered through a series of empty rooms, a gust of wind blew one of the shutters open, revealing a faint etching on a glass window pane. It turned out to be a suicide note, scratched with a diamond ring. It had been written by French officer, Charles Rumpley, on 1 Sept 1831, the day before he hung himself. In French, it expressed his futile longing:
When will come the time that will form my happiness?
When will the bell strike the hour,
The moment I will see again the shores of my country,
The bosom of my family that I love and bless?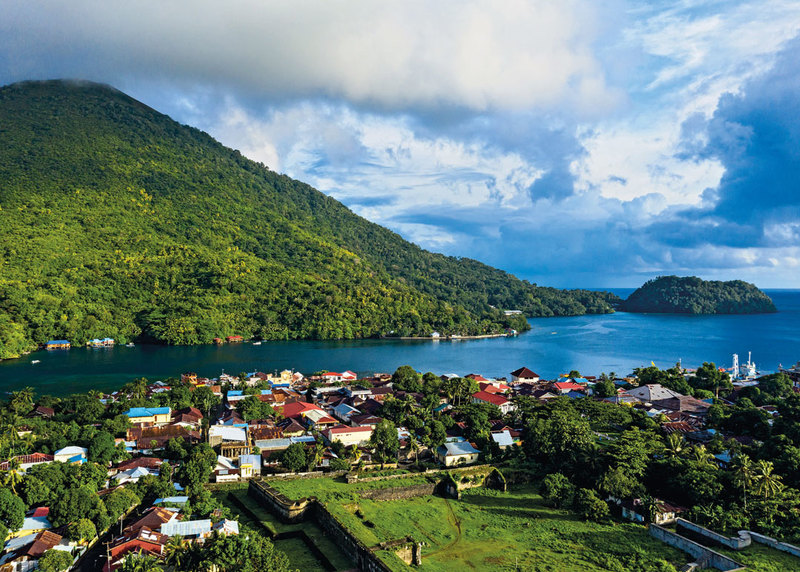 The Banda Islands can be both fascinating and horrifying when you start to delve into the history of this grand colonial outpost that lasted for about 300 years. The enormous wealth and power wielded by the Dutch East Indies Company (VOC), it turns out, was supported by blood money.
The Banda Islands had a ruthless and blood-thirsty administrator, Jan Pieterszoon Coen. As the Dutch East Indies appointed Governor-General, he carried out a genocide there in 1621. Dutch soldiers, bolstered by Japanese mercenaries, massacred, enslaved and banished the vast majority of the islands' population. According to some accounts, there wereup to 14,000 indigenous Bandanese there at the time, with only about 480 native people remaining after the massacre. While a small number managed to escape, those who took to the hills to hide met with a sad end. The VOC cut off access to the mountains and they starved to death.
After the genocide, the nutmeg groves on the islands were divided into sections. The Dutch plantation owners, called perkeniers,managed these plots with the help of about 7,000 slaves. A monopoly now controlled the trade of the much sought-after nutmeg. The perkeniers did not profit much as the price for purchasing nutmeg from them set by the VOC was very low, so the VOC got most of the profits. There was plenty of money to be made, with nutmeg being worth more than gold in the 17th century.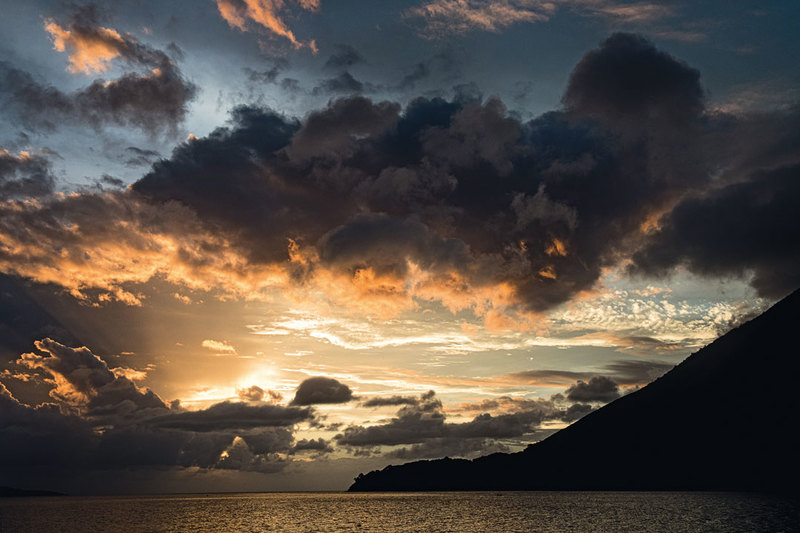 Nutmeg: The Colonial Era's Gold
In the days before refrigeration, it was in high demand as a preservative for meat. For this reason, and for its flavour, it had been making its way into gourmet dinner dishes at regal dinner parties hosted in the palaces of Europe for a long time. Demand further increased when it came to be seen as a remedy for the plague which ravaged populations in Europe between the 14th and 19th centuries.
Nutmeg only grew in one place in the world - the Banda Islands. It had been quietly traded for hundreds of years by Chinese, Arab and Indian seafarers before the Dutch intervened. Historical records link this fragrant spice to the Silk Road. However, European marine superpowers had tried unsuccessfully to find the tiny islands, located in the Maluku archipelago in eastern Indonesia. Christopher Columbus, the Italian explorer, looked for the Bandas but ended up discovering America instead. While the Portuguese eventually located the islands in the early 16th century, it was the Dutch who ultimately claimed them as their prize.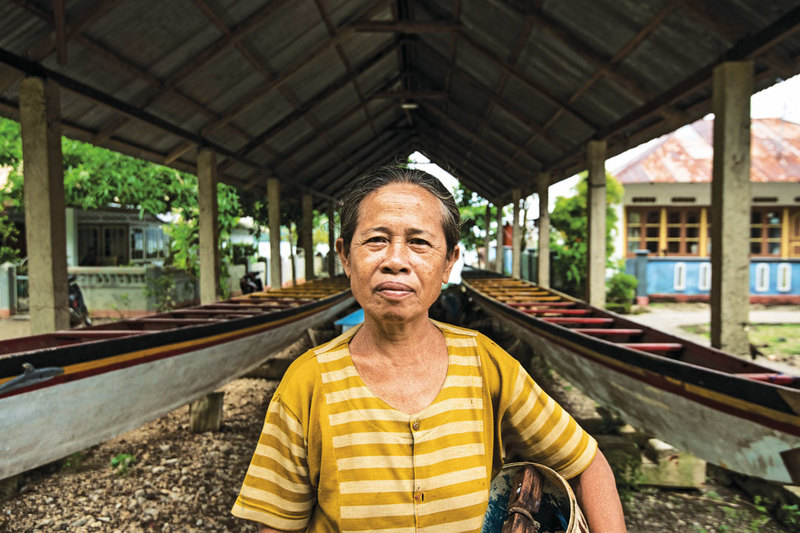 The Past Meets the Present
Today, the town of Banda Neira, once at the centre of Dutch rule in the region, is a sleepy little place. The police station is housed in an old Dutch colonial building. Neat houses lined with pots of colourful flowers are tucked next to crumbling ruins and deserted entrance ways to unoccupied manors. Small lanes and backstreets all seem to lead you to remnants of the place's dramatic past. You will, for example, find many historic homes converted into guesthouses.
A thriving traditional market lies on the waterfront. It is jam-packed with daily hauls of fish, piles of fresh fruit and vegetables and locally grown almonds in towering cones. The stacks of fresh nutmeg, cloves and other aromatic spices create a beautiful scent which permeates the air. Searching out the ever-popular nutmeg jam and nutmeg syrup is worth the challenge. Most guesthouses sell nutmeg jam in small jars. It's delicious. Also, make sure you try nutmeg juice when you visit.
Wherever you go in the town, you cannot help but notice the imposing presence of the mighty Gunung Api, a perfect cone-shaped volcano. It rises 640m above the Banda Sea, as if keeping watch. It's an active volcano. People would often note during the colonial period that eruptions occurred around the time of a particular feud, invasion or battle. It last erupted in 1988. Casting a shadow from the other direction, is the magnificently restored 17th century Fort Belgica. It stands as a formidable reminder of the town's past.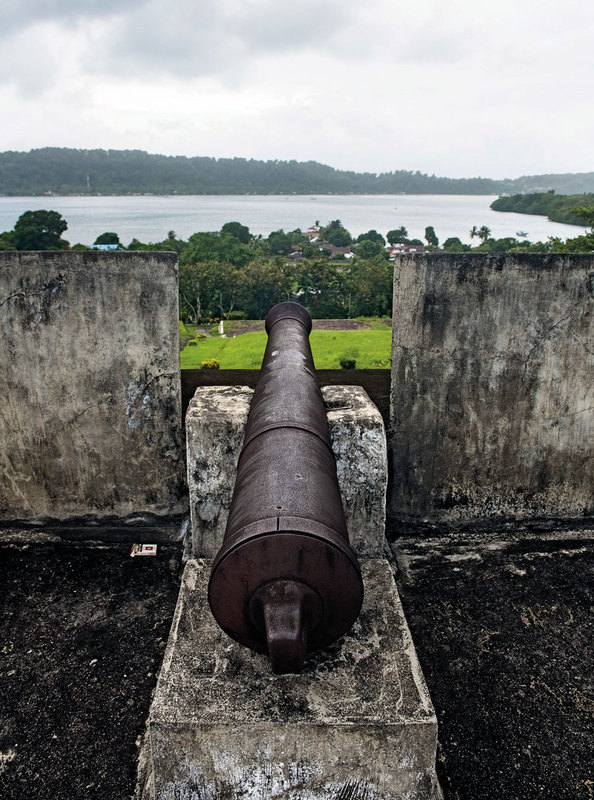 The Stuff of Legends
Where there is history, there are also legends. I was staying in the magnificent Dutch colonial styled manor, Cilu Bintang Estate Hotel, which is widely acknowledged as the best hotel in town. From my comfortable leather rocking chair sitting out on the colonial veranda, with two canons at my side and the walls of an old fort framing Gunung Api, I got absorbed in a book of Banda legends, which I borrowed from the grand bookcase.
"Before the Banda islands were born, there was only one big island. It was a volcano. Three brothers were living on Gunung Api when it erupted. Fearing for their lives, they took their wives and rose up into the sky where the stars welcomed them. For seven days, they watched from above as their island home was torn apart. The volcano exploded nine times and each time a new island was created. When things had settled down, the brothers flew down again. The oldest went to Neira. The second to Lonthor, and the third to Run. They established kingdoms and their children prospered".
Next, I discovered the story of Cilu Bintang, who the hotel is named after. Cilu Bintang was a real person (you can visit her grave), and her name means shining star. She is also a leading character in many of the Bandanese legends that illuminate important periods in the history of these islands.
The story goes that Andan was a powerful and wise king on Lonthor (now called Banda Besar), whose ships traded between Aru Island, Kei (Kai) Island and New Guinea. He married Dalima, whose father was also a king. Together they had four sons named Kaki Yai, Kele Lait, Lele Waiy and Kele Liang. They also had one daughter who was so beautiful they named her Cilu Bintang. She grew into an exceptionally beautiful young woman who was loved and respected for her kindness. She had many suitors but the king refused all of them, until one day a prince from a faraway kingdom came to the island on a trading mission. When he met Cilu Bintang, he was captivated by her beauty, softness and wisdom. They soon fell in love.
At first, her father refused to allow Cilu Bintang to marry him. The young prince was heartbroken. However, the young man presented him with many valuable presents, the king relented and agreed to the match. He, however, set a bride price which included 99 nutmeg trees. At that time there were no nutmeg trees on Banda Besar.
Many of the king's subjects complained, saying they did not wish to lose the beautiful Cilu Bintang. Since this was a feeling King Andan shared, he made the prince agree to come and live on Banda Besar. The prince promised to return there to live the following year. Having returned home, he dispatched his younger brother to deliver the agreed bride price including the 99 nutmeg trees.
Tragically, on the way to his wedding, the prince was lost at sea when his vessel was hit by a terrible storm. Cilu Bintang was waiting on the beach for her prince to arrive. When word came that his ship had been lost, she was devastated. For nine days all the king's subjects, who loved her dearly, grieved with her. On the ninth day, she vowed never to marry another and, instead, to dedicate her life to helping and protecting the people of Banda Besar.
Peace Prevails
Banda Neira is bewitching, steeped in history and suffused with both tragedy and love. Sitting under the shade of a nutmeg tree, with its delicate white flowers emitting a subtle fragrance, you can be easily swept away in thoughts of its colonial past. Now, however, a calmer atmosphere prevails. You will sense it in the warmth of the locals. Some of them still carry the islands' dark history in their bloodline, but they seem now at peace in this gentle place.
Documentary film:
Banda The Dark Forgotten Trail (2017)
Recommended read:
The Banda Islands Hidden Histories & Miracles of Nature – Edited by Jan Russell (Kabar Media 2018)
Where to Stay:
Cilu Bintang Estate – Banda Neira – A luxurious colonial-style boutique hotel. Contact Abba, the owner in advance. He is very helpful and assists with Susi Air flight bookings and/or the best boat connections from Ambon.
www.cilubintang.com
The Maulana – Banda Neira – Adopting colonial style architecture by the sea front, this hotel was built by the late Mr Des Alwi, known as the King of Banda and is now managed by his granddaughter, Mita Alwi.
www.themaulana.com
How to get there:
From Ambon, Maluku scheduled weekly flights on Susi Air, fast boat options and Pelni Ferry.
---
Stephanie Brookes is a travel writer and blogger with tales from Indonesia and beyond.
www.travelwriter.ws
http://www.facebook.com/stephtravelwriter
www.instagram.com/stephtravelwriter
Author –"Indonesia's Hidden Heritage; Cultural Journeys of Discovery" (Click here to purchase the book)
David Metcalf is a photographer and runs cultural photography tours in Bali, Kalimantan, USA tribal lands, Toraja, Sumba, Japan and Vietnam
www.davidmetcalfphotography.com
www.instagram.com/davidmetcalfphotography
http://www.youtube.com/user/DayakDave
---
This article is originally from paper. Read NOW!Jakarta Magazine July 2019 issue "Health, Sports, and Recreation". Available at selected bookstores or SUBSCRIBE here.