As I took a bumpy road north of Medan, I came upon a large group of locals in traditional dress. My driver turned to me, "A Karo wedding! We can stop if you like. You can meet the bride and groom and the family. We are in Karoland now. The KaroBatak people are very welcoming, and it is perfectly okay to go along without an invitation if you are a foreigner. In fact, you will be greeted most enthusiastically and be honoured as an auspicious guest." With that encouragement, I decided to stop.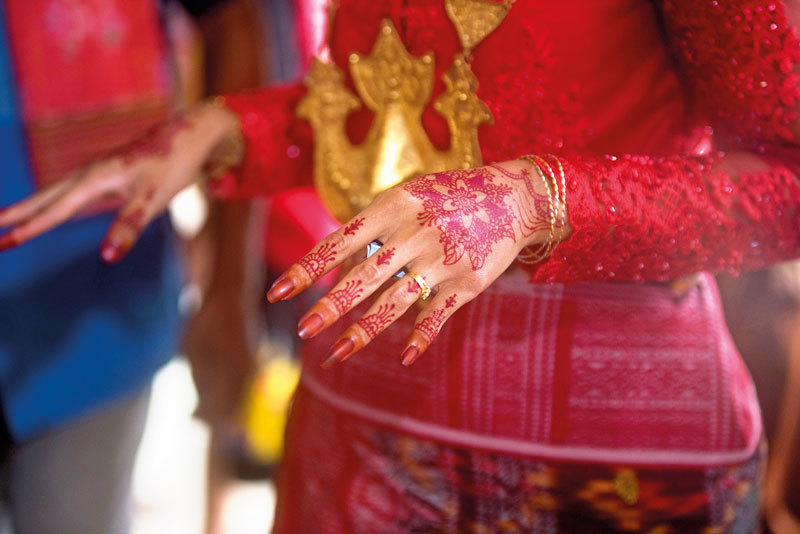 While I was juggling cameras and lenses and attempting a shoe change, a young man appeared from the crowd. Handing over a sarong and smiling warmly, he offered, "Here, put this on, and you will be appropriately dressed. Go ahead, you can return it later."
So, without further ado, I entered the large covered pavilion where the wedding was in full swing. I was immediately invited to stand next to the parents of the groom in line at the entrance to help greet the guests. In no time I felt like I was part of the family.
After that, I was invited to go up to meet the bride and groom, who sat stoically on a richly decorated silk settee greeting the hundreds of guests. As in many Indonesian wedding ceremonies, they wore elaborate traditional clothing and accessories with heavy golden ornamentation and many layers of fabric. The vibrant Karocolours and intricate designs looked perfect on the already beautiful couple, giving them an almost regal glow. The elaborate patterns on their clothing included important icons of the KaroBatak and were a stunning piece of art in themselves.
A ceremony then took place. Forming two distinct lines facing one another, members of the bride's family and members of the groom's family danced towards one another in perfect time to the traditional Karo music playing. When the lines met, there was great rejoicing at the meeting of two families.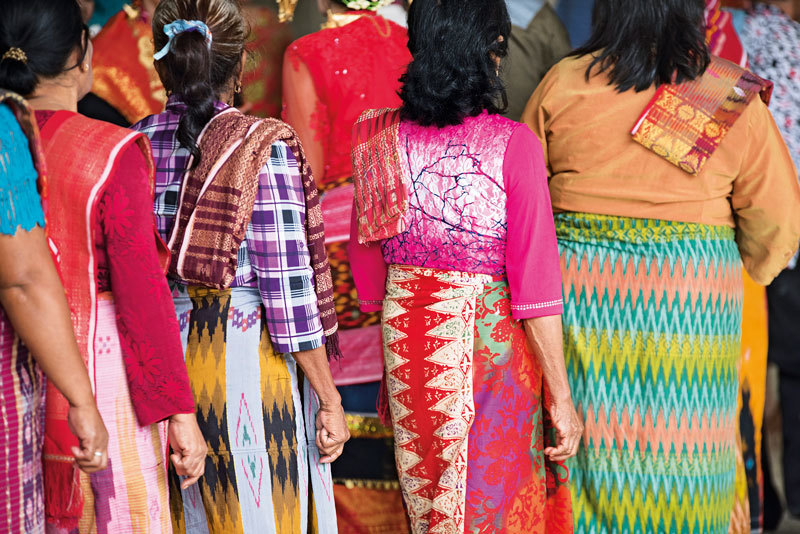 A KaroBatak wedding is a major event, referred to as pestabesar or big party where eat, drink and be merry is the order of the day. A good time is had by attending friends, family and neighbours. It seemed to me that most of the local community had joined in.
Tangkahan Village
Next, I stopped at a small village in the highlands region near GunungLeuser National Park where I met with the village chief from Tangkahan Village. "Each highland village is autonomous," he explained. "Historically, some Karo people lived under the authority of the coastal Malay sultans in the early 19th century. For us here in the highlands of North Sumatra, there was no central authority until we were conquered by the Dutch in 1904.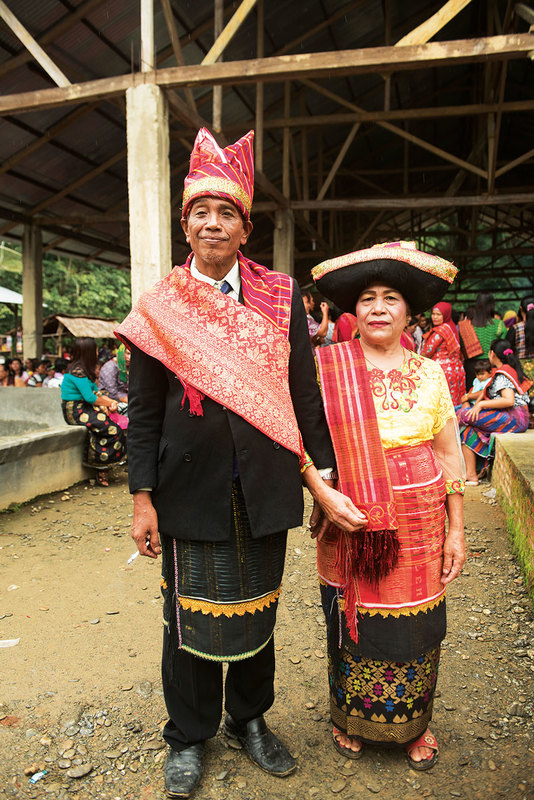 Due in part to later influence from Aceh Province to the north, we are now around 50 percent Muslim and 50 percent Christian. However, many Karo still blend the ancient beliefs with their chosen religion. We honour the ancestral spirits residing in nature, like volcanoes and hot springs. We call on a host of spirits we believe can protect or destroy our crops, our health and illness and even death. At traditional funerals, a séance can last until dawn, and the female mediums work with the spirits to retrieve the souls of the deceased. The ceremonies are called erpanir, (meaning hair washing). Ordinary people can become possessed at these ceremonies, and dance in a trance for a lengthy time and demand special food."
As I sat with the village chief and other clan members, Pak Okor told me about his grandmother, "She can fix any ailment and makes natural pastes from the jungle. Because we live up here in Tangkahan, we are close to the forest and the rivers. We know all the medicinal plants. A long time ago my grandmother told me stories of hunting parties that would go out to get wild pig and deer using a letep, or blow-pipe. We got the poison for our darts from the jungle." He was very proud to tell me the children all learn the Karo language. "When a tribal leader grows too old, the title is passed on to his son. This is the case in every village", he told me.
Pak Okor explained when there is a wedding, a new husband cannot talk to the mother of the new wife. He cannot sit close to her either. "The new husband must be two meters away from the mother-in-law and engage in no direct conversation. There can be no intimacy and no talking. It is not allowed. If you wish to talk, you must do so through an object - for example, this drink bottle here, or it could be a stone. The object does not matter. You convey the message to the object and pass it on – even a simple command like "dinner is ready". The receiver will say thank you and speak to the object and pass it back. This is so no fondness or flirtation can occur between the new husband and the wife's mother."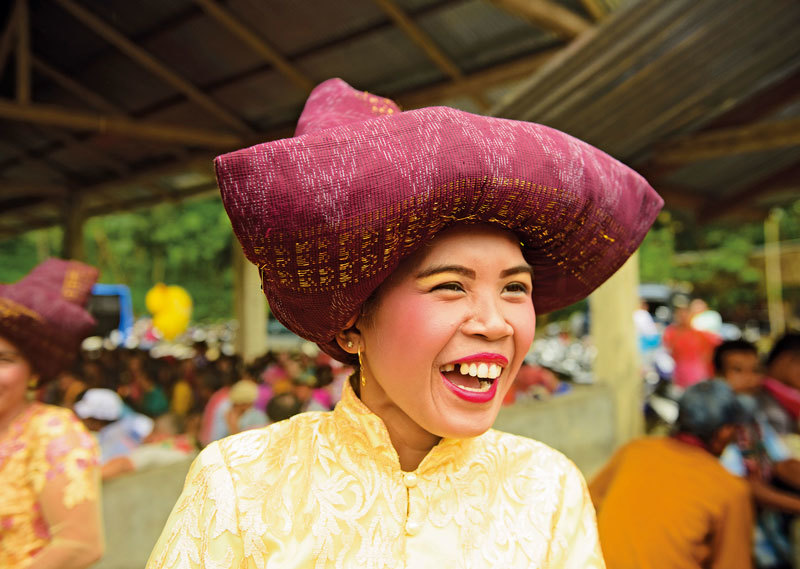 Like other Batak groups of Sumatra, the Karo have their own unique culture. To join one of their ceremonies and sit and talk with the village locals was indeed a great honour and provided a fascinating glimpse into their culture.
Tanah Karo or Karoland sits on a fertile plateau in the volcanic Bukit Barisan highlands near Medan on the island of Sumatra and encompasses the Lake Toba area. There are five clans of the Karo tribe, known as mergasilima. Each has its own language, history, and traditions.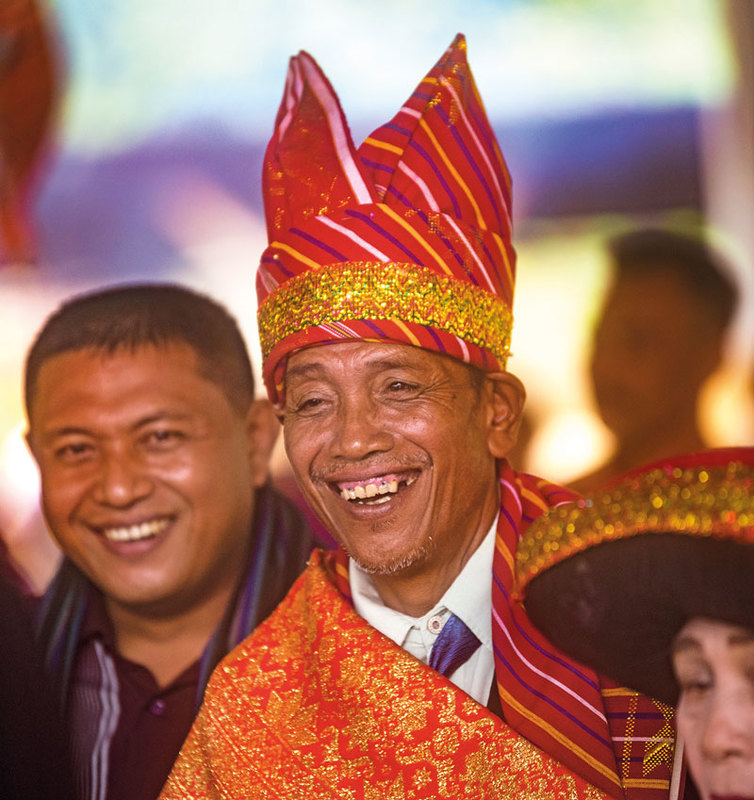 Wedding Clothes
The Karo bride's heavy headdress is called tudunggul. The groom's hat is called bulang-bulang. Gold accessories including earrings, necklaces and bracelets, called emassertali adorn both the husband and the wife. Female relatives of the bride often lend a solid gold heirloom to the newlyweds. However, many modern bridal couples now opt for gold-plated accessories, as they are much lighter to wear. One solid gold accessory can weigh over 2.5 kilograms.
The traditional Batak textiles used in the wedding dress are called uisnipis. However, they have different, special names when used as part of a wedding dress, depending on where they are worn on the body.
Kidnapping
After a KaroBatak wedding reception, tradition demands that the bride and groom must return to the groom's family home and reside for four days and nights. They cannot leave the home for any reason. This practice dates back to ancient pre-Christian customs where the groom's family prevented the possible kidnapping of a reluctant bride by a thwarted lover.
---
Driver/Guide: Pak Darwin
E: [email protected]
T: +62 852 0640 8090
Stephanie Brookes is a travel writer and blogger with tales from Indonesia and beyond.
Please see www.travelwriter.ws
Follow on www.facebook.com/stephtravelwriter
David Metcalf runs photography and cultural tours in Indonesia, Myanmar, India and USA. David operates Taksu Photo Gallery in Ubud, Bali. He supports education and health programs in Bali and Kalimantan.
www.davidmetcalfphotography.com
http://www.taksuphotogallery.com
www.instagram.com/davidmetcalfphotography
www.taksuphotogallery.com