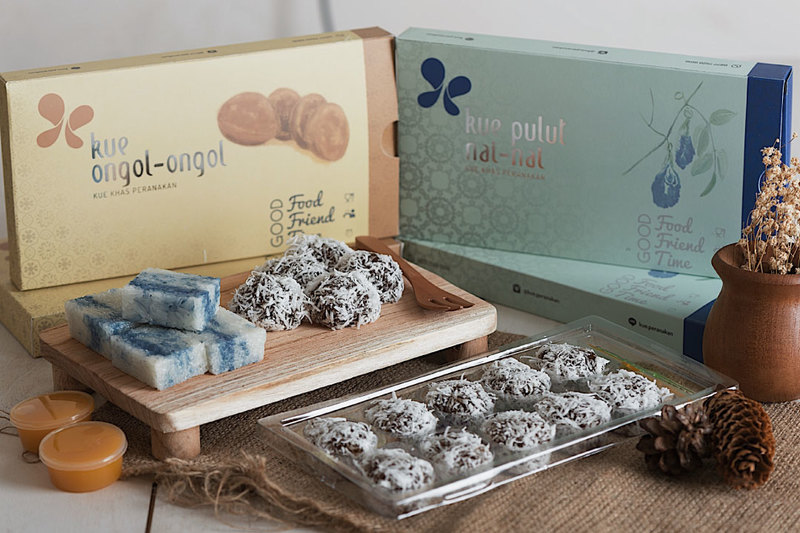 Those looking for alternative cake packages for loved ones may consider Madam Butterfly's Peranakan Cakes, which presents a cute culmination of culinary and culture.
Peranakan cuisine is not fast food, it requires a high level of patience and preparation in advance. But for the flavours produced never fails to pamper the tongue. Beyond the matter of taste, it offers rich tradition and history celebrated in the particular regions, including Indonesia as one of the many pouches inhabited by ethnic Chinese descendants beside Malaysia and Singapore in Southeast Asian countries.
Peranakan cuisine is a priceless heritage that contains unique cooking traditions, methods and flavours resulted from various influences which can still be enjoyed by the descendants until today, thanks to the legacy of recipes handed down from the ancestors. This is exactly like Shely, who inherited secret family recipes of kue Peranakan or Peranakan cakes from her grandmother.
"I think Peranakan cuisine is homemade food which we can find and eat it in our daily life from the era of our parents to the grandparents with the typical flavours that have always been in our memories since our childhood and even when we grow old," Shely said.
Shely, who likes cook traditional cakes with her grandmother's recipes, ventured to open a business of Peranakan cakes after receiving tremendous support from her families and friends. She also recognised a gap in that there aren't many people selling traditional cakes, especially with attractive packaging.
It all started with selling kue pulut, cake made from steamed-sticky rice with coconut milk and pandan leaves, which is her family's favourite. In Chinese philosophy, kue pulut has deep meanings. Sticky rice as the main ingredient symbolizes of close family or friendship relationships which is inseparable. It also emphasizes that homemade food is no need many ingredients, just simple but can create warm ambiance especially when we enjoy it with family or beloved ones.
As a tribute to her grandmother, Shelly named the cake as Kue Pulut Nai Nai—in Mandarin language 'nai nai' means grandmother. Together with some close friends, Shely started Madam Butterfly in 2015 selling Peranakan cakes and started to market them in social media in 2016.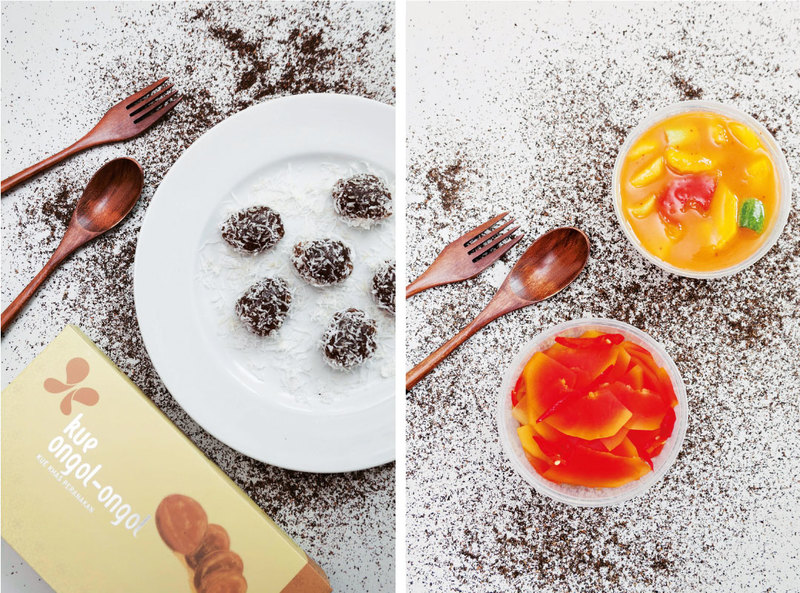 Kue Pulut Nai Nai attracts foodies' eyes with its artistic look, indigo blue abstract tint produced from natural coloring of bunga telang (butterfly pea flower). And perfecting the pleasure of eating that cake is by dunking it in srikaya jam (traditional flavour jams made from the mixture of coconut milk, egg yolks and sugar then double-boiled to a thick custard consistency), which is included in the package. Shely also made srikaya jam with whole-hearted. Kue Pulut Nai Nai is available in two packages, full pack/8 pieces at IDR 60,000 and full box/24 pieces at IDR 200,000.
In order for people to know more about the variety of Peranakan cakes, Shely also offers Ongol-Ongol, a simple cake simply made from sago flour, palm sugar and pandan leaves shaped into oval or circle and served with grated coconut, priced at IDR 50,000 per full pack/10 pieces.
"Our business concept is just simple but we prioritize several aspects which are homemade, fresh and taste. Our principle is to sell products that we ourselves are willing to buy and enjoy by ourselves, so the taste, quality and freshness of the products always be the benchmark every time we produce and design our products," Shely explained.
Not only cakes, from Madam Butterfly productions customers can also taste various snacks from tropical fruits which fresh, sweet, sour and spicy taste, such as Mangga Semboi (mango and sweet red prune soaked into boiled water with sugar, salt and chili), Manisan Pepaya (half-ripe papaya soaked into boiled water with sugar and salt with sliced red chili) and Rujak Aceh (Acehnese fruits salad contains cucumber, yam, mango and papaya served with spicy kweni mango juice) which are all packed in a food container, priced at IDR 35,000 per box for each item.
Recently, Shely also introduced a new item Nasi Kucing or cat's rice, an Indonesian rice dish originally from Yogyakarta, Semarang and Solo which is now can be found in many places. The name comes from the size of the rice served to the cats like Javanese common do to give meal to their cats. It's packed with banana leaves and each pack contains fragrant rice, anchovies, spicy potatoes and chili chicken, priced only IDR 15,000 per pack. Customers can also ask shredded fried egg for additional topping with different price.
Shely who graduated from hospitality academy majoring food and beverage is ambitious to introduce traditional cakes especially Peranakan cuisine, not only in Jakarta but globally. So far, her customers like the combinations of the flavours and its packaging.
At this time, customers can order only via telephone or WhatsApp and Line at +62 877 7520 0016 and visit its Instagram @kue.peranakan for more information and updating menu as well as promotions.