For many people, flowers are the perfect way to express and convey their heartfelt messages of love and affection. Today, with flowers available in many varieties and colours, surely there is no excuse for bland bouquets!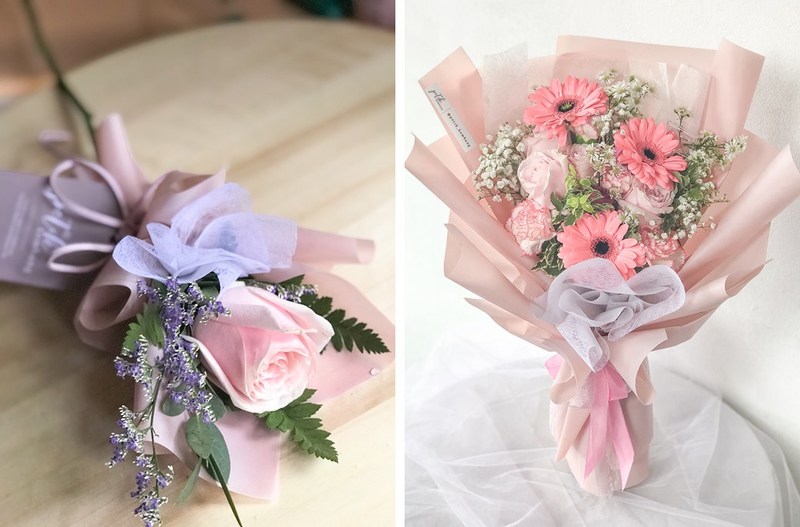 If buying bouquets is what you have in mind, check out Petik Kembang's Instagram, @petik_kembang and its website www.petikkembang.com. Feast your eyes on its beautiful floral arrangements made of lavender, sunflower, rose, tulip and peony, among others.
Petik Kembang has a selection spanning beyond classic red roses and includes more unconventional offerings such as blue roses; this brand offers locally grown flowers and imported ones from the Netherlands (tulips), Ecuador (tulips) and Vietnam (roses), among others.
Petik Kembang ("picking flowers" in Bahasa Indonesia) is the brainchild of Bunga Istyani and Tri Hesti, two friends who are absolutely passionate about flowers and decided to turn their passion into business by founding an online floral design studio.
Since the inception of Petik Kembang, Hesti and Bunga wanted to establish a company which is focused not just on being profitable, but also on spreading happiness – they, just like many people, believe that joy can be found in the form of flowers.
And, in line with their tagline "Delivering Happiness", Petik Kembang team aims to create floral arrangements which are able to convey their customers' feelings and messages without any words, but still, they have an emotional impact on the recipients.
The story of this brand started when Bunga (Bunga is her real name; coincidently, the word 'Bunga' literally means flower in Bahasa Indonesia) quit her job at a digital marketing agency last year. Following her resignation, together with Hesti, she established Petik Kembang in August 2018.
Both Bunga and Hesti have neither formal education in floral arranging nor experience in the flower-related industry, but that did not stop them from launching their own florist.

Arranging blooms artistically is their forte; however, actually Bunga and Hesti are self-taught floral artists; they learned how to make beautiful flower arrangements from Pinterest and YouTube tutorial videos. Thanks to their creativity, a lack of formal floral design education has not been a hindrance for them to create visually appealing bouquets.
Since they started their business, Hesti and Bunga have focused on bringing quality products to their customers at the best prices, as they want beautiful blooms to be affordable for many people.
Even though Bunga and Hesti dream of having a brick-and-mortar shop someday, currently their goods are sold online only. Thus they are able to keep prices competitive, because unlike brick-and-mortar florists, surely they do not stock up on blooms (which might die before they are bought by the customers) for display on their shop.
Prices of Petik Kembang's goods currently start from IDR 100,000 (for "Pick Me", a posy of a single stem rose with small filler flowers and greenery) to IDR 1,000,000 (for "Epiphany", a large, lavish bouquet of peonies, roses and baby roses, decorated with small filler flowers and foliage).
Bouquets that are priced between IDR 300,000 and IDR 500,000 are this brand's bread and butter. However, "Love Scenario", a lovely little bouquet of three roses, which has a price tag of IDR 150,000, is also among favourites.
The blooms are wrapped beautifully (if you would prefer the flowers to be delivered in vases or boxes, they have that options too); as multiple layers of wrapping a la Korean bouquet is in vogue, thus Korean wrapping is currently the signature style of Petik Kembang's bouquets.
However, their style may change with time; Bunga and Hesti say that they do not want to stick to one particular style or design, as they believe that versatility is important for floral artists.
As for the colour trends, flower arrangements which are characterised by cool, delicate pastel shades are very popular; however surely, Petik Kembang also offers bouquets of striking, bold-coloured blooms.
Customers can also ask Petik Kembang team to create something unique for them, from simple yet lovely posies to stunning cascading wedding bouquets. They can design bespoke floral arrangements for any events, such as corporate functions and weddings, too.
This brand has grown steadily over the months, mainly thanks to word-of-mouth from their satisfied customers. Petik Kembang team of two has grown to a team of four; today Bunga, Hesti, as well as two additional team members, Fiska Handayani and Egi Purwana, run the company.
Bunga and Hesti handle day-to-day operations of the business, including creating the floral arrangements, while Egi focuses on information system and technology and Fiska handles business and finance-related responsibilities.
Petik Kembang, which was founded in August 2018, is excitedly looking forward to this year's Valentine's Day; the team believes that Valentine's Day will bring their business a significant boost, just like Mother's Day that brought good business to them last year.
For a relatively young company, only founded six months ago, Petik Kembang has done well for itself; Bunga and her team were pleasantly surprised that they got more orders than they expected during Mother's Day period (Indonesians celebrate Mother's Day on 22 December). "Pastel-coloured flowers, such as pink and peach roses, were in demand for Mother's Day," Hest says.
"Speaking of roses, actually, nowadays, not many people buy red roses from us. Instead, pastel-coloured roses, such as peach rose and pink rose are popular choices whether on Mother's Day or any other day of the year," she adds.
Interestingly, blue rose is also a favourite, especially if the recipient is a man – probably because blue is broadly neutral, not a feminine colour. Meanwhile, sunflowers are usually sent to give moral support to a friend.
Each Petik Kembang's floral arrangement, whether it is a chic posy of three red roses or a lavish bouquet of cheerful sunflowers, has a story to tell (hopefully the story has a happy ending).
"In my opinion, the best floral arrangements are not only decorative, but also powerfully evocative, and not only are they visually appealing, but they are also able to evoke emotion," Bunga says.
Petik Kembang
www.petikkembang.com
Instagram: @petik_kembang
NOTE: Orders should be placed at least 3 days ahead of the delivery date.