East Nusa Tenggara (Nusa Tenggara Timur or NTT), one of Indonesia's poorest provinces, produces various beautiful hand-woven fabrics that are sold at low prices, despite the long hours spent creating them. Now, a social enterprise, Rumah Tenunkoe, helps weavers find the right market for these products.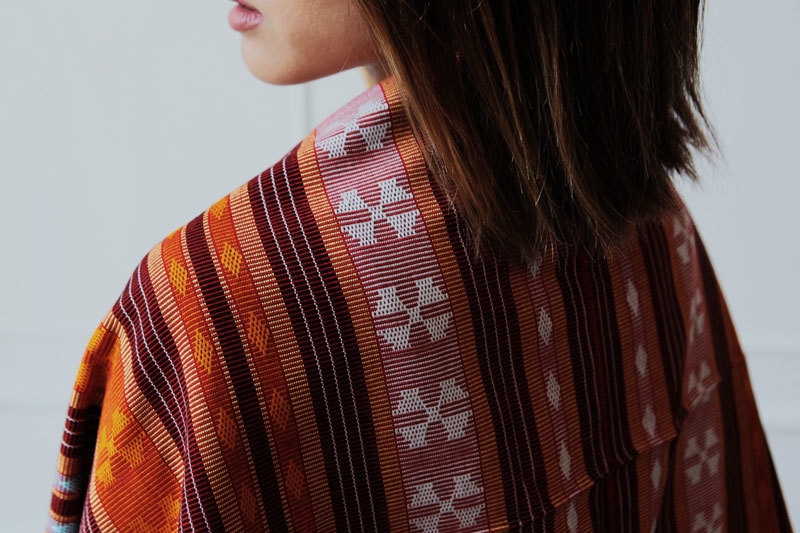 Indonesia has countless types of tenun (woven textiles), which are made by hand by using age-old techniques; each region has its own distinctive motif. As the cloths are woven using a traditional loom, it can take weeks or months to complete a piece of textile, depending on the patterns used. It can even take a year, or more, if the details are plenty and extremely intricate.
Even though chemical dyes are available, there are weavers who still use natural dyes which are derived from natural substances; such as red from morinda root barks, and yellow from turmeric. There are even weavers who go the extra mile by using traditional wooden spinning wheels to make their own threads from cotton.
As seen on one of the documentaries from Gerakan Tenunkoe on YouTube, one of the weavers say that usually they weave the fabrics for personal use only, as they normally do not get a fair price for their labour-intensive hand-woven textiles. Indeed, although it's fair that these fabrics, which take time to produce, are priced higher than their machine-made counterparts, it has been difficult to find the right market.
It was a problem which inspired Indrasti Maria Agustiana and Andreas Priyo Adianto (Andre) to establish Gerakan Tenunkoe, or Tenunkoe movement (tenunkoe literally means my tenun). Indrasti visited Kupang, the provincial capital, often on work. Witnessing the harsh conditions, especially among the women, there, she made a commitment to help them. She saw weaving as the tool to empower women in East Nusa Tenggara (NTT).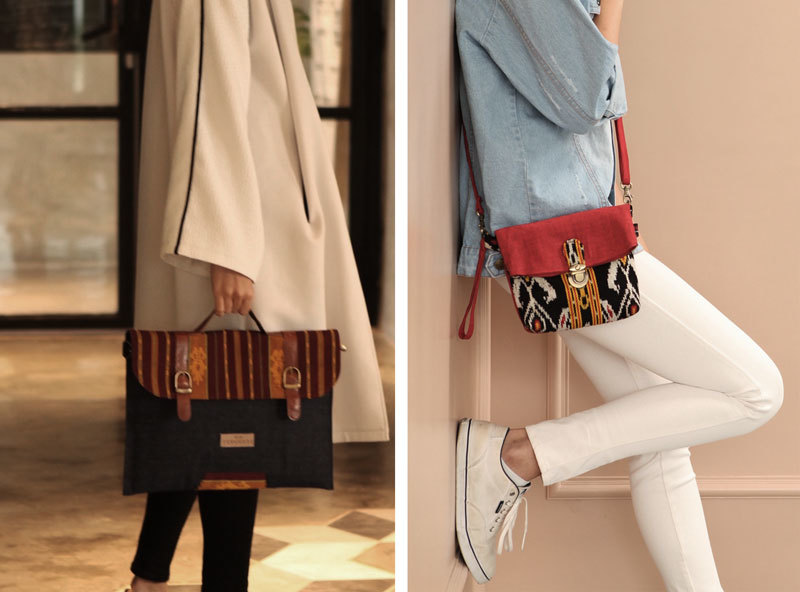 Gerakan Tenunkoe is a movement to empower women weavers and seamstresses in Kupang, priming them to be entrepreneurs. "The main idea is to upgrade the weavers and seamstresses to become entrepreneurs by facilitating the establishment of a social enterprise in the form of a cooperative which is owned collectively by them," Andre says.
Gerakan Tenunkoe, in collaboration with Yayasan Satu Karsa Karya (YSKK foundation), and funded by the Australian Department of Foreign Affairs and Trade (DFAT) through MAMPU (Maju Perempuan Indonesia untuk Penanggulangan Kemiskinan / Empowering Indonesian Women for Poverty Reduction) works to improve the economic and social well-being of women weavers and seamstresses in Kupang. The two-year programme which began in 2015 and ended according to schedule in 2017 has indeed paved the way for the development of these women's businesses.
Gerakan Tenunkoe encouraged the public to share their support for the weavers in NTT, such as by purchasing their products as well as submitting ideas and product designs. The programme also provided finance and expert advice, including workshops, to help the social enterprise, called Rumah Tenunkoe, get off the ground.
The team members, including Andre, prepared the establishment of Koperasi Tenunkoe (Tenunkoe Cooperative), which was established in 2016. Later, they developed a sustainable business model of social enterprise for Rumah Tenunkoe.
The members of Koperasi Tenunkoe are the owners of Rumah Tenunkoe. Now, Rumah Tenunkoe is independently run by Koperasi Tenunkoe. "We do not have shares in the ownership; the weavers and seamstresses are the owners of Koperasi Tenunkoe," Andre notes.
Andre, whose job it was to build a strong marketing infrastructure, was also digital media advisor for Tenunkoe from 2014 to 2017. He still works for the social enterprise on a voluntary basis. After the programme ended, some of its paid employees continue to serve as volunteers now.
"Today, there are approximately 124 weavers and 24 seamstresses in Koperasi Tenunkoe," says Ana Susi Yuniasri, one of the volunteers at Tenunkoe.
Various fashion designers volunteer to help Tenunkoe to transform its fabrics into fashionable goods, from bags to clothes. In return, each product comes with a story about the its designer. (Any designer is welcome to contact Tenunkoe).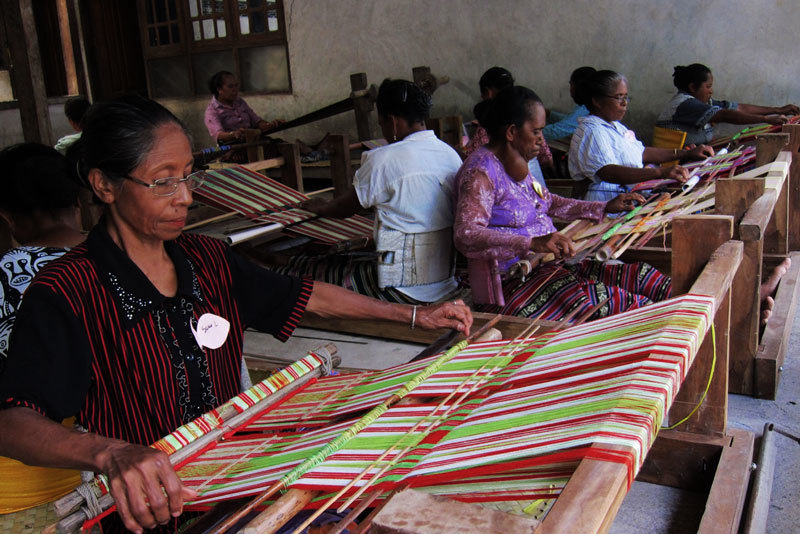 The weavers produce two types of patterns, traditional and contemporary. The textiles that feature traditional motifs must follow certain guidelines, including their colours, while those that feature modern motifs can be made to order.
There are weavers who still use hand-spun yarn and natural dyes, but many use factory-made threads and chemical dyes to make the products more affordable. "Natural dyeing is a very labour intensive process and the weavers use locally available resources. The thing is, these days there are problems to get the supplies needed to produce natural dyes. For example teak trees, which are needed to produce red colour, are getting scarce," Andre says.
Tenunkoe offers stylish ready-to-wear goods for men and women, such as clothes, bags, clutches, pouches, wallets, laptop sleeves and necklaces among others; most of which are priced between IDR 100,000 and IDR 400,000. Scarves and shawls are priced from around IDR 200,000 to IDR 400,000.
In addition, Tenunkoe sells its products in textile form, so buyers can make the tenun cloths into various items, from sarongs to bags. A hip Los Angeles-based fashion brand, Everina, bought Tenunkoe's fabrics and transformed them into beautiful, fashionable accessories for the American market.
The majority of Tenunkoe's textiles are priced from IDR 500,000 to IDR 1,000,000; fabrics that use natural dyes cost more than IDR 2,000,000 each. Also, there are shawls on offer that are priced at IDR 5,000,000 each as they are hand-woven using natural dyes and hand-spun threads.
As the woven textiles are made manually, no piece is exactly the same, even if the weavers use the same pattern and technique in weaving the cloths – each tenun fabric is unique, and each has a story.


Rumah Tenunkoe
The goods are available at Transmart Kupang (Jl. W.J. Lalamentik # 91, Fatululi, Oebobo, Kota Kupang, NTT). They can also be purchased via its Facebook & Instagram: @rumah_tenunkoe and www.qlapa.com.
Personalised products
For those who are interested to order custom-made items, feel free to contact Susi via [email protected] or WhatsApp: +62 812 46204479
NOTE: For those who like documentaries, feel free to watch various interesting documentaries about weavers di Nusa Tenggara Timur by visiting Gerakan Tenunkoe on Youtube.