Sepiring Indonesia, through he lively illustrations on its goods, has brought Indonesian culture closer to an international audience at New York Now and Milan's Salone Del Mobile. For uniquely Jakarta souvenirs, check out Sepiring Indonesia's Semarak Jakarta collection, which showcases the cultural richness of the capital city.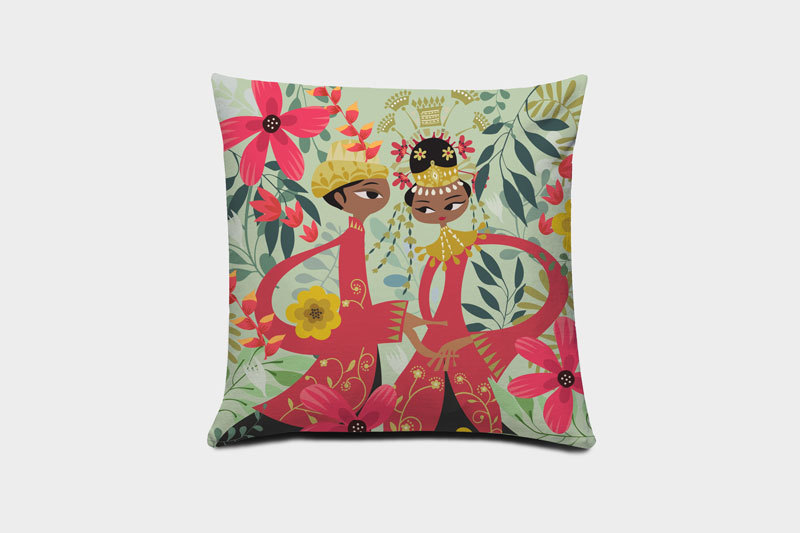 The name 'Sepiring Indonesi' means 'a plateful of Indonesia'. Initially, this brand offers plates only (the idea is to share stories of Indonesia over dinner); today, it offers various products, including bags, wallets, cups, saucers, placemats, plates, cushions and notebooks.
Sepiring Indonesia, supported by Bekraf (Indonesia's creative economy agency), showcased its goods at NY Now in New York City, the leading market for home, lifestyle and gift products, in September 2017, as well as at Salone Del Mobile in Milan, the most prominent international furniture and design fair, in April 2018.
Sepiring Indonesia's items are available at high end outlets such as Alun-Alun, Kinokuniya bookstore, Chic Mart and Dia.lo.gue Artspace (it is surely difficult to get your foot in the door of upscale establishments, unless you offer unique or beautiful quality products).
Moreover, starting off as a retail brand, Sepiring Indonesia has expanded into business-to-business platforms; it creates custom-made pieces, from calendar to notebook, for its corporate clients. For a relatively young company, only founded in 2013, Sepiring Indonesia has done very well for itself.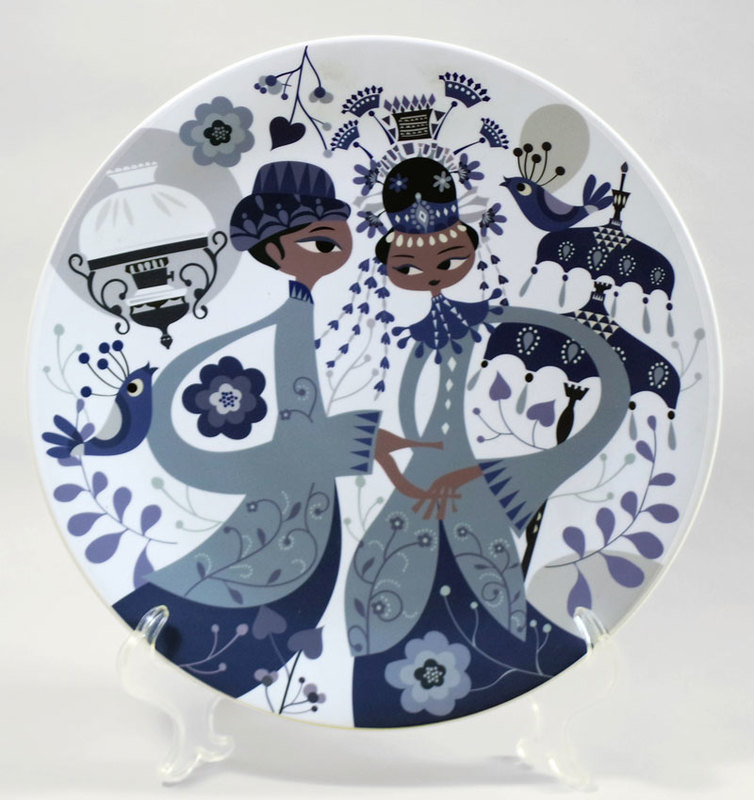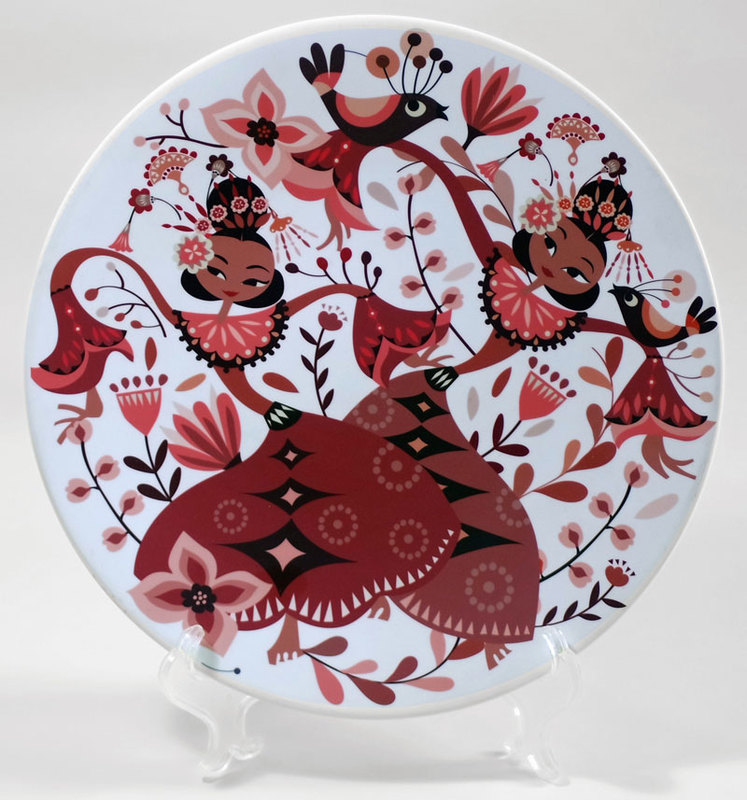 The success story of this brand started from an event called Jakarta Souvenir Design Award (JSDA). Sepiring Indonesia is the brainchild of Eridanie Zulviana whose lively illustrations of all things Jakarta (including its people, food and animals) entitled 'Joged Jakarta' (Dancing Jakarta) won Best Design in JSDA 2012. Winning JSDA, a prestigious event that was held by the Jakarta chapter of the National Handicraft Council (Dekranasda), opened up endless doors for her.
Eridanie's close friend, Jasmyne Oei, is another woman behind Sepiring Indonesia. They handle totally different aspects of their business - Eridanie focuses on design, while Jasmyne handles sales and marketing. As said by Jasmyne, even though there is a growth in appreciation of Indonesian-made products, however, consistent quality is crucial to keep their customers.
Besides consistency in quality, Sepiring Indonesia obviously won its clientele's hearts through its lively illustrations. The beautiful images on Sepiring Indonesia's goods give us glimpses of life of various Indonesian ethnic groups, such as Javanese, Papuan, Balinese, Bugis (from south Sulawesi), Minang (from west Sumatra), Dayak (from Kalimantan) and Betawi (native Jakartan); its drawings depict Indonesians dressed in traditional outfits, doing various activities, from dancing to makepung (Balinese water buffalo race). Indeed, Sepiring Indonesia -which was born out of Eridanie's love for Indonesian culture and history- brings fun into learning Indonesian culture.
Semarak Jakarta (Splendid Jakarta) is this brand's latest collection; Sepiring Indonesia is famous for its candy-coloured products, however, besides colourful items, Semarak Jakarta collection also features monochrome illustrations on its goods. (This brand constantly innovates new ideas to ensure success in the growing market hence nowadays it also offers items, such as cushions and bags, which are adorned with beads and embroideries).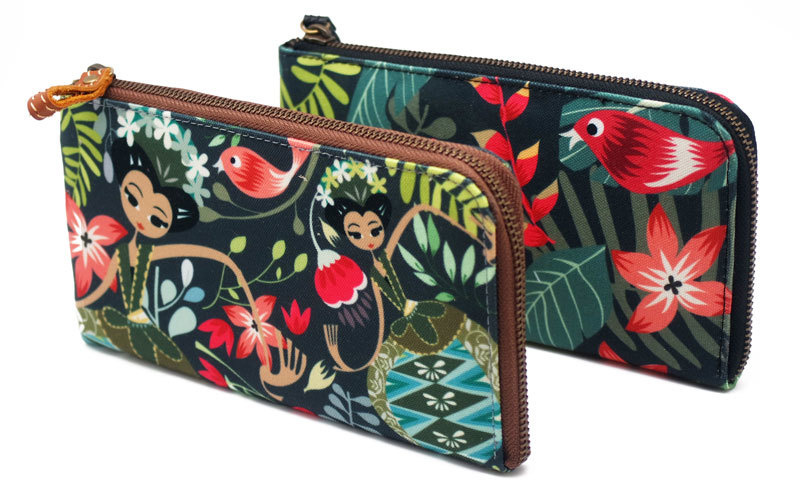 Currently, there are two series in Semarak Jakarta, namely Yapong Dancer and Betawi Bride. Betawi people are native Jakartans - the term 'Betawi' is derived from Batavia, the official name given to Jakarta by the Dutch during the colonial era.
Semarak Jakarta's Betawi Bride features a happy couple of traditional Betawi bride and groom; the classic Betawi lamp is also featured in this illustration. For those who are looking for unique wedding presents, Betawi Bride's cushions and decorative plates surely fit the bill nicely as they symbolise a happy marriage.
The bride's red wedding attire is heavily influenced by Chinese culture. In China, red is believed to bring happiness and prosperity to newlyweds; the distinctive design of Betawi's elaborate bridal headpiece -which is locally called siangko- actually resembles feng guan, the headwear of traditional Chinese bride. Interestingly, Arab culture is apparent in the groom's outfit; the groom's headwear is surely inspired by Arabian turban.
"Betawi weddings, which are influenced by the cultures of Dutch, Arab and Chinese are an example of acculturation in Jakarta," Eridanie says. She also plans to tell other stories about the acculturation in Jakarta through her drawings, such as about tanjidor, Betawi orchestration using instruments such as trumpets and clarinets, heavily influenced by European culture.
Speaking of all-things Jakarta, before Semarak Jakarta collection, Sepiring Indonesia has released Batavia 1920 and Dancing Jakarta. Batavia 1920 featured images that give us glimpses of day-to-day Batavia that have been long gone, such as women washing their clothes by the Ciliwung river, while through her illustrations in Dancing Jakarta products, Eridanie promotes Betawi batik which is much less popular than Javanese batik (batik from Tasikmalaya, Solo, Pekalongan and other regions in Java island, apart from Jakarta). Dancing Jakarta's goods depict dancers who wear batik Tumpal (crocodile's teeth), one of Betawi batik traditional patterns.
As for prices of Semarak Jakarta collection: cushion cover is IDR 190,000, bucket bag costs IDR 950,000 and tote bags are priced from IDR 975,000 (medium) to IDR 1,500,000 (large). A wallet from Dancing Jakarta collection bears a price tag of IDR 550,000, a small bag costs IDR 375,000, a set of two fabric placemats is IDR 240,000 and a set of four coasters is IDR 175,000.
Sepiring Indonesia offers various plates (including in Semarak Jakarta collection) which cost IDR 295,000 each. The aesthetic value makes those plates great accessories for home decorations too. And, as dinner plates, they are a great ice breaker to get everyone mingle as the guests will be encouraged to talk about the lively illustrations on their plates.
Alternatively, the host can tell stories about Indonesian culture – if storytelling is not your forte, do not worry, since each plate comes with a brief and interesting tale about its drawing.
Last but not least, Sepiring Indonesia's beautiful goods are the perfect outside-the-box souvenirs for those who want to stray away from the generic, touristy keepsakes such as cliché t-shirts. On this brand's webstore and at its stockists, you can find lots of thoughtful gifts and fun stuff, from coasters to bags, to bring home to your friends and family, or alternatively, buy them for yourself as mementos of the fascinating places that you have been to.
Sepiring Indonesia's products are not only pleasing to the eye, but thanks to its lively illustrations, they also have fun, interesting tales to tell – let your souvenirs tell colourful stories about Jakarta!
Stockists:
Jakarta:
Alun-Alun (Grand Indonesia mall), Kem Chicks (Pacific Place mall), Kinokuniya Book Store (Grand Indonesia & Plaza Indonesia), Airport T3 Soekarno Hatta, Chic Mart (Kemang Raya # 55), Dia.lo.gue Artspace (Kemang Selatan # 99A). Bali: CARGA (Petitenget # 886).
Webstore: www.sepiringindonesia.com & www.blibli.com
Instagram: @sepiringindonesia
+62 815 8834 226 (Jasmyne)