Italian guitarist Giordano Passini began his music studies at the age of 12 as a piano student of Fiorella Petronici, before deciding to concentrate on the guitar. After graduating from the Licino Refice Conservatory in Frosinone, Italy, he attended a two-year specialization course at the Tarrega Guitar Academy in Pordenone with renowned guitarists Paolo Pegoraro and Adriano Del Sal.
In 2016 he completed a Master's degree in "Interpretation of Contemporary Music" at the Conservatory of Santa Cecilia in Rome. During his studies he participated in the masterclasses of important international guitar players including Ricardo Jesus Gallén, Carlos Barbosa Lima, Roland Dyens, Walter Zanetti, Francois Laurent, Guido Fichtner, Johannes Tappert, Eduardo Eguez, Johannes Tonio Kreusch, and Johan Fostier.
He has performed in Italy, Spain, Israel, Brazil, Malaysia, Indonesia, Thailand, Bosnia – Herzegovina, Turkey, Argentina, Romania, Albania. This year, his second album "Through Inside" will be published by the DotGuitar label. He will be holding two concerts in Jakarta to promote his new album which features works by J.S. Bach, Piazzola, Giuliani, and Ennio Morricone. The first is organized by the Italian Institute of Culture, the second by The Jakarta Guitar School (Sekolah Gitar Jakarta) founded by Indonesian guitarist David Sylvester. Definitely worth checking out.
Date: 3 May
Time: At 7:00 pm
Venue: Istituto Italiano di Cultura Jakarta, Jl. HOS. Cokroaminoto No.117, RT.7/RW.4, Menteng
Free Entrance Free
Date: 5 May
Time: 3.00 PM - 4.30 PM
Jakarta Design Centre
Flamboyan Room, 6th floor
Jl. Jend. Gatot Subroto No.53, Petamburan
Rsvp: 0813.1000.8013 087.8883.88884
---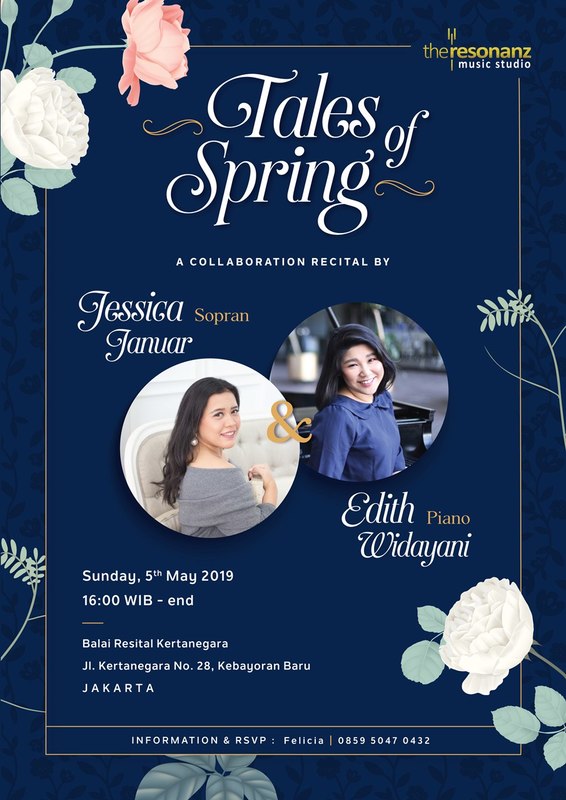 Two of Indonesia's finest young musicians present "Tales of Spring", a collaborative recital featuring spring-themed works by Strauss, Faure, Wolf, Rachmaninoff, Heggie and others. Can you guess the names of the pieces? Jessica Januar (Soprano) graduated from the Guildhall School of Music and Drama and has been a member of the multiple-award winning Batavia Madrigal Singers. She has also been trusted with several important roles in various opera productions and the world premiere of "To a Stranger", a beautiful piece for voice and guitar, by Ananda Sukarlan. Edith Widayani (pianist) is the first Indonesian musician to earn a DMA from the prestigious Eastman School of Music, an internationally acclaimed soloist and chamber musician who has performed across the United States, Europe and Asia. A highly recommended concert.
Date/Time: 5 May, 4pm
Venue: Balai Resital Kertanegara, Jl. Kertanegara no. 20, Jakarta
Tickets: +62 859 50470432
---
"Dian" The Musical tells the story of the struggle of orphans in developing and reaching their potential in order to oppose the perception of orphans as objects of pity. It will actually feature performances by children who have been doing just that through the training and education programs of Yayasan Prima Unggul (YPU), an Entrepreneurship-based school for children from orphanages and underprivileged families from various provinces in Indonesia. YPU was established in 2011 with a mission to create 10,000 independent individuals from economically and socially disadvantaged children, through skills in entrepreneurship or various other roles in society.
YPU provides training in a variety of fields including the arts, so one can expect a performance of quality to match. It will also feature collaborations between YPU students and popular Indonesian artists such as Lea Simanjuntak, Mario Ginanjar, Dr. Tompi, Ayesha, Brand Vargas, Gema Citra Nusantara, Jojoanito, The Musical Throops and Magnificanto Singers.
Whatever your music preferences, tickets to this event will be money well spent. A few years ago, the YPU center which served as a student residence and educational center for the children was lost to a fire. Activities have persisted in makeshift facilities, however, a new home for YPU and its children is due. The proceeds of the concert will go towards funding a permanent facility. Let's come together to make that happen.
Date: 25 May, 8pm
Venue: Ciputra Artpreneur Theater, Ciputra World 1 Jakarta, Retail Podium Lv.13. Jl. Prof. Dr. Satrio K av 3-5, Jakarta
Tickets: https://www.loket.com/event/drama-musikal-dian_VbDb