Voice of Music, a non-governmental organisation (NGO) that aims to help underprivileged Indonesian people through musical art, was launched in Jakarta in early June. At the helm of the institution are Jakarta Intercultural School students Gabriella Gwen (Founder and President), Angelina Aileen (Vice President) and Alicia Hartono (Secretary).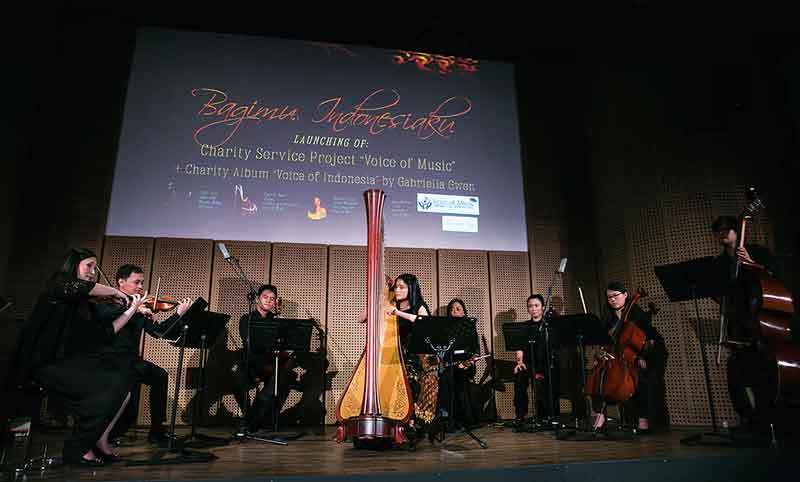 As their initial act, the trio held an hour-long concert entitled Bagimu Indonesiaku (For You, My Indonesia) at Galeri Indonesia Kaya in Central Jakarta.
The show began with Gwen's harp performance of her original composition entitled "Voice of Indonesia", taken from her album, which was inspired by the pride and spirit of the Indonesian youth. As Gwen played, Aileen took to the piano and Hartono lent her vocals.
The concert also featured Indonesian harp maestro Rama Widi and a band playing string instruments performing national-themed songs such as Tanah Airku, Nyiur Hijau and Indonesia Pusaka, as well as traditional pieces such as Manuk Dadali (West Java), Gundul-Gundul Pacul (Central Java), Rasa Sayange (Maluku) and Yamko Rambe Yamko (Papua).
According to Gwen, the proceeds from her album — as well as all of the other donations collected by Voice of Music (VoM) — will be distributed throughout Indonesia to help fund the education of underprivileged children. So far, the organisation has located potential recipients in North Sumatra, Central Java, Yogyakarta, West Java and Banten.
"Our recipients are those who are at the top ten of their class at school and come from lower-income families. Our mediators will help us with the survey. We'll provide the donation directly to the schools," Gwen explained.
Education aside, VoM is also engaging with communities of people with physical disabilities, by ways of providing artificial limbs or prosthetics.
"We will look into ways as to how our prosthetics can help the recipients with their daily routines or in doing work," she said.
Voice of Music invites everyone to support its cause by visiting www.voiceofmusic.org, where there's complete list of hopeful recipients along with their pictures and life stories. Donations will be converted into VoM tokens, to be used to unlock music clips on the website. Each token is worth IDR 10,000.
Donors are also encouraged to donate to the VoM wallet. The pooled money will be used to support further social activities and projects.
"Despite we are not a year old yet, we've been discussing about collaborating with other NGOs in the future, especially with NGOs that share the same vision and mission with VoM," Gwen said.