When French musician Jean-Christophe Frisch and Indonesian composer Franki Raden collaborate, it results in a masterpiece. The pair performed at Usmar Ismail Hall last week as part of a collaboration between Le Baroque Nomade and Indonesian National Orchestra (INO).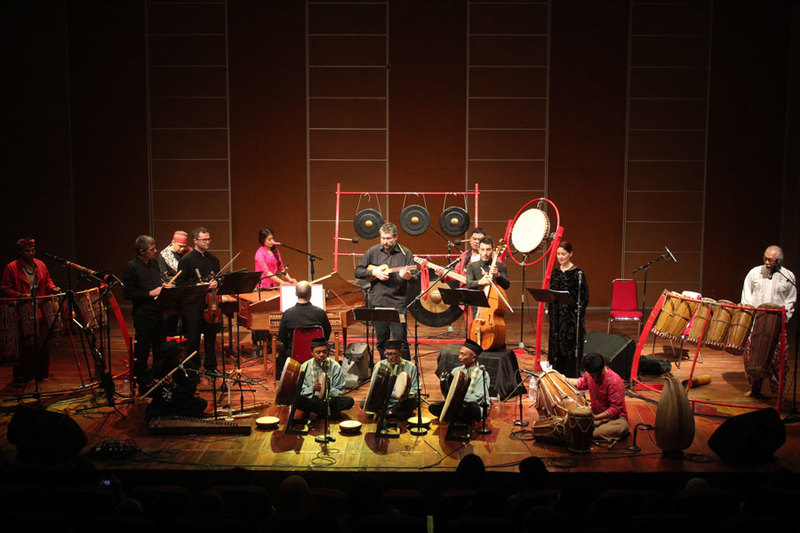 \ French musician Jean-Christophe Frisch and Indonesian composer Franki Raden showcased their musical prowess in a two-hour concert that felt like a spiritual journey through ancient folk music.
Organised by Institut Francais Indonesia (IFI), the assemble concert showcased different pieces where the artist played their music separately and finished with an epic collaboration.
Le Baroque Nomade was led by Jean-Christophe Frisch featured Baroque—a classic, western movement. Frisch has worked with musicians around the world, including China, India, Ethiopia, and Turkey, to explore the historic relationship between European Baroque with traditional and indigenous music.
At the concert, European-style music— composed between 1703-1735 in Batavia and adapted from Psaumes de David— was performed by pentatonic scale soprano Javanese Sinden in three different languages, Malay, Portuguese, and French to create a melody around the world.
Frisch said that baroque music was performed around 400 years ago by Javanese people who became slaves. Brought by Dutch and Portuguese settlers to Batavia, Javanese slaves, who were sold to other countries, used music as their first contact when they spread Baroque across the country.
"Javanese [people]are gifted in playing European Baroque music. Just like with Hindi music, Indonesian traditional music and Baroque are strongly related with the cosmos and the spiritual. That's maybe why Javanese people find it easy to learn Baroque," Frisch said.
Indonesian Film Festival award-winning composer Franki Raden directed the musical collaboration and balanced the two distinctive sounds by finding a common rhythm. The collaboration "Homage of the Ancestor" created harmony between western musical instruments such as baroque flute, violin, lute/the orbo, and clavichord which blended with the gendang, gong, kulintang, and electric bass, played by traditional Indonesian musicians.
As proof that sound is a universal language, Franki elaborated the melody by using rhythmic patterns and similar layers of both sounds that tended to be repetitive. The song is composed as people could deeply listen to a "musical wanderer."
"It's a rare collaboration. The challenge is with sound engineering. These two musical traditions are of a different nature and have different characteristics. We have to take care the balance because baroque instruments create a soft sound while Indonesian traditional instruments create loud sound," Frankie said.
The collaboration happened by coincidence when Frisch met the music conductor of the Batavia Madrigal Singers, Avip Priatna in early 2017. He later met violist David Irving, senior lecturer of musicology at The University of Melbourne, Australia, and then met Indonesian traditional music composer and ethnomusicologist, Franki Raden.
Jakarta was Le Baroque Nomade's final stop on their tour in Indonesia, following performances with local musicians in Bandung, Surabaya, and Yogyakarta.