Beginning at the end of April until early May, French woodwind quartet Le Concert Impromptu graced Indonesia with their world-famous performance, which is an eclectic mix of classical and contemporary music, as well as theatrical dance.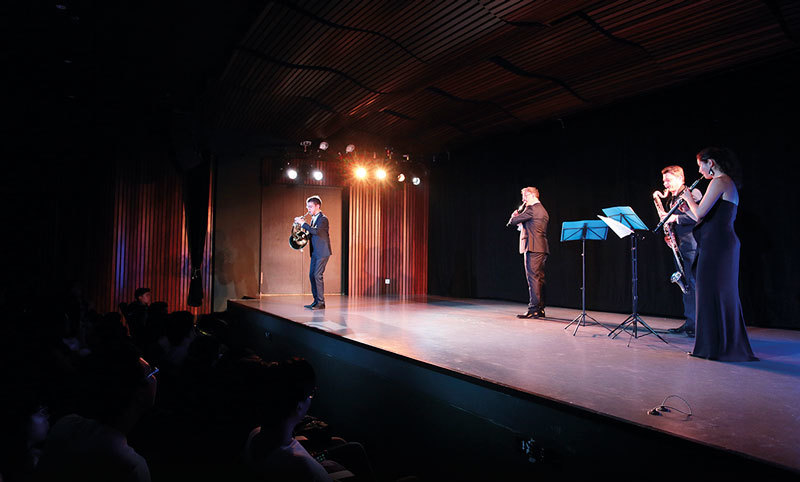 Established in 1991 as a quintet, the group is now a quartet composed of Yves Charpentier on flute, Guillaume Merlin on horn, Jean-Christophe Murer on clarinet and Violaine Dufes on oboe.
Charpentier composes music for solo flute and for the Le Concert Impromptu. He also initiates projects with artists interested in creating new alliances on stage. Merlin hailed from Bourguignon, where he first discovered the horn while playing with amateur musicians. He went on to study literature before finding his true vocation in chamber music, working with the l'Orchestre National de France and l'Opéra National de Paris. Jean-Christophe Murer has worked with famous composers such as Gilbert Amy, Pascal Dusapin, Philippe Manoury and Helmut Lachenmann. Dufès trained under the direction of Maurice Bourgue and Alexei Ogrintchouk at the Geneva University of Music, where she received her master's degree in oboe performance with honors.
True to its name, Le Concert Impromptu is known for its signature traits of playing by memory and improvising instead of relying on music sheets. For their performance at Institut Français d'Indonésie (IFI) Thamrin on April 27, the band combined classical pieces by Bach, Vivaldi and Mozart with African tribal drums and music from the 1965 musical drama film "Sound of Music".
"We play music that goes back to the Baroque period but we also ask composers to write music for us. We like to explore any kind of music from any period," Merlin told NOW! Jakarta in an exclusive interview prior to the show.
Aside from music, dance is another crucial element to the group's success with every move carefully and artistically choreographed by Dufès, who was formally educated and trained in dance at the Nîmes Conservatory and the Lyon Regional Conservatory.
Having spent a lot of time together as a traveling band, members of the group say they have a deep bond that helps them face any dynamics.
"The band is like a family. We work a lot together from Monday to Wednesday, weekends too, and during concerts. Since we have a lot of decisions to make, either related to music or business, sometimes clashes happen. But it's not a bad thing because we get to learn more about each other and it's better to have clashes because if things always worked perfectly, I think it would be quite boring," Merlin said.
That deep bond among members of the band was certainly discernible in the melodic thread that evening at IFI Thamrin, wowing the audience with a dynamic and stimulating programme. The ensemble cleverly explored technical possibilities of each instrument before combining them into an inventive form of music.
Aside from the show at IFI in Central Jakarta, Le Concert Impromptu also performed at Sheraton Gandaria City on April 29. The group went on to perform in Bandung on May 2 and in Yogyakarta on May 4. For more information on Le Concert Impromptu and other IFI programmes, visit www.le-concert-impromptu.com and www.ifi-id.com.