Meet TRUST Orchestra, a group of talented young musicians representing Indonesia in the global musical scene.
The annual World Orchestra Festival in Vienna, Austria is a meeting place for orchestra group from all over the world to perform, communicate and learn from professional musicians and world-class music academic with a very tight selection.
This year's festival, held on 1 to 4 August had Trinity Youth Symphony Orchestra (TRUST) among the 29 registered-participants from eight countries to perform in some of the world's best musical halls in the country, such as The Golden hall Musikverein, the Vienna Boys' Choir Concert Hall and Vienna City Hall.
After an eight-month preparation and special guidance from Indonesian legendary orchestra maestro Addie MS, renowned violinist Maylaffayza, Balinese arts maestro I Gusti Kompyang Raka and vocal coach Yudhi Ekaputra, TRUST stunned the audience, who gave a big round of standing ovation after the performance and earned them the Gold Award.
With a good team consisting of 61 young musicians, TRUST presented Indonesian regional songs which were arranged specifically, such as Rasa Sayange (Maluku), Bungong Jeumpa (Aceh), Janger (Bali), Cublak-Cublak Suweng (Central Java), Manuk Dadali (West Java) and interesting medley songs from North Sumatra, including Sik Sik Sibatumanikam, Sing Sing So and Sigulempong. The performance was considered outstanding because TRUST attracted the judges and audience's attention by combining orchestra music with Indonesian traditional dances, like Kecak and Ratoh Jaroe played by the musicians.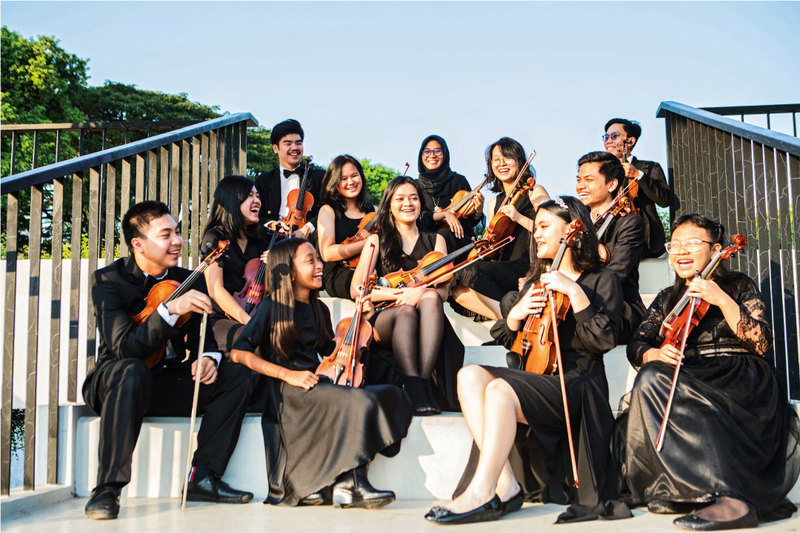 TRUST previously amazed the audience at the Australian International Music Festival 2015 in Sydney. Silver medallist TRUST surprised the audience as the musicians performed Kecak, Saman and Ratoh Jaroe dance in the middle of the song Janger and Bungong Jeumpa, in addition using traditional music instruments, such as Balinese rindik (bamboo music) to add a local touch.
Music Director and Founder of TRUST, Nathania Karina said that TRUST began with a small orchestra community with only 10 members aiming to present something different to the national music orchestra. TRUST was initially adopted from a community orchestra based in North Jakarta, Andante Youth Community Orchestra established in October 2008. TRUST now has 70 active senior team members and 24 members for junior teams, making the community the biggest youth orchestra community in Jakarta.
"TRUST is a non-profit group joined by members with a genuine love for music. We hold auditions two to three times a year to recruit new members. And as long as they have sufficient skills, commitment and love of music can join our community without exception," Nathania explained.
Since the beginning, TRUST is committed to provide a place for young people to learn, appreciate music as well as them a headstart in the music industry. Unlike other orchestra groups that mainly plays classical, TRUST repertoire varies from jazz, pop, rock & folk songs and widely renowned for its fresh and unique program. This includes their annual movie soundtrack concert entitled The Legends, which has captivated thousands of music enthusiast per concerts, and Orchestronic a collaboration of orchestra, electronic dance music, beatbox which garnered very positive reviews and has been replayed in various venues in Indonesia.
"We regularly hold independent concert three times a year and outreach programs to various schools and regions in Indonesia. Also, together with Musicmind, a foundation engaging in the field of music education, we hold the Indonesia Orchestra Ensemble Festival. And we also like to participate in international festivals and study tour for members to learn from professional orchestra groups," explains Nathania.
Nathania realised there is much room for improvement, one of them is how they wish for orchestra music to be easily accessible to many people and more popular not only in Jakarta but also across the country. To realize this, TRUST intends to develop a special division for the outreach program so that the education mission can be spread widely outside Jakarta.
Following Vienna, TRUST is preparing two big concerts: a gala concert of Indonesia Orchestra Ensemble Festival (IOEF) where TRUST would be home orchestra and host for the biggest orchestra festival in Southeast Asia, and their independent concert The Legend 7, which, for this year, will take the theme Fantasy & Heroes in November.