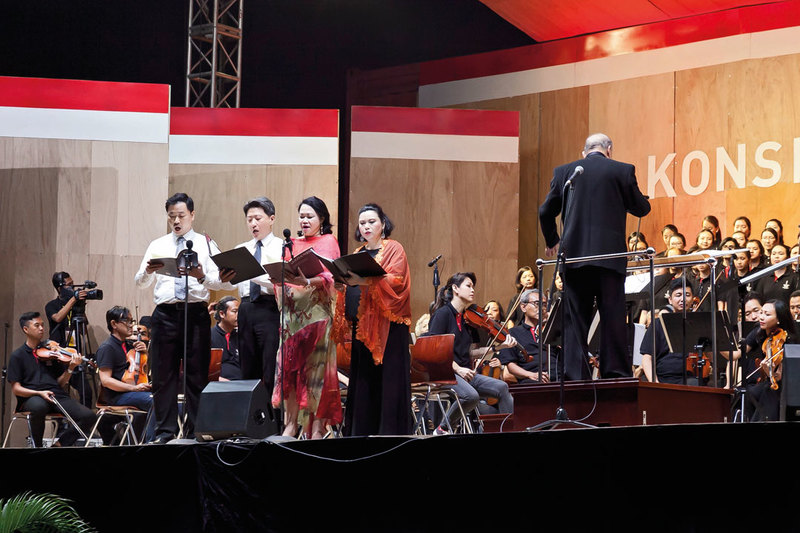 Through this grand classical music concert, Jakarta is further known as an international music city.
On the evening of 8 September, people from various circles and ages thronged the National Monument (Monas)'s field to witness an en masse classical music concert. For most of them, it was a good moment and first experience to enjoy a stunning musical concert in public space for free. The concert succeeded in altering the perspective that classical music is difficult to enjoy or can only be enjoyed in grand concert halls and for upper class society only.
Jakarta Simfonia Orchestra (JSO) and Jakarta Oratorio Society (JOS) initiated this event by arranging 60 orchestra musicians and 100 choir singers to present the beauty of classical music concert Konser Musik Akbar Monas 2019 Jakarta Bersorak especially for the people of Jakarta.
Conducted by 79-year-old prominent music director and principal conductor, Dr. Stephen Tong, who is also the founder of JOS, the orchestra played the repertoire works of Wolfgang Amadeus Mozart, Strauss, Franz von Suppe, Gioachino Antonio Rossini and Ludwig van Beethoven.
In front of more than 13,109 people, after a welcoming speech by DKI Jakarta's Governor, Anies Baswedan, Dr. Stephen Tong welcomed the audience saying that classical music is timeless and will never die. He hopes that other people or orchestra group in the country can do other similar concerts in the following years.
"Starting from this year, Jakarta must become a musical city," Dr. Stephen Tong exclaimed.
The concert aimed to introduce good music and unite people of Indonesia in diversity, in a way similar to an orchestra group, which usually consists of people with different backgrounds playing various musical instruments to create beautiful harmony. This recent musical development follows other big cities known to hold musical concerts in public spaces, such as Central Park in New York, Berlin which used Gendarmenmarkt and Waldbuhne or Singapore within its iconic Botanic Garden.
"Jakarta is a city where we can clearly see our nation's diversity. This is a chance Jakartans to enjoy and to know more about beautiful classical music and nurture the growing interest towards it among the society. We also intend to introduce a sophisticated level of arts and culture because it reflects our own culture. We want people to see past the usual negativity around Jakarta into a deeper value of enjoyment. And we indeed hope that we can collaborate with other groups to repeat this success in the future," Timothy Siddik added, as the Chief Organizer of Konser Akbar Monas 2019 Jakarta Bersorak.
The concert presented ten main songs and with Ludwig van Beethoven's Symphony Number 9, Part 4, Ode to Joy was played as the last song, which impressed audiences, which included ambassadors of friendly countries and their staffs, the Governor of Jakarta, Minister of Maritime Affairs and Fisheries of Republik of Indonesia, Susi Pudjiastuti and other well-known Indonesian artists and musicians.