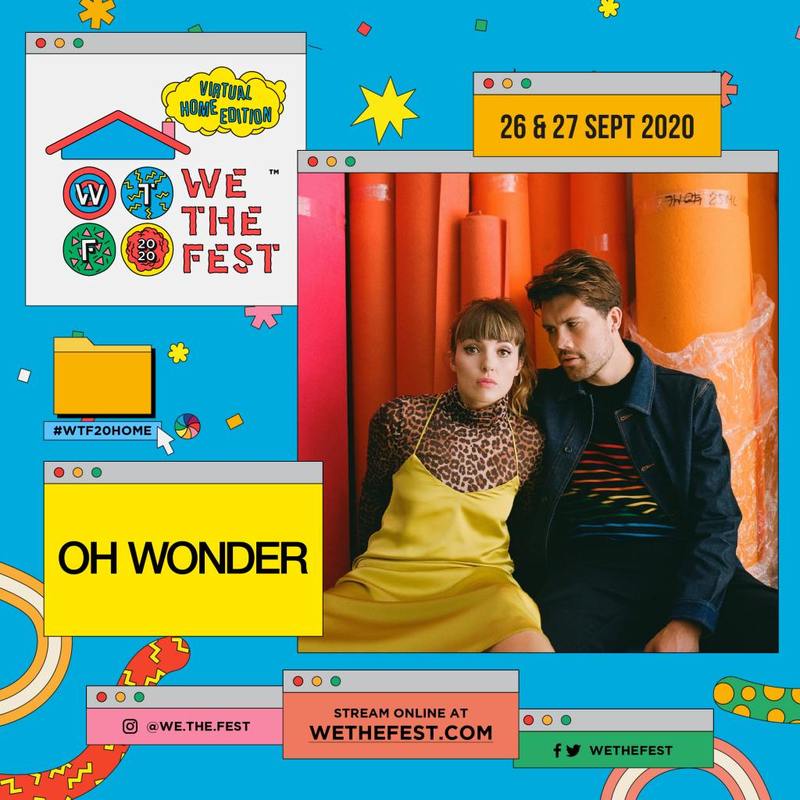 Summer is over and the pandemic has suspended a long list of exciting events this year. Events giant, Ismaya Live, are among the organisers who have had to pivot their anticipated agenda. However, it seems they aren't letting music fans in Indonesia go without a party as they have decided to run their annual music festival, We The Fest 2020, via streaming on 26 and 27 September.
Scheduled to be held in August, We The Fest 2020 has become a 'Virtual Home Edition', as titled by organisers, as social restrictions in Indonesia prohibit any organisers to run any kind of event that invites large crowds to gather. Instead of moving their agenda to next year, We The Fest 2020 has adapted to worldwide trends of virtual events where people at home can buy a ticket online and enjoy the digital experience basically from anywhere.
Annually, We The Fest set the record as the most popular summer festival in Southeast Asia where tourists flock the venue at JIExpo, Kemayoran, Jakarta. Whilst this year, with their tagline "a virtual festival experience of music, arts, fashion, and food", the general audiences are unlikely to know how their experience is going to be and feel like.
This year's festival has secured at least 26 names on the lineup who will be performing on the initial virtual home edition of We The Fest. The headliners of the 2020 event will be presented by international artists such as Scottish singer-songwriter Lewis Capaldi, London-based pop duo Oh Wonder, and American musician Micah David, popularly known as Masego, followed by other names including Autograf, Goldroom, RAC, and Keshi.
Hosted by homegrown talent Reza Chandika and Vidi Aldiano, We The Fest 2020 also presents musical performances from Indonesian artists namely Maliq & D'essentials, Isyana Sarasvati, Yura Yunita, Diskoria, Endah n Rhesa, Gabber Modus Operandi, Hindia, Hondo, Jason Ranti, Kalulla, Nadin Amizah, Patricia Schultz, W.W, as well as Vidi Aldiano himself who join the lineup.
Indonesian DJ Dipha Barus is expected to have a collaborative performance featuring Vanessa Budihardja for his latest project Chilli Dip. Indonesia's emerging artist Mantra Vutura will be performing side-to-side with newcomers of the homegrown music industry such as Elda Suryani, Natasha Udu, and Agatha Pricila.
During Road to WTF, young young creatives are also urged to join two competitions, 'Submit Your Music' and 'Submit Your Art', to empower the emerging talent even though people have to do it from their home. Annually, We The Fest regularly scouts Indonesian talent who have a passion for art and music, using the platform to grow and promote themselves as musical and visual artists.
In collaboration with DCODE, We The Fest 2020 invites talents to submit their works whose demo song uploaded to wethefest.com/submityourmusic with the support from SAE Jakarta and Mustang 88.0 FM. on the other hand, renowned local brand Monstore also established cooperation with WTF by announcing an open call for graphic designers to participate on 'Submit Your Art' whose selected works will be featured on the We The Fest official merchandise collection.
On a pre-event, fashion retailer H&M and We The Fest promote its campaign about tie-dye as one of the ways to upcycle the clothes and make its last longer with the recovery technique using tie-dye as a part of the sustainable movement in fashion.
The virtual event will start at 4 pm. Check the daily schedule. For more information and ticket of We The Fest 2020 Virtual Home Edition, visit wethefest.com and follow WTF on social media @we.the.fest